RELEASED: 2nd June 2017
Gavin & Elliot
Spanked Bullies
Part One
Gavin and Elliot are two grown-up muscular lads. These are not guys that you want to get on the wrong side of. John found out this the hard way! Young John was caught 'Sexting' the guys girl friends! Oopps! Gavin and Elliot decided to take 'revenge on John and decided to shave all of his hair as a punishment!
Fortunately for John, his Dad interrupted Gavin and Elliot. John's father was furious and threatened to call the Police. Eventually it was agreed that the two lads would visit Mr X to be punished instead.
So in this movie we get to see two masculine lads, having to get over another man's knee and have their bottoms spanked. Ouch! What makes this whole spanking experience even worse is having to be spanked in front of your friend! Embarrassing and humiliating!
"More from Producer Dave, it was such fun working with Elliot and Gavin. They are work buddies in real life. I can't really go into more details other than to say that they both have one of the toughest jobs which I hold the greatest of respect for. It was so refreshing seeing lads coming from that environment to this and being so comfortable with it. What I really wanted to say though was that my favourite part of the movie was seeing Elliot trying to stop from grinning and laughing as he saw his friend getting spanked! A reaction I am very pleased to have in the movie as I expect it;s exactly what would happen in this scenario"
STREAM
VIDEO
Available streams for iPad, iPhone, Android, Chrome, Safari, IE or Firefox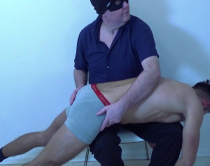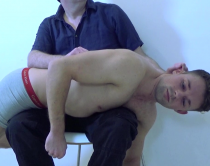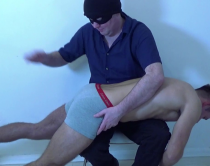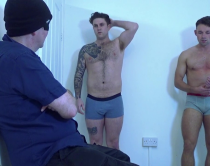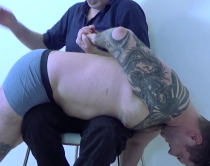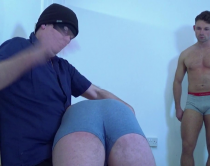 Slipper Boy | 18th August 2017 07:11
Love to see more of Gavin please Dave
Reply

mstr_spkr | 3rd June 2017 14:56
Another very fine video. Welcome, Gavin. I can't wait for Part 2 (and maybe more parts?)

Thanks for the heads-up on Elliot suppressing a smirk at seeing Gavin spanked. Smirking is a common reaction when seeing one's mate being spanked, as we have seen in other videos before. Elliot is definitely solidifying a place as one of my favorite models. I also look forward to seeing (literally) more of Gavin.

My only complaint is the sound. There is a lot of echo that makes it difficult to hear what is said. The spanking comes out loud and clear but not the words. This is particularly a problem for us "Yanks" (the demographic kind) from the other side of The Pond having to work through the various British Isle accents.

Is this victim of their attempted shaving the same John we've seen in other videos? Perhaps one part in this series is his dad spanking him just for for sexting.

Then, if Elliot and Gavin promise to deliver a proper spanking, they should get their revenge on John by both spanking him since their earlier attempt was thwarted. Since he was sending sexually explicit photos, having him naked for his spanking would not be out of the question, especially since Gavin and Elliot (and him from his dad) got it bare bottom. One other premise for bare butt is so that they could then take pictures to ensure he does not do it again or risk having his butt broadcast.

Just some thoughts prompted by another fine video.
Reply