RELEASED: 26th October 2018
Jason
Caught Peeping At Girls
Part Three
No matter how often they are punished for the same misbehaviour, some lads just never learn, do they? Teenager Jason, the youngster we have already seen spanked over his coach's knee and subsequently leathered by his dad for spying on girls in the sports club changing rooms, has been at it again.
In this week's new male corporal punishment movie from Straight Lads Spanked, however, we discover that naughty Jason is no longer content with just hanging around the girls' changing room and spying on them; he has progressed to leaving his phone in there with the camera running, to record the netball team getting changed!
The escalation of Jason's misbehaviour has left the coach with no option but to call in the big guns. Jason is summoned to a disciplinary appointment with Mr X!
The community spanker lectures the young rascal and tells him in no uncertain terms that he has committed a serious offence which calls for a severe punishment. He is in for a good spanking and then a dose of the cane!
Over the knee he duly goes, to be soundly spanked on the seat of his black shorts. It's not long before he is wriggling and whining and promising never to do it again, but Mr X hasn't finished with this bad boy.... not by a long chalk!
Jason is told to take off his shirt and his shorts, and is put back over Mr X's knee in just his tight little white pants. Mr X's firm hand smacks down again and again on the seat of the lad's undies, interrupted only by a well-earned scolding on the topics of breach of trust, disrespect, and the requirement to keep rampant teenage hormones in check!
The disciplinarian recommends that Jason tries having some cold showers, but adds that there's one part of the naughty lad that won't be freezing cold.... his bottom!
The parents of the netball team, who have agreed to send the lad to Mr X rather than involve the police, have paid for a bare-bottom spanking, and so Jason is told to pull down his pants and bend over again. Jason's bottom is already very red and sore, but Mr X is determined that it is going to be a lot redder and more sore by the time he moves on to the next stage of this wayward youth's punishment!
After a good hard spanking on his bare bottom, Jason is told to stand in the corner for a moment to reflect on what is to follow.... a thrashing with Mr X's dreaded cane!
Ordered to bend over, grab his ankles and stick his bottom out, Jason gets three hard whacks across the seat of his football shorts and three more on his pants before he is told to pull those down again for three final killer strokes across his sore red rear end.
Jason is a very sorry lad by the time his punishment is over, but Mr X leaves him in no doubt that if he is ever sent back to see him for more of that kind of disgraceful behaviour, a bare-bottom spanking and nine strokes of the cane will seem like a mere warm-up!
STREAM
VIDEO
Available streams for iPad, iPhone, Android, Chrome, Safari, IE or Firefox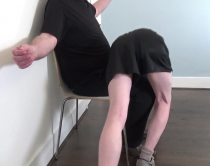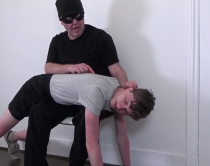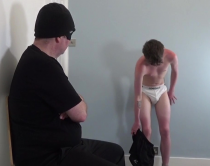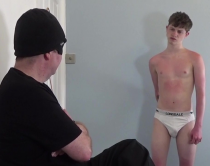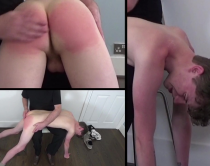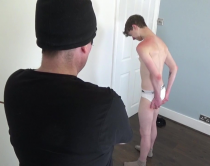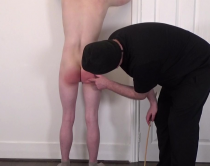 jddavidson61 | 20th December 2018 19:13
A great film with Jason though not as good as his others. In these series it would be fun to see the bar get raised each time when it comes to their spanking, how they are handled, how they handle it, etc. I think it is time that we see Jason truly throw a tantrum and get spanked well past tears.
Reply

Paddleboy | 4th November 2018 09:01
Yet another great movie with young Jason he a star and a great asset to u Dave I really think he's going be a big stsr
Reply

| 29th October 2018 13:44
I love Jason so much! I want to see more!!!
Reply

mstr_spkr | 28th October 2018 22:16
Jason did a fantastic job. I gave it a 10 but I agree that the acoustics left a lot to be desired. I like the more intimate settings of the "dad" spankings but he does not give proper spankings like Mr. X. I, too, would have liked to see before and after interviews. How did Jason react knowing he'd get the cane? Had he ever been caned before? Afterward, what did he think along with the obligatory "Do you think this would deter some youths today?" type questions.

Now that he has had the cane, can he take a bath brush beating? I hope so and I hope to see it soon.
Reply

philimare | 28th October 2018 10:07
I agree with others, Jason is awesome. It is not a 10 for me though. The sound of the video (and the acoustic of the room) kind of kills it a little bit for me. And I really prefer Dad to Mr X. Anyway, Jason is perfect.
Reply

| 27th October 2018 10:17
Jason is just so perfect I never want him to leave ...Well done Jason you took that cane really well. Like FraserFan I also need to see a before/after video interview and you giving Jason a cuddle and a pat on the back for a job well done.
Reply

FraserFan | 27th October 2018 01:03
Dave that video was great Jason is awesome. And that video very badly needs a before and particularly an after interview. You explaining to Jason about the cane and then his reaction in the immediate aftermath.
Reply