RELEASED: 25th August 2017
Charlie
Foul Behaviour
Charlie is a great football player who wants to win at all costs! He doesn't care who he tramples over in order to score the goals. The coach is getting fed up with his disgraceful behaviour on the pitch and decides to confront Charlie about it.
Charlie has a bad attitude and the coach is not impressed.
It's time for some discipline to be dished out. The coach might be an old man and Charlie is a tough, muscular guy, but he still has to get his bare bottom spanked.
Charlie looks magnificent as he has to drape over the coach's knees to get his bottom spanked. He squirms around and complains but it doesn't stop the coach doing what he feels is his duty! Charlie is left with a very sore, red bottom and a bruised ego!
STREAM
VIDEO
Available streams for iPad, iPhone, Android, Chrome, Safari, IE or Firefox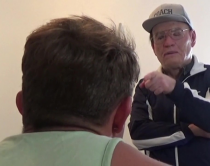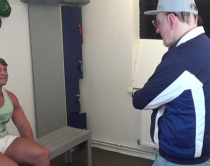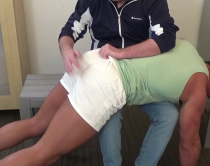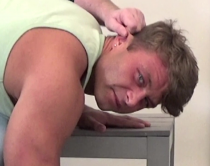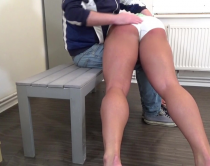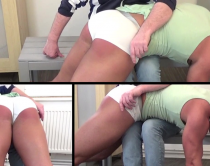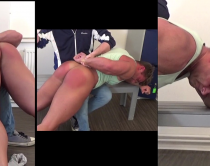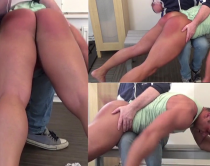 LucienG | 1st September 2017 19:46
This guy is beautiful. Lovely tanned, muscular body. I enjoyed watching him get spanked and hearing his reactions. Can't wait to see his dad spank him. Charlie, Jay, and the not seen in some time Tom would be great to see together.
Reply

SoupGoblin | 27th August 2017 16:37
Would love to see Charlie and Jay get into trouble together one day. ;]

Rasputin | 1st September 2017 00:39 (72 weeks ago)
I agree. Charlie and Jay would make a fine pair of spankees. Actually Charlie could be coupled effectively with other hunky models like Tom, Josh, Fraser, Liam, Oliver, Bailey or Andy as well.

Perhaps Charlie and this other hunky model could be forced to submit to a bath brush beating from Dave. Another video idea would be a situation where the two models were forced to spank EACH OTHER with a bath brush.
Reply

Rasputin | 27th August 2017 01:14
Two points I forgot to mention in my earlier review.

One, I am looking forward to Part 2 of this story, when Charlie has to face his angry father.

Two, I loved the tight,skimpy white briefs that Charlie was wearing under his football shorts. They accentuated Charlie's round, firm butt beautifully. Please dress your bottom models in similar kinds of underwear in future videos. They don't have to be white, but they should be tight-fitting and skimpy.

Well done, guys.
Reply

Orla | 26th August 2017 21:10
Like everyone else i agree Charlie is a real star, so natural and sooo fit,OMG those tight rugby shorts worth waiting up all night for,I've watched it a few times and charlie's up there at the top of my list and excited to see maybe a part 2 😉😉.
Reply

Rasputin | 26th August 2017 00:53
Frequent bloggers note that I rarely - VERY rarely - hand out 10/10 ratings to these films. Well, I just did!

Splendid video, guys! Kudos to Dave, Art and especially Charlie. Handsome face, muscular physique, smooth hairless body, firm spankable ass, good actor - Charlie has it all!

The wardrobe was excellent, too. I love seeing hunky guys in tight-fitting tanktop shirts and muscle shirts. I especially love seeing hunky guys begins spanked OTK on the seat of their tight-fitting, skimpy briefs. I know that eventually the guys' "pants" (i.e., briefs) have to be pulled down for a bare-bottomed spanking, and I like the bare-bottomed spankings, but only after they have been spanked hard and long on their pants.

The more the spankee squirms, groans and grimaces during his spanking, the better I like it. Congratulations for a fine acting job, Charlie.

Allow me to offer one small suggestion - Have the spanker keep the spankee draped over his knee and slowly pull down the spankee's pants, rather than have the spankee stand up and pull his pants down himself. and have the camera focused on the spankee's bottom as his pants are pulled down. It would be a very erotic shot.

I repeat, this is a splendid video. Keep up the good work, guys.

mattnyc | 26th August 2017 04:55 (73 weeks ago)
I was going to "review" this movie but Rasputin more or less said everything I would have said. So I second his review 100%. The only thing I'd add is that Charlie is AMAZING. He's definitely one of the hottest models on the site ever. He's even sexier than Bailey who was one of my all time favorites. In this one he really shows that he's up for the acting/role-playing and is good at it. As Rasputin said...that perfect, smooth, muscular body and butt make him the perfect model. And those tight briefs...it's all too much. Can't wait to see more of him and really hope to see him as a spanker. Great clip.
Reply

CassieAnne17 | 26th August 2017 02:45
LOVE LOVE LOVE CHARLIE!! He is such a great addition to the site, and so HOT!! :) Great job to all, and I love the ending, hope that means there is more of Charlie to come!!
Reply