RELEASED: 28th May 2015
Fraser - Bubble Bath Blues
This movie follows on directly from Fraser - Spanked Footballer.
Fraser is not having a good day! This handsome straight footballer has just been punished by the local community spanker Mr X and now he faces more from his Father!
Fraser was thinking things could not get any worse, he just had his first visit to Mr X and now he has to face his Father. Dad is waiting for him when he gets home. Fraser is wearing his filthy football kit so Dad orders him to clean up! So Fraser strips off and gets into the bath.
Any hopes of a long leisurely soak are soon forgotten about though as Dad reminds him he is waiting for him in his bedroom.
Fraser reluctantly gets out the bath and goes to see that Dad has in store for him. It is not fun! Fraser gets taken over Dad's knee for a very hard hand spanking over his already sore bottom! To really get the message home, Fraser also gets some from the leather paddle as well!
You see this tall, muscled lad squirming and kicking over Dad's knee as the spanks rain down on his tender bottom!
STREAM
VIDEO
Available streams for iPad, iPhone, Android, Chrome, Safari, IE or Firefox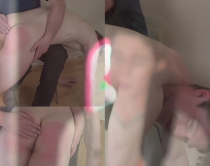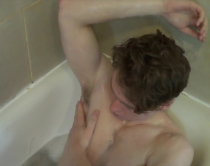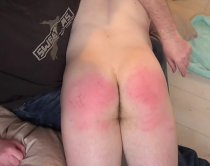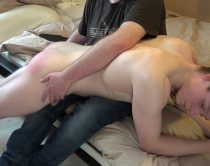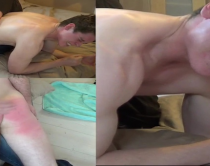 LucienG | 8th June 2016 11:12
Beautiful! Art, Dave, and Fraser--excellent work!
Reply

Art | 30th May 2015 18:57
CherylKay and Red1967 - glad you liked the superimposed flashback effect at the beginning.
mattnyc, glad you liked he cutting in the bath scene. Dave shoots it with one camera so it's a challenge - which makes me appreciate the comment even more :-)


Dave - Straight Lads Spanked | 30th May 2015 23:35 (329 weeks ago)
Ok so I feel as though I should own up here! Thank you Art for not telling tales!

Art is actually, as usual being very modest here. Ok so for the opening sequence when Dad is talking to Kevin in the hallway, I made an error with the camera. I left the auto-focus feature activated. The camera struggled to choose where to focus and as the sequence continued it ended up being a blurry mess.

I was not awarer of this until Art contacted me to explain what he had discovered when he was going through the raw footage. When I watched it back, it was really clear that the footage could not be used.

Dad lecturing Fraser was really important and there was no issue with the audio. I didn't want to lose that and asked ART if there was anything he could do to save it.

What he did is what you see in the movie and it is genius! I love it! It is so clever and really enhances the movie.

So Art, I am sorry to send you these challenges but thank you so much for spending the time and using your skills to make my mess look so special!

wardcoleman | 31st May 2015 09:35 (329 weeks ago)
That was certainly very effective and looked intentional, Art is a very talented editor and problem solver!

Cherylkay | 31st May 2015 19:08 (329 weeks ago)
Way to come clean. Dave! LOL. I thought you were just trying something new and interesting. It's funny how necessity is often the mother of invention.

Ficwriterjet | 1st June 2015 06:42 (329 weeks ago)
I totally thought that was intentional as well. It worked out perfectly. :)

red1967 | 2nd July 2015 06:58 (325 weeks ago)
@ Davie like Cherylkay said why did you come clean as I also thought you where trying something new. and interesting It is a great movie. Again thanks to you and Art
Reply

natasha | 9th June 2015 09:07
Am I the only one extremely curious how hot straight guys just seem to come out of nowhere for Dave? Like my God Fraser is a perfect mix of cute/hot/innocent lookingthat you cant find in spanking videos; this is why I continue to subscribe to this site not only because the dialogue is better than anywhere else but the guys are freaking gorgeous; well done Dave; (p.s ; please tell me you've booked him for another shoot :)
Reply

uchikimatsu | 6th June 2015 19:15
This is not the review I thought I'd be writing when I first logged into SLS and saw that a new Fraser clip had been posted. I loved Fraser's first movie and was really anxious to see him in a domestic setting. I want to emphasize that I loved this movie too; there were many great things about it and nothing at all bad about it, so it may seem odd that I'm writing as if I'm disappointed. I'll get to that in a moment.

I also want to mention that I really hesitated in writing anything at all because if I write a critisism, its usually to bring something to Dave's attention that I think can be improved such as lighting, dialog, location, storyline, premise, etc., and in this case everything falls into place quite nicely and there is nothing that Dave, Fraser, or Art could have consciously done to improve the film. However, this one did lack some ethereal quality, probably existing solely in my head, that I seem to identify in many of the other clips I give a higher rating. The ratings I give have very little to do with the model, premise, length of clip or length of spanking, and everything to do with whether the film can elicit any kind of emotion from me. It doesn't matter if its delight, embarrassment, anger, compassion, or sadness, but if a clip can make me feel something its got what I call a "spark." Usually, but not always, these little gems are the result of something unexpected the model does or says, sometimes even as subtle as a facial expression. Often its something in one of Dave's scoldings that is particularly poignant or funny, or even Jimmy's ears and tail making a cameo in the foreground.

All the elements were here to make a great film: Fraser, Dad, bath, OTK, implement......everything that should have made Say-Say a very happy viewer. Instead, I have to admit, I was a little bored, a little apathetic even. There just wasn't anything about this one that made me giggle or cheer or cringe. The film just felt very flat to me, without emotion or chemistry. I didn't feel sorry for Fraser, nor did I sympathize with Dad. I want to reiterate that I am in no way saying I didn't enjoy the film. I'm not saying that at all. Nor am I saying that anyone did a bad job or anything wrong. In fact, everyone did a great job. Sometimes, the stars align themselves exactly right, the puzzle pieces fall together, and the movie gods smile benevolently down upon SLSville to create magic in Dave's harddrive. This is just one of those very extremely rare times the gods were distracted when Dave called, "Thats a wrap!")*

*yes, I know Dave doesn't actually say "thats a wrap" and snap a clapperboard, but I couldn't think of another way to end the review
Reply

Ficwriterjet | 1st June 2015 06:57
I very much enjoyed this one. Poor Fraser being confronted by dad holding the leather paddle the instant he walks in the house.

Fraser's body type is my favorite - lean with some muscle definition. Quite aesthetically pleasing.

I loved the way Dad threatened to spank him in front of his teammates if they ever had to do this again. I also loved that he told him he was grounded. Thanks Dave for those lines. :)
Reply

NovaDad | 30th May 2015 15:29
Fraser was great and he has such a hot little round butt!!
I would like to see more videos like this, where the "bad boy" gets spanked on the lower part of his ass (and perhaps a bit on the very top of his thighs) -- right where he sits!
I hope Fraser will be featured in more of SLS videos. Thanks to you, Dave... and especially thanks to Fraser!!!

Reply

Hunter | 30th May 2015 14:15
Another great video and Fraser took his spanking well .

Can't wait for Fraser next video David
Reply

wardcoleman | 30th May 2015 10:12
"but they cute looking guys .." was a typo, not bad grammar :-)
Reply

wardcoleman | 30th May 2015 09:43
Loved seeing Fraser's little red bottom as he gets into the bath, and knowing that it will soon be even redder are sorer, but they cute looking guys like Fraser appeal to the unkind sadist in me! This scenario, where the bad boy is spanked right after the bath seems popular. I find it very sexy and think it adds a sense of immediacy and realism. Also,, spankings tend to sting more after a nice hot bath, as I am sure Fraser (and Matt) can confirm.

Fraser is a talented actor, who really gets into the role, I love his facial expressions, which really tell us what he is feeling. As others have mentioned, both Art and Dave also did great work in terms of editing and directing. This is a very enjoyable update

Reply

mattnyc | 30th May 2015 01:43
Fraser is definitely a super star. I love both of his clips. He's a natural actor and he's SO handsome. I love his perfect, smooth body and those beefy legs and that perfect butt. I can't wait to see more of him. Definitely love to see him in an Uncle Andy type scenario. But basically, I'd love to see him in anything. Dave, great work as always as Dad. Art, great editing. I especially liked the way you cut the bath scene. Kudos all around especially to Fraser. Thanks.
Reply

Dave - Straight Lads Spanked | 29th May 2015 22:17
Really enjoyed reading all the comments. I'm delighted that you like Fraser as much as I do! :)
Reply

Cherylkay | 29th May 2015 16:08
I have to echo the others and say that Fraser is just perfect for these films. His soft spoken demeanor and reactions to the various situations he finds himself in tick several boxes for me. I love the moment when he's in the bathroom getting undressed for his bath and we see very clearly that his bottom is still red and marked up from his visit to Mr. X. I also love it when Dad tells him to hurry up. It's as if he knew Fraser was trying to stall for time. Priceless.

Fraser's reactions are so precious. I love the leg kicking (and the attempts not to) and Fraser telling Dad it's not fair that he's getting spanked twice in one day. I felt sorry for him getting sent to bed without supper though lol.

Dave, you were awesome as always. I love the way you talked about Fraser's visit to Mr. X from your perspective. I don't think that's ever been done before, as well as you telling the lad to go take a bath. I like the changes to the "formula" so to speak.

Art, I have to single you out here. I thought the "flashback" sequence was really well done. I would really like to see more of those.
Reply

CassieAnne17 | 29th May 2015 15:03
I really enjoyed this! Anything that is dad/son related tends to hit all my happy buttons...if that makes sense! Great job everyone, Fraser is a natural and love dad too!
Reply

red1967 | 29th May 2015 09:30
I loved it watched 2 times already I loved every minute of it Fraser is very cute . He getting better already I think he becoming a very good actor. good dialogue between Fraser and Dad Loved it he say he already been spanked and he too old. I loved Dad was waiting for him at the at the front door him threatening for mum to spank him. Saying if he misses football again he be spanked in front of his team mates of course Fraser been grounded and has to stay in his room with no internet and no supper . all my favorite punishments.Thanks Dave as usual great storyline grate acting Art I don't no wait it call by loved the part when dad is telling Fraser off and you see him been spanked in the background and Fraser sanding there. thank thank Dave Fraser and Art
Reply

wardcoleman | 28th May 2015 18:31
I just know I am SO going to enjoy this one!!

lorilee | 28th May 2015 19:02 (329 weeks ago)
Wardcoleman I think you will really enjoy this one it was very well done, well comment more latter.

wardcoleman | 28th May 2015 21:58 (329 weeks ago)
You are right Lorilee, I loved it! Fraser is just perfect isn't he! :-)

lorilee | 29th May 2015 00:19 (329 weeks ago)
Fraser seemed to be a ease with himself and able to follow the story line, The only problem with this one is that I am so jealous of jimmy the cat he had the best seat :-)
Reply

Ooleary | 28th May 2015 19:35
I'm so in love with Fraser what a great little movie xxx Dad just gets better and better love when he threatens to get Mom and next time he'll spank him in changing rooms in front of the team and he's grounded and banned from Internet. Fraser is a great little actor loved itvwhen he kept pleading with Dad to stop that it wasn't fair he'd been spanked already. I just adore his floppy hair and his cute little butt.I want more Fraser and also an interview with Fraser please please please xxx
Reply