RELEASED: 10th November 2017
Jason
Caught Peeping At Girls
Jason, the naughty 18-year-old who made such a huge impression on members when he first appeared on the site a few weeks ago, is back in this, his second spanking movie!
But the sound spanking he got last time over Dad's knee - the first ever in young Jason's life - doesn't seem to have taught him any lasting lessons. In fact, his behaviour seems to be going from bad to worse. This time, the wayward teenager has been caught up to no good in the girls' changing-rooms at the sports club, and Coach is furious....
When every excuse Jason can think of falls on deaf ears, and he even begins to get cocky and argue the toss about what he has done, Coach decides that he has no alternative but to deal with him in the traditional, time-honoured fashion. In Coach's book, that means just one thing.....a good spanking!
He wastes no time in hauling the lad over his knee and spanking him hard, first on his shorts and then the seat of his tight yellow underpants. But i
t soon becomes very clear that Jason
is developing
a real a
ttitude problem. In a moment of madness, he even has the nerve to swear at Coach
....but he soon finds out that doing that while he is draped over Coach's knee with his trousers down is a big mistake!
When Coach eventually decides to step up the punishment and pull down Jason's pants, the lad leaps to his feet to protest. Not that that was ever going to do him any good. Any lad who steps out of line in this club is always going to end up feeling Coach's hand across his bare bottom!
It's fair to say that by the end of this MM spanking video, Jason has a very different attitude. He is a very sore and sorry boy, with the bright red smacked bottom that he thoroughly deserves! And it looks like that might not be the end of it for the naughty lad. Coach has to phone the young man's father and tell him what he has been up to....
We're proud to present a real treat for all the members who have been dying to see more of our latest young star!
STREAM
VIDEO
Available streams for iPad, iPhone, Android, Chrome, Safari, IE or Firefox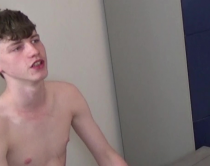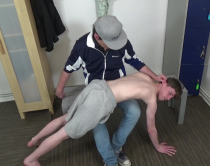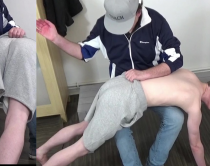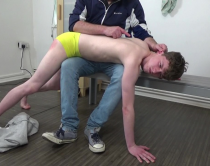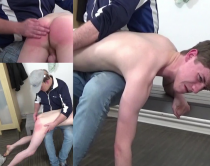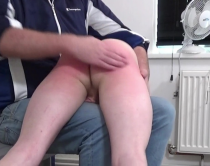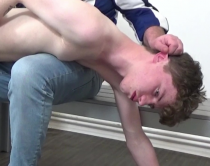 Nevermore | 4th January 2019 20:14
I thoroughly enjoyed Jason's demeanour and his bright underwear (though I didn't regret them coming down all that much either, haha)
Reply

edisonnn | 19th February 2018 20:41
Jason's my new favorite. Great reactions and acting. Aaaaannnndd a hot lil bottom to boot. Whatever you're paying him, pay him more! We need to get him back over a knee ASAP.
Reply

philimare | 19th November 2017 18:12
Hi all ! I am a very recent member so, as you can guess, i have watched quite a number of SLS movies during the last days.
This one is one of my absolute favorite (if not the one). Great acting, real and long spanking. Jason is super sexy, super credible, cute smooth ass, i would love to see more and more with him ! And for me, no need at all to have more muscular guy ! Phil
Reply

Rasputin | 12th November 2017 21:19
Jason did a good acting job, but I would have liked this video a lot more if a more muscular guy like Charlie, Tommy, Josh, Fraser, Chris or Elliot had been spanked. If you wanted a guy that was well-built but still had a boyish appearance, I would recommend John.

Dave - Straight Lads Spanked | 12th November 2017 22:38 (119 weeks ago)
You mean you would have liked this a lot more if it had been an entirely different movie? :P

Rasputin | 16th November 2017 13:22 (118 weeks ago)
No, but I would have enjoyed it more if you had a more muscular model like John, Josh, etc. in the bottom role.
Reply

FraserFan | 14th November 2017 19:50
Hi Dave, hope there is lots and lots more of Jason. He is almost indeed very nearly as good as Fraser himself, coming from me that is high praise as Fraser is the ultimate, numero uno lol. Jason just acts so naturally, at least part of what we see when Jason is spanked is natural - so loads more Jason, Dave (and it goes without saying more Fraser too)
Reply

JamieJones | 11th November 2017 14:28
It's Jason at last hurrah! It feels like we've been waiting for ever to see what trouble this naughty lad would get into next.

Hiding in the girls' changing room, peeping from behind the lockers at the girls on the netball team, what was he thinking? I can't believe Jason tried to justify his actions with the whole 'They're not going to be bothered...I was only looking...I wasn't doing anything wrong.' Of course the girls would be bothered and you knew what you were doing was wrong you cheeky little brat, how would you like it if the girls were spying on you? Then lying to Coach about never having been spanked before, what was Dad doing a couple of weeks ago when Jason was over his knee? I can't wait to see what Dad does after receiving that phone call from Coach...Dad is going to be so angry and Jason is going to be so sorry!

I totally agree with everything Orla has said and love, love, love Jason and this movie - so please, Dave, don't make us wait too long for part two. Please :-)


Dave - Straight Lads Spanked | 12th November 2017 22:40 (119 weeks ago)
Hey Jamie, I'm really pleased you enjoyed this and I really enjoyed reading your take on it! :)
Reply

bill | 11th November 2017 18:16
Excellent movie. I enjoyed Jason in his first spanking. I think Dad can spank him to tears especially for the sassy attitude with the coach. Also when his shorts came down, is thst how he wears his pants normally? They looked really good almost brazillian back pants. Whete does Jason get his pants from? And does he have a vpl for us all to enjoy?


Dave - Straight Lads Spanked | 12th November 2017 22:39 (119 weeks ago)
Hey Bill, If I remember I supplied the underwear and I honestly can't remember whee I got them from, I think it was Ebay!
Reply

Rasputin | 12th November 2017 21:22
Oops, I meant to recommend Tom as an alternate model for this scenario, not Tommy.
Reply

Orla | 11th November 2017 10:21
Another 10/10 for Jason,top acting,top spanking,Jason is my fav actor at the mo.

When coach told him either I inform the parents of the girls you were perving on or I deal with you the traditional way Jason's reaction was priceless.. I Loved his cheeky attitude and his I don't care spank me attitude...but when he said Fuck You I was stunned and like oh oh mister you're going to be sorry ... I loved it when he jumped up when Coach tried to take his pants down and when he was saying sorry and asking for spanking to stop you could hear in his voice that he really did have enough and was about to cry ...beautiful sore red bottom and can't wait for part 2 when Dad finds out ,do you think Dad will use his belt ??

Dave - Straight Lads Spanked | 11th November 2017 10:53 (119 weeks ago)
I'm so pleased that you like Jason. He really is very naughty indeed!
Reply