RELEASED: 24th March 2017
Spanking Game
Karl, Fraser & Jay
Round Two
It's round two of the spanking game and this time the lads are stripped down to their underwear. They really don't hold back when it comes to dishing out the spanking forfeits.
Karl, Fraser and Jay have to draw cards and the loser gets whacked with s spanking impliment. It's a game of chance that nobody wants to lose. Three, hot straight lads in some spanking fun!
Due to the acoustics tn the studio some of the dialogue is muffled. I'm really sorry if this affects your enjoyment of the movie.
STREAM
VIDEO
Available streams for iPad, iPhone, Android, Chrome, Safari, IE or Firefox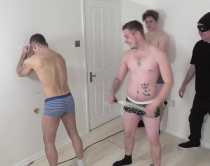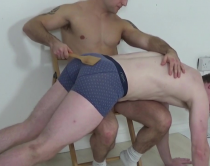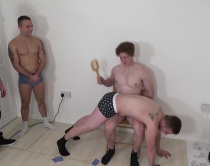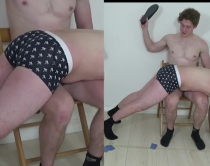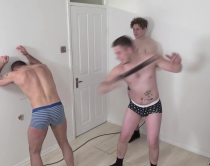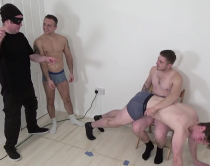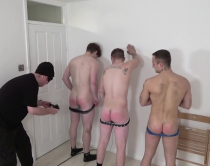 NovaDad | 19th April 2017 17:43
IMHO, the dialog is not "muffled."
Rather, the dialog is incomprehensible because there is way TOO MUCH ECHO, ECHO, ECHO going on in that small hard-surfaced room.
I believe that such a room would be categorized as being acoustically "live".
Unfortunately, while too much echo is not good for voice comprehension, it is ABSOLUTELY GREAT for enhancing the sound of a BARE HAND SPANKING a BARE BUM, etc.! =:-))
Reply

Orla | 26th March 2017 13:30
Poor Karl yet again getting the most spankings..who shuffled the cards👏.Poor Fraser got nailed with the birch ouch the marks on his thigh and i love the extra swats from Dave.Jay got away lightly he's such a wuss when he's the one receiving the swats but he's brutal at giving them that swing from the belt phroar nasty.Looking forward to part 3 xx

Have you any idea if your going to do another and if so what boys have you chosen. ..me I'd like to see John,Kevin and Taylor/Callum (I'd much prefer Josh or Jenson but they've already done one)
Reply

jacko | 25th March 2017 06:07
This video lacked carefully scripted and directed dialogue, an innovative storyline, severe spanking, flaunted nudity, relentless tension and gut-wrenching suffering yet I enjoyed it a lot. As a light relief change from Josh's recent caning or Chris's Real Punishment, I found it to be very entertaining. It was such fun to have the opportunity to spend about 20 minutes with these three lads who have served SLS well, as they participated in a relaxed, amusing activity in which there was not a hint of swearing or animosity.

Of course, the fact that my two favourites, Karl and Fraser figured in most of the spanking action was a special bonus for me. I also appreciated watching Dave in the seated group where his stress-free countenance was so obvious. It must be a pleasant change for him not to be the aggressor.

I still think it would be an improvement to have all whacks given in wheelbarrow or against-the wall position, particularly in round three which involves bare-bottom spanking.

The really marked improvement worthy of comment which emanates from this series to date is Karl's confidence and effort as a spanker. Now that he is no longer the cute young lad with the boyish face and adorable bum who graced our screens in years gone by, I would strongly recommend his use as a spanker as much as possible. He might need a little more mentoring with impromptu dialogue but I am sure he would be well worth the perseverance. His great sense of humour, endurance and experience with severe spankings would be an advantage. He excelled once again in this second round.

Art, I think the three-split screen would have been better as a two-split screen. The third pane appeared to be unnecessary. Otherwise, editing was its usual high standard.

Thank you all for a very pleasant experience. A job very well done! I realise that light-hearted videos like this one can be released only occasionally so that all viewers will be satisfied with the overall website content but I applaud the balanced selection of videos released so far this year.

Reply