RELEASED: 1st August 2013
Real Punishment - Sebastian - The Cane
Sebastian Messed Up...
Sebastian Is In Trouble...
A Stranger Offered A Way Out...
Sebastian Had To Accept A Real Punishment...
It Was Not Easy...
A Hard Over The Knee Spanking....
And.........
20 Strokes From The Cane...
Real Straight Lad - Real Scenario - Real Caning!
STREAM
VIDEO
Available streams for iPad, iPhone, Android, Chrome, Safari, IE or Firefox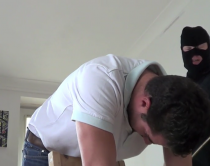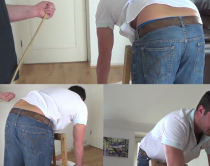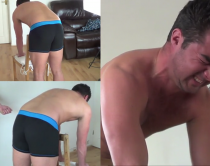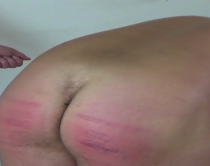 cami
|
Voted Video 9/10
| 1st August 17:45
For some reason Sebastian & Ben looks somewhat alike.
Sebastian did a great job with the cane. Hopefully he will stay out of trouble.
That was a great thing you did for sebastian Mr.X :)

gkk1952
|
Voted Video 10/10
| 1st August 18:27
WOW. You hit it out of the ballpark with this one. What a buildup. That's a spanking video. There is some kind of special chemistry between Mr X and Sebastian. Art worked his usual magic. And I wouldn't be at all surprised if he really did it. Amazing

Rasputin
|
Voted Video 8/10
| 1st August 21:15
This one is different. The long time lag before each cane stroke must have made it quite bad for Sebastian. I'm not sure if I like watching such a drawn-out punishment, but I'm glad that you tried it.

The initial OTK part of the video was more familiar fare, and it was done well. Sebastian is a big, beefy, good-looking guy with a very spankable butt, he looks good in those boxer briefs, and he is a good actor.

welshboy
|
Voted Video 10/10
| 2nd August 00:28
Dave was this a real story? Sebastian was a real star in this, I loved his face when you said he will be getting the cane. The three cameras on Sebastian's face and bottom was just wonderful. Art a job well done. Dave I would love to see a full on interview with Sebastian at some point. I was hoping that this film would be Sebastian as I think he is a star after just two films. The caning you gave Sebastian was full on Dave, and from the marks on Sebastian's bottom it looks like he could not sit down for a while. Well done to all, and to Sebastian I look forward to you getting a lot more spankings on that wonderful bottom of yours.

lorilee
|
Voted Video 9/10
| 2nd August 07:52
I liked this video because it showed a young man in trouble and showed him a way out, Sebastian has come a long way this is his best work. Hope he really learned a lesion about what not to do again. Thank you Art and Mr. X for putting this one out there for us.

Dave - Straight Lads Spanked
|
Not voted video yet
| 2nd August 08:51
I see Art now gets thanked before me now! LOL!

I take a week off and look what happens! haha!

:)

regina
|
Voted Video 10/10
| 2nd August 12:03
I love It, kinda of hits home. If you could do more of these real-life punishment that would be awesome. I'm really glad that you had somebody to help this guy. I also think that the spanking help with the guilt, the money help but the spanking help with the guilty feeling. I also think that if he would get spanked by his own father he would probably feel a lot less guiltier. You can read guilt all over his face and he wears his emotion on his sleeve. Poor guy I really felt so bad for him. :(


swespanker
|
Voted Video 9/10
| 3rd August 12:44
Liked it a lot even tho I'm not that fond of the cane. Extremely well performed both of you, adds a lot to the clip. Would love to see Sebastian meet the hairbrush next! =)

swespanker
|
Voted Video 9/10
| 3rd August 12:57
Forgot to add : please please PLEASE make a bubble bath blues video with Sebastian. =)

Dave - Straight Lads Spanked
|
Not voted video yet
| 4th August 12:52
I'll see what what I can do Swespanker! Are you keen to see Sebastian all soapy?

swespanker
|
Voted Video 9/10
| 3rd November 14:14
Dave, keen only starts to describe it... =))

Tombo
|
Not voted video yet
| 14th November 14:08
Enjoyed the realness of it, I agree with regina, more real life punishments. The story behind it and the desperation plus guilt of being punished all added to the mix. Would have liked to have seen more footage of you talking to him with Sebastian just in his pants. Do you think he actually enjoyed it though?

Dave - Straight Lads Spanked
|
Not voted video yet
| 14th November 15:45
Hi Tombo, I'm glad you enjoyed this one. You have no idea how real this actually was!!! Ok so do I think Sebastian actually enjoyed it? It's a good question and one I have thought about. I actually discussed this with Sebastian. He told me that he hated every second of the punishment. There was no 'turn on' from the pain. Getting spanked naked from another male was alien to him and certainly not a fetish.... So during the punishment he said it was horrendous!....... However, there was some kind of satisfaction for Sebastian afterwards. he said that he felt like he had deserved the spanking but felt good for going through with it. He felt awful for the situation he had got himself into and taking the punishment made him feel better about himself. Having suffered actually made him feel that he had a reason to move on from this. It was a starting point to getting back to normality. I hope that makes sense?