RELEASED: 23rd March 2018
Jake
Bedroom Spanking
This week's brand-new male corporal punishment movie from Straight Lads Spanked introduces yet another brand-new model to the ever-increasing SLS stable.
Jake has been mouthing off to his long-suffering mum again, and Dad has had more than enough of the lad's bolshy attitude. Abusive to his mother, disrespectful to his dad, messy around the house, treating the place like a hotel.... it's just not good enough, and Dad has decided that it has got to stop!
When he goes up to Jake's bedroom to tackle him about his attitude, he finds his son unrepentant for having told his mum to 'drop dead'. And he decides to teach him a lesson the way he used to, with a damn good spanking over his knee.
All the brat can say in protest, in what soon begins to feel like a broken record, is "I'm 20 years old!".... as if somehow that will be enough to stop Dad giving him the smacked bottom he so richly deserves! It's not long before he finds out that it isn't!
Dad sits down on Jake's bed, hauls him over his knee and spanks him hard over his tight skinny jeans. And when the lad continues to be rude about his mother, Dad stands him up again to yank down his jeans and warm the seat of his tight grey underpants.
As is so often the case, a spanking from Dad gets to the bottom of the problem in more ways than one, and eventually Jake confides that he has been taking it out on his mum because he has been under a lot of pressure at work. While sympathetic, Dad leaves him in no doubt that he won't tolerate that kind of behaviour, and pulls the lad's pants down to his ankles to complete the punishment by applying the flat of a firm hand to his son's already red bare behind.
After a conciliatory hug from Dad, Jake is left in his room to reflect on his behaviour, plan how to make it up to Mum.... and to cool his glowing bottom! This is one young man who will think twice before he tells Mum to drop dead again!
STREAM
VIDEO
Available streams for iPad, iPhone, Android, Chrome, Safari, IE or Firefox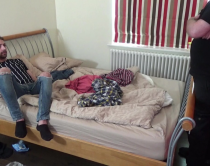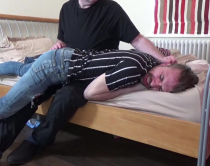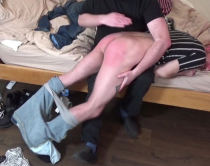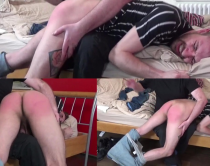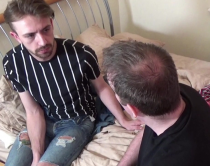 rondt123 | 21st April 2018 15:55
Well done, it is great to see a spanking starting out on jeans (tight) for a long time!

Keep these kind of videos coming..
Jake did an excellent job inspite of the painful spanking he got, love to see more videos of him!!

Thanks Jake😊
Reply

Uchikimatsu | 24th March 2018 12:24
WOWZERS! Jake is a great new addition to the SLS family! In addition to agreeing with philimare about Jake's natural acting and dialog, this movie ticked so, so many boxes for me. Sometimes its all about the details, and this film had plenty.

I really loved that this wasn't the typical "lazy-good-for-nothing-son" who doesn't have a job and isn't going to school, etc. Finally, a son that actually has his shit together!

I thought Jake did a fantastic job of seeming justified in his actions at first, but slowly realizing how his attitude and language has hurt his mom. I have done it many times before, but I will thank you again, Dave, for remembering to keep females in play in the stories. I have looked at many other M/M sites where all the stories make it seem like the characters are living on a planet of men and women don't even exist.

The threat of soap was a lovely and appropriate addition, but the most thrilling part for me was the face slap. And not just one, either! That seemed a VERY realistic response to the disgusting thing Jake said about his mom!

This film is also another victory for #teampantsdownnotoff but the best part is Dad's spanking style here. I adore that very firm "upsweep" spank move, its one of my favorites, so long as it isn't a drive-by "graze" and a proper firm spank.

I like the way that Jake verbally protested but did not make any move against his dad either during the spanking or while his pants were being taken down, which is something I also love. Its a true hallmark of someone that has experience being spanked like this many times before and "knows the drill," which was perfectly supported by the dialog.

I like that dad admitted to being angry, but also included that he was punishing him because Jake needed a reminder about respect. I think all the girls here adore when there is forgiveness after (not appropriate for every storyline, I know, but it was really nice to see here) and a nice hug at the end.

I do hope that Jake continues to swear and takes his frustrations at work out on his family. I think Jake would look lovely while being belted with a bar of soap in his mouth! LOL, sorry Jake, but SLS fans do love to torture the models...

Great job by everyone!

philimare | 24th March 2018 16:44 (114 weeks ago)
Did I miss the face slap ? where did it happen in this video ?

Uchikimatsu | 25th March 2018 10:13 (114 weeks ago)
Hi philimare,

You missed the face slap? Oh no! Did you blink? LOL!

It happens at around 4:04, just after Jake says "I think she should drop dead"

*BAM!* Jake gets two firm slaps to his face for that. Totally appropriate. LOVED IT!!!!

philimare | 26th March 2018 07:19 (114 weeks ago)
Oh yes, got it, thanks ! Love it too. That was the thing to do indeed.
Reply

Rasputin | 26th March 2018 07:14
Jake is not my type. Sorry.
Reply

Orla | 24th March 2018 15:47
Thank you Dave for yet another new model,welcome Jake and what a great first movie so natural and I love his accent is he an Essex boy.This ticked so many boxes cute guy,cute red bottom,great story,good spanking,great acting natural and easy flowing and realistic.

When Dad said My Wife it triggered something in my memory and I got such a kick out of it (I'll write it on the random blog).

I watched this a few times to be sure but when Dad was spanked his bare bottom his leg was shaking and Dad put his hand on his leg to reassure him and also the little rub when he was lecturing these little things I live for and the face slap too.

The threat with the soap mouth washing and the belt please make it happen... sorry Jake but if enough members request it then it's gonna happen... right Dave 😉😉



Uchikimatsu | 25th March 2018 10:48 (114 weeks ago)
Hi Orla, my little red-headed firecracker!!!

I, too, adore those subtle little moments in these films, they are such a joy to discover, aren't they? I'd love to see the leg shaking/reassuring. When does that happen? I missed it (I must have blinked...)

As for the rubbing (or as I call it, "the jiggle," I must say that I'm really not a fan of it. I first noticed Dave doing that in Ashley's very first movie, the one with his step-dad, and I thought, "Ew. That is kinda creepy for his step-dad to be rubbing and jiggling his butt like that..."

It just feels a little squicky to me, especially in the Dad movies. I'm sure its just a personal trigger and other people love it!

Also, "Mr. Big Bollocks" is now my new pet name for The Butch.

Orla | 25th March 2018 13:16 (114 weeks ago)
Mr.Big Bollocks is a great name 😂😂

I knew you'd get a kick out of the face slap too everytime Dave does it i think oi oi Chiki's going to love this.

13.50 is the little rub I mean it's not like creepy or sexual and the leg shake is around 11.25/11.30.it's really subtle and maybe it's just me reading things into the situation cos that's what I like but let me know what you see xx.


Reply

philimare | 24th March 2018 07:26
Jake is exactly the type of guy I like to see more in SLS. 100% natural, 100% credible. Great dialogue, great natural acting, everything seems so real. Love it. Undisputed 10/10 for me.
Reply

mstr_spkr | 24th March 2018 01:18
Welcome, Jake!

Excellent job. I think Jake is a great addition to the cast. I think it will be very interesting to see Mr X deal with him for some infraction or another. However, if his language does not improve someone should take the belt to him.

Good dialog and great editing. Thanks to all.
Reply