RELEASED: 1st February 2013
This intense movie follows on directly from Andy - Mouth Soaping!
Having been sent to fetch the dreaded bath brush, Andy is dragged back into the living room. Mr X drags the sorry lad over his knee and proceeds to beat his jean clad buttocks with the heavy wooden brush.
From the outset, Andy clearly feels every strike and struggles to take the punishment. The protection from his denims is soon taken away as Andy is ordered to remove them.
All Andy has left on is skimpy white briefs and they offer little protection against relentles strikes from the brush. Mr X holds Andy in place as he wriggles around trying to avoid the pain from the brush.
The briefs get removed and Andy gets spanked bare bottom. The colour of his sore leave the viewer in doubt how severe the punishment is.
Andy tries to escape the blows but Mr X simply pushes him into a new positon. The wheelbarrow position!
Eventuallly the punishment is over. Mr X helps Andy out by rubbing some soothing cream into his throbbing bottom.
.............""More from Mr X....................................hmmmm, so what can I tell you abou this movie? For a big lad Andy has a very low pain threshold compared to most other guys on the site. I think his School Janitor Caned movie shows just how much he struggles. So this beating was a major challenge for Andy. He nearly gaave up after the first few spanks. However, he managed to get through over 20 mins of intense punishment! His facial reactions clearly show how much it is hurting""".......
STREAM
VIDEO
Available streams for iPad, iPhone, Android, Chrome, Safari, IE or Firefox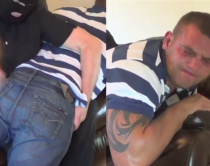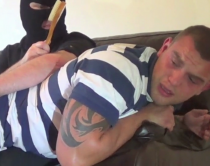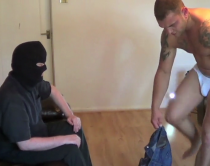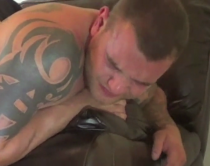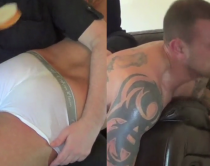 Rasputin
|
Voted Video 10/10
| 1st February 22:18
This is one of the best videos you have ever produced, Mr. X. If you consider this video and Andy's "Mouth-Soaping" video as one large film, this is THE best video you have ever produced.

Andy's bravura acting and awesome physique vault this video into the same stratospheric heights as Bailey's own "Bath Brush Beating" production. I'd be hard-pressed to choose between these two videos, with Bailey's effort maybe edging ahead by a whisker simply because Bailey is slightly more handsome and muscular than his friend Andy.

Don't get me wrong. I really like Andy and his acting style. It's a shame that this big, brawny, gentle Irish bear went overboard with the tattoos, but his personality, looks, physique and acting style won me over in spite of the tats.

lorilee
|
Voted Video 10/10
| 2nd February 02:49
I must agree with Rasputin 100% on this, Andy was fantastic. The only diffrence is I like the tattoos I guess that's a girl thing O'well Keep up the great work Andy. Look foreward to the next one.

regina1985
|
Voted Video 10/10
| 2nd February 08:53
I think Andy was a star in this movie. You can tell it is very painfully all over his face and I think that what I love about him. I love the tattoo too. Sorry but kids from the 80s and 90s are in to the tattoo and I'm sure they all have some kinda meaning.

coerver
|
Voted Video 10/10
| 4th February 09:37
Andy's tattoos on his arm are designed to add emphasis to his biceps and shoulder muscles. Anyone alive would agree he does not need any kind of help showing off his physique. As for the cross anyone should know before getting into it that Christianity is all about pain on earth expecting a turnaround after death. The biggest pain on earth isn't any kind of physical discipline. It is getting no response from someone you are trying to love from the inside out. I love you Andy not because you are a 10 in every category but because I think you understand all the many kinds of pain people experience in their short lives. God bless you and your companions even Mr. X beyond the limits of time and space.

venezuela
|
Voted Video 10/10
| 12th January 10:29
wow hot

Had a little tear in my eye when Andy was lying on the floor thought Mr X broke him. I had to throw my bath brush out every time i went to the bathroom i'd see it hanging there and Andy's bruised and battered bottom would flash in front of me.Great job Andy let's see the other lads can do as good a job Orla xxx.