RELEASED: 19th January 2018
Andy
Rogue Trader Gets Spanked
This week's brand-new male corporal punishment movie from Straight Lads Spanked sees enduring favourite Andy Lee – recently seen more often in the role of a strict, no-nonsense disciplinarian – back where he started out, getting his own beefy bottom reddened!
We find tradesman Andy dead to the world in his customer's spare bedroom. But he is in for a rude awakening in more ways than one when the customer storms in and demands to know why he quoted him £700 for a simple plumbing job that his boss has subsequently revealed would only cost £80 for labour. What's more, it's now 6pm and the job hasn't even been done yet!
Andy is forced to admit that he bumped up the price because he wants to buy a new car. But that was never going to go down well with the customer he was trying to rip off.... especially when he makes the mistake of telling him to calm down....
The infuriated customer decides to do what many of us may have wanted to do when we have been cheated by a cocky unscrupulous tradesman – put him over the knee and give him a damn good spanking!
He wastes no time hauling the young rogue over his lap and administers a stinging punishment, with his hand and a leather paddle, first on the seat of his jogging bottoms, then his pants and finally his muscular bare bottom.
It's fair to say that this was one young man who got spanked to satisfy not only his digruntled customer, but all of us who have ever been ripped off by a rogue tradesman! And there will be very few complaints if it puts Andy back where many of his diehard fans would say he belongs to be.... bent over a man's knee getting his bottom warmed!
STREAM
VIDEO
Available streams for iPad, iPhone, Android, Chrome, Safari, IE or Firefox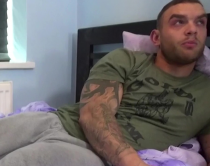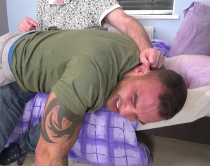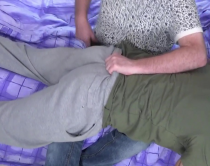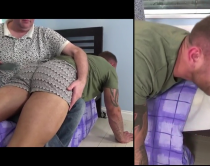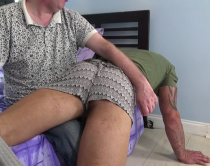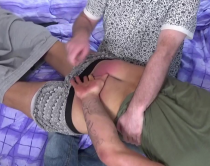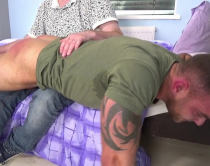 Rasputin | 20th January 2018 03:23
Andy gave a fine demonstrative performance here. You could tell from his reaction to his punishment that this spanking both hurt and humiliated him. Welcome back, Andy.

I have one suggestion for future OTK spanking videos with Andy. Rather than the baggy boxer shorts he wore in this video, have Andy wear some tight, skimpy briefs like the ones that Charlie wore in the "Charlie - Old-Fashioned Spanking" video.

A very good video.

Teacherman123 | 28th January 2018 12:52 (69 weeks ago)
I concur on the subject of Andy's dreadful pants! He deserved a good spanking for those alone! Perhaps Charlie needs to give him some styling advice....

JamieJones | 4th February 2018 21:44 (68 weeks ago)
I really like this movie as who hasn't wondered at some time whether they were getting ripped off by a rogue trader? However I don't mind the lads wearing baggy boxers as they leave more to the imagination and make the final reveal all the more exciting! :-)
Reply