RELEASED: 11th January 2013
Sometimes Andy can't control his urges!
Sometimes Andy's uncontrollable urges get himself into trouble.
Serious Trouble!
There is a notorious spot in the local forest where the bikers like to bring their girls for some raunchy fun. Andy has decided to visit the forest himself and has found himself a hidden location where he can spy on the bikers and their chicks!
Andy loves what he can see and begins to take care of his own pleasure! Andy is too caught up in the action to realise that one of the bikers has spotted him perving in the bushes!
The furious biker creeps up on Andy from behind wielding a large branch. Andy gets dragged to a tree and finds himself taped and bound in a vulnerable position awaiting his fate!
The angry biker rips the shirt off Andy's back and starts flogging him with a leather whip... Andy struggles against his restraints as the leather strands lash his back.... Eventually the flogging ends.....
But the punishment continues...
The biker grabs a large handful of fresh stinging nettles from the nearby bushes. The nettles are thrust in front of Andy's petrified face and you can see the look of horror take over as he realises what is about to happen.
The biker shows no mercy as he whips Andy's already tender butt with the stinging nettles. Andy could never have imagined the pain of getting spanked with nettles! This straight lads bottom cheeks are visibly quivering as the nettles leave their mark on his bare bottom.
Eventually, the biker decides that Andy has had enough and checks the tape is secure before leaving. He never checked properly!
Andy manages to break free and chases after the started biker........ He soon catches up with him and pins him to the ground. Andy pulls of the biker's helmet and can't believe his eyes when he discovers who it is.
......................Revenge is Sweet in Part Two!
STREAM
VIDEO
Available streams for iPad, iPhone, Android, Chrome, Safari, IE or Firefox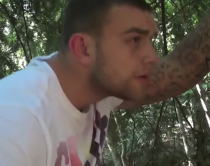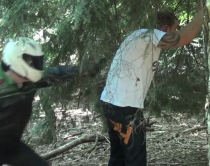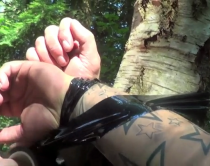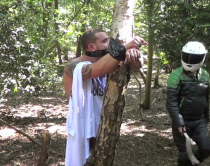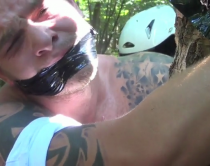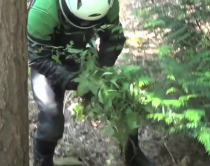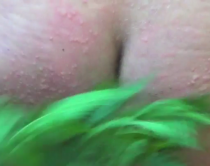 Rasputin
|
Voted Video 9/10
| 15th January 16:36
I have downloaded this new video, and I am impressed! I am looking forward to Part Two of this story.

lorilee
|
Voted Video 9/10
| 19th January 21:51
I have also dowloaded part one, bring part two soon I would really like to see how he gets Liam back. I thought for a min it might be your turn to get tanned oh well mabe next time .

Rasputin
|
Voted Video 9/10
| 20th January 09:50
Mr. X, how does one vote for this video? Where do I go on the site to "cast my ballot"?

At the risk of repeating myself, this is a great video.

Rasputin
|
Voted Video 9/10
| 20th January 12:24
I loved the story. If Andy had been wearing tight, skimpy briefs instead of those boxer briefs, he had been hand-spanked and whipped on the seat of his briefs for a long while before the briefs were pulled down, and Andy had been gagged a little more securely (for instance, a rag or handkerchief had been stuffed into his mouth and THEN duct tape is wrapped tightly across his mouth & around his head 3-4 times), I would have rated this clip even higher.