RELEASED: 22nd March 2019
Jerry
In Hot Water
When we were first introduced to Jerry, a couple of months back, he was getting into trouble with his dad after he drove his car without permission, a licence or insurance.
In this week's new male corporal punishment release from Straight Lads Spanked, Jerry is back, and this time we find him sneaking over a fence into a private garden, stripping naked and climbing into an inviting-looking hot tub!
As if that wasn't heinous enough an offence, this dirty boy lies back in the tub and starts stroking himself in the most disgraceful fashion! When householder Mr Smith comes home early and catches him, the silly lad's only defence is that he had thought it would be all right because he knew him.... but as Mr Smith points out, they weren't exactly friends; their acquaintance was limited to Jerry having visited the house once before to unblock a sink!
When the furious householder gets his phone out to call the police and report the lad for trespassing, Jerry has the cheek to ask how he will be able to prove it.... but he hasn't reckoned on the CCTV cameras that have captured his every move! He asks if there is some other way that they can deal with the matter, since he is already in trouble with the law.... and Mr Smith responds that in his day, this sort of thing would have been dealt with by way of a good old-fashioned hiding!
Faced with the choice between criminal proceedings and a sore bottom, Jerry opts for the only choice available to him, and when ordered to do so, gets out of the tub and follows Mr Smith indoors, naked and dripping wet.
With no further ado, right there in Mr Smith's kitchen, he does as he is told and bends over the older man's knee, where the latter wastes no time setting about teaching the young plumber a lesson he won't forget in a hurry. Again and again his hand cracks down across the lad's beefy bare bottom, which soon turns a delicate shade of pink.
After administering a painful and well-deserved spanking, Mr Smith is just beginning to think that he is getting through to the lad.... when Jerry makes the mistake of swearing at the older man: definitely NOT the smartest idea when draped over his knee with no clothes on, getting his bottom smacked!
Mr Smith orders Jerry to pass him the wooden spatula from the worktop, and begins to use it to spank his bare bottom even harder. Jerry wriggles around on Mr Smith's lap, but he is held firmly in place, and it's clear that he isn't going anywhere until the householder is satisfied that he has learned his lesson!
Jerry is told that when his punishment is over, he will be going back outside to drain the tub, scrub it clean and refill it. And if his bottom isn't still fire-engine red when he has finished doing that, he will be going back over the older man's knee until it is red again!
To drive his message home, Mr Smith tells Jerry that he will be getting 20 final smacks, and after each one he must count out the number and say "Sorry, Mr Smith".
By the time his ordeal is over, Jerry has a very sore, very red bottom, but that doesn't stop Mr Smith ordering him to stand in front of the glass kitchen door in full view of the neighbours, to think about his behaviour, before he is sent outdoors to clean the tub. Hopefully this is one young tradesman who will think twice before he ends up in hot water again!
STREAM
VIDEO
Available streams for iPad, iPhone, Android, Chrome, Safari, IE or Firefox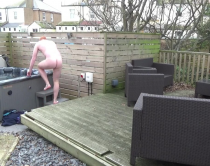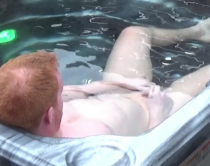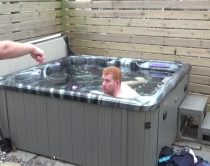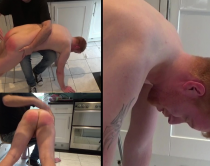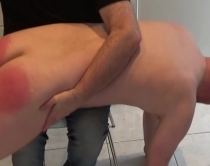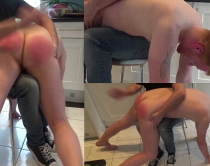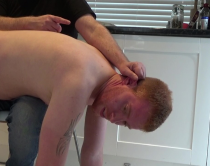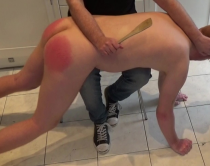 Serena89 | 22nd March 2019 23:01
Great work from you as always Dave! You are always so commited, credible and creative in your role :)

I'm sad to say this was not a favourite because Jerry's debut was awesome and I thought he was so natural and interesting so I was excited. I feel maybe he was more suited to the dad and son interaction. Last time maybe he wAS more scripted and had something to draw upon but he was more unnatural and awkward here... I really loved his ashamed and sorrowful attitude last time and he did not at all suit the more rude way he acted this time... I also didn't likethe scenario with him it would suit someone like Sebastian or Fraser who seem like the more mischevious type. But Jerry just didn't suit this role for me... I guess last time I was attracted to his attitude and stuff but I wasn't attracted this time. Still fair play to him he took the spanking well and was perfectly fine like he definitley put in a lot of effort and I'm sure many will love this video it just wasn't for me sadly.

Look forward to next week.

Dave - Straight Lads Spanked | 5th April 2019 18:58 (32 weeks ago)
Thanks for saying all the nice stuff Serena! :)
Reply

mstr_spkr | 22nd March 2019 22:35
It's Mr. Smith's fault for leaving the cover of the hot tub. Look at all the debris that could have gotten in and made a mess. Hadn't he recently finished doing a service call to unblock Mr. Smith's sink? As a "full service" plumber he just wanted to make sure the tub's drains didn't get clogged from stray debris! He was trying to head off another clogged drain and possible problems with the pump. I guess that's what happens when you try to do someone a favor.

I loved this one. Redheads redden up quite nicely when spanked and Jerry is no exception. Does he dare do a Bath Brush Beating? (I hope he does.)

Great job by all.

Dave - Straight Lads Spanked | 5th April 2019 18:57 (32 weeks ago)
I do agree he has the perfect bottom for the bath brush!
Reply

flashgordon | 23rd March 2019 18:13
This was a good story, with a nice fresh look, the glimpse of outdoors was fascinating, Jerry took a good spanking, and he coloured up well.

Serena89 has maybe got a point, in so far as the Casting Department might have allocated this particular scenario to one of the cheekier boys to better effect. But we must remember that in his first film Jerry set the bar exceptionally high, with a performance exceeding anything anyone could reasonably expect from a first-time appearance, and if it wasn't for that, people would not be judging his second one so critically. I certainly hope Jerry will be back for many more appearances.

My plea to Dave is this: when you have something outstanding, make good use of it: Jerry's jeans fit him to perfection. We saw this exquisitely in the first video; here he was still looking good in them - the same pair I think - as far as we could tell in the couple of seconds we were permitted to see them! While you've still got Jerry, and Jerry has still got those jeans, please let's have another nice long look at him wearing them! (The Strap would make a resounding impact on that tightly-clad target.)

Serena89 | 23rd March 2019 21:37 (34 weeks ago)
I agree with you that maybe if this has been his first video I would have been less credible. I still do appreciate the hard work put in her and recognise how brilliant Jerry came across last time and it will be hard to always reach that standard. I am not very good at putting suggestions or constructive thoughts across. I really hope people don't find my comments too rude and blunt! As I have said before I am so aware that not every movie is made to please me and with when I do be more negative I try to explain what didn't feel right or work for me more as just suggestions or honest feedback than me saying this isn't good enough. I am sure many loved it and the spanking itself was great! I probably focus waaaay too much on character stuff and consistency and personalities and sceanrios than I should... I get very carried away and over excited when I am into or invested in something.

Serena89 | 23rd March 2019 21:38 (34 weeks ago)
**Less critical is what I meant to say in the first line.

Dave - Straight Lads Spanked | 5th April 2019 18:57 (32 weeks ago)
Hey, this was actually the first video I recorded with Jerry.
Reply

JamieJones | 24th March 2019 00:13
Ooohh Mr Smith just used my favourite ever phrase 'a damn good hiding.' Thank you, thank you, thank you!!! That was amazing! Loved the take on the Bubble Bath Blues and getting to see a little more of the new house was very exciting.

Art – as always you did a brilliant job with the editing especially the sound. Having to compete with the pneumatic drill and the seagulls can't have made it easy but then you often say you enjoy the challenges Dave sets you. 😊


Art | 24th March 2019 15:20 (34 weeks ago)
Thanks JamieJones. The sound in this one was definitely a challenge. Outdoor wind sounds never record well. Anyway, it means a lot to me that you noticed it :-)
Reply