RELEASED: 31st August 2018
Spencer
You Slept With My Girlfriend
Spencer is a good looking guy and the ladies seem to fall for his charm. Spencer takes full advantage of this situation and does not seem to care who gets hurt in the process.
Spencer is having a rocky time with his marriage and has ended up staying round at his friend Dave's house. Dave can deal with putting up with Spencer's mess. However when he discovers that Spencer has been sleeping with his girlfriend, Dave realises that Spencer is just taking advantage.
Dave is really hurt that his friend could do this. He doesn't really know what to do. All Dave knows is that he wants Spencer to understand what it's like to feel hurt and humiliated. Spencer is given an ultimatum. Submit to a spanking and belting or his wife finds out everything!
This is a game-changer for the cocky young lad! To go over his friends knee and have his bottom spanked is nearly too much to deal with. He hardly has a choice though and goes through with it.
Dave does not mess around. You can see how upset he is with how hard he spanks and belts Spencer's bottom. It gets worse when Spencer is told to remove his jeans and his underwear and gets spanked on his bare bottom!
STREAM
VIDEO
Available streams for iPad, iPhone, Android, Chrome, Safari, IE or Firefox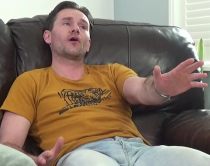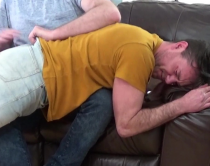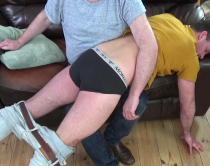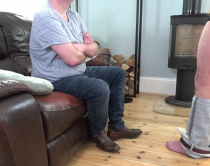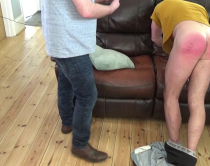 mstr_spkr | 1st September 2018 18:31
Good job, Spencer! I think he deserved much more for what he did and he took it well. Hopefully we're working up to a bath brush beating sometime in the future. Acoustics were better than in many of the previous videos shot at the new location so thanks for that. I'd also like to see Spencer give a spanking if (1) he's up to doing it, meaning that he's willing to touch a naked man's body, and (2) he'll give a proper one like the ones he's been getting. He'd have to live up to the site's tag line of "the whole punishment."

Let's see more of Spencer (once he's recovered, of course.) I don't know why the person before me rated this video so low. I enjoyed it greatly.
Reply