RELEASED: 24th August 2018
Stan
Craves Attention
Part Two
This movie continues the story on from Part One.
Members were introduced to Stan a few weeks back, when he got into trouble with his dad after some unaccountably bad behaviour. What viewers could see, even if his clueless parent couldn't, was that Stan was only playing up in order to get some attention from his dad.
This week's new male corporal punishment video from Straight Lads Spanked picks up the story from Part One, and opens with Dad brandishing a still image from CCTV footage showing naughty Stan letting down tyres on Dad's car.... an act of sabotage which resulted in the cancellation of Dad's planned fishing trip and forced him to stay home with Stan.
What Dad can't quite figure out is how the print-out ended up on his doormat. Who on earth would want to tip him off about his son being responsible for this outrageous behaviour, knowing that it would result in Stan being severely punished....?
Stan, meanwhile, seems strangely unconcerned as Dad outlines the consequences of his letting down the tyres. Dad tells him that he will be grounded and will have to spend the whole weekend with him. On Saturday, it turns out, he will be stuck indoors watching TV with Dad, and on Sunday they will be decorating Stan's brother's room together.
Oh and on top of that, of course, the lad is going to be getting a good spanking. And not just with Dad's hand. This time, he's going to be getting the wooden spoon.
Stan almost skips off to fetch that spoon. Why, it seems almost as if he can't wait to bend over and get his dad's undivided attention focused on his bottom.
Over the knee he duly goes, and gets spanked with Dad's hand and the wooden spatula. It's not long before he is told to take down his tracksuit trousers, and the punishment continues on Stan's tight purple pants.
A good thrashing leaves Stan pulling down his pants to rub his sore red bottom. But his ordeal isn't over yet. He has to take his pants right off and go back over Dad's knee for a spanking on the bare bottom.
All's well that ends well, of course. Dad and Stan hug, and as we take our leave of Stan, he is lying face down on his bed with his pants down, cooling his hot red rear end.... and looking forward to a weekend of quality time with his dad. Just what he wanted!
STREAM
VIDEO
Available streams for iPad, iPhone, Android, Chrome, Safari, IE or Firefox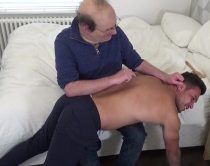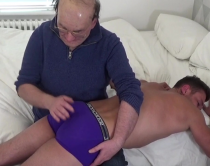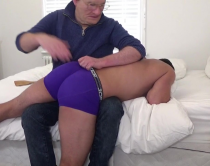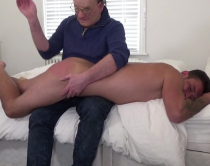 | 15th December 2019 13:51
This was extraordinary. Well acted. Disturbing, yet intriguing. Amazing job.

LucienG | 2nd January 2020 14:16 (108 weeks ago)
Curious, how was it disturbing?
Reply

| 15th December 2019 13:50
Reply

Ficwriterjet | 29th September 2018 17:47
I liked this one better than the first of the 'Craves attention' movies. I'm a little surprised so many people seem to dislike it. Stan may be motivated into this bad behavior simply because he wants attention from his father, which is sad and makes him a sympathetic character, but that doesn't make him innocent, or excuse the behavior entirely. Especially since he doesn't tell his father why he did it. If he'd explained himself, maybe Dad wouldn't have spanked him at all. I think it's great (and true to life) to have two characters interacting who don't understand the other person's motivation at all. I thought it was cute the way Stan kept saying 'well that's all right' to the 'punishments' of hanging out with Dad all weekend while he was grounded. Great job Stan for keeping in character through the pain, and thanks Dave for a new type of movie.
Reply

LucienG | 2nd September 2018 15:20
Dad will never get his just deserts. Dad is evolving. I believe he's learning and becoming a better father to Stanley. With that said, I thoroughly enjoyed the scene and the spanking was great! Stan's bum and thighs are beautiful to behold! His acting is superb. I'm not totally over dad's ugly mask but I accept that Stan obviously gets his looks from his mum. The editing was excellent! Thanks Art!

Art | 3rd September 2018 02:32 (178 weeks ago)
Thanks for saying that LucienG. I appreciate it. Art
Reply

CassieAnne17 | 31st August 2018 20:04
I must say I am really not a fan of this storyline at all either. But I do enjoy Stan! ;-)
Reply

FraserFan | 24th August 2018 19:29
I absolutely hate this storyline. Dad needs to get his just deserts for being a terrible dad. The tables need to be turned anything else and there is no justice. Mum needs to hire Andy to sort Dad out. Dad needs at very least a taste of the belt.

flashgordon | 29th August 2018 12:50 (178 weeks ago)
I too would love to see Dad getting the belt from Andy. I think Andy would make a good job of it. The trouble is, I think Dave knows this too. As long as "Dad" is played by Dave, I think Dave will see to it that it doesn't happen!

I would love to be proved wrong...
Reply

JamieJones | 28th August 2018 20:11
I totally disagree with FraserFan (sorry FraserFan) – I LOVE this storyline!

I think Stan plays the part of a son who desperately wants to spend time with his dad perfectly plus he takes a good hard punishment. I can't wait to see more of Stan.

Reply

mstr_spkr | 24th August 2018 17:27
Stan is about as perfect a model as you've had in a long time. He takes the spanking well and his acting is also good. He has "dad" right where he wants him. I will be happy to see how he manipulates more attention in the future, should you continue this series.

I agree that the acoustics are poor. Perhaps you could dampen the echos but I did not let that diminish my rating.

Stan takes the spanking well and I don't know how many cuts you had to take for him to continue. If it was not many, I would be most interested in a single-take bath brush beating to see how far he can go.
Reply

philimare | 24th August 2018 17:15
I simply love Stan, his acting is incredible. And this was a real, hard spanking, just as it should be. Stan is naturally taking the position of one leg on the bed and one leg on the floor, it is a very nice position for spanking (and for us to watch), much sexier than lying flat with two legs on the bed. One minor comment though, I still find the acoustics of the room not good (too much resonance, as if the room was empty). Great update.
Reply