RELEASED: 31st May 2018
Stan
Craves Attention
Yet another exciting new model makes his debut in this week's brand-new release from Straight Lads Spanked.
The studio's latest male corporal punishment movie sees handsome 20-year-old student Stan trying desperately to get some attention from his dad, only to be thwarted at every turn. He asks him to check his college assignment, but Dad tells him he is too busy and that he should ask his mother instead. He texts to suggest going to the football together tomorrow.... but no, dad has arranged to go fishing with Stan's uncle. Stan asks if he can go too, but no, apparently there's no room in the car.
Knowing already that he can't, Stan texts his dad to ask if he can use his laptop, and is told again, in no uncertain terms, that he is not allowed. Then he asks what time Dad will be home.... and at the allotted hour, he disobeys his father by switching on the laptop.... why, almost as if he WANTS to get caught! At least this way he will get some much-needed attention from his old man. After all, for some lads, disciplinary attention is better than no attention at all!
When Stan tells his dad that he needs to be punished, Dad initially suggests grounding him for a week.... but that's not what Stan needs. He argues that what he needs is a punishment that will teach him a lesson.
Dad decides that in that case, he has no choice but to discipline the lad the way he used to, with a good smacked bottom. So over Dad's knee he goes, to get the seat of his shorts well warmed. Dad thinks that is his job done, but Stan clearly has other ideas! We all know how Dad disapproves of bad language, and so when Stan swears, he knows very well that it is going to force Dad to up the ante! And Dad does precisely that, standing the lad up again to pull down his shorts before putting him back over his knee to continue the punishment on the seat of his tight pants.
Eventually Dad pulls down Stan's pants too, to tan the lad's bare bottom, just like he used to. But all's well that ends well; a mystified Dad, bewildered by his son's disobedient behaviour, tells Stan that he is proud of him and loves him. So although Stan ends up with a very sore red bottom, he has got what he wanted all along.... some attention and affection from his old man!
STREAM
VIDEO
Available streams for iPad, iPhone, Android, Chrome, Safari, IE or Firefox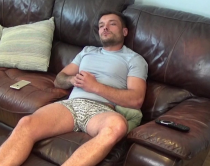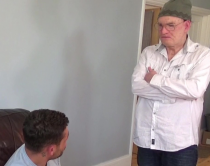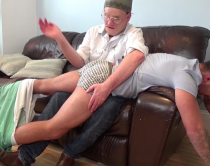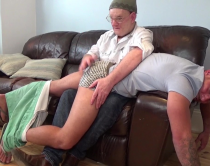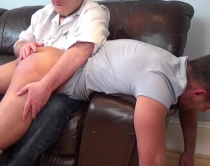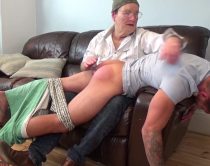 FraserFan | 4th June 2018 16:41
Dave, I'm not going to rest on this scenario UNTIL DAD GETS SOME comeuppance. Dad really needs to be made aware of how selfish he is being `what a dick he is` so... I want to put the question out there to everyone on this forum, what would be a suitable way to make Dad aware of his shortcomings as a father?
Reply

mattnyc | 3rd June 2018 20:44
I also posted in the "Dave Speaks" blog so I'll keep my comments here specific to the clip. I love Stan. He's really handsome and has exactly the kind of body that turns me on. Muscular, smooth, masculine, with a perfect butt. He's also a great actor. This was such a specific scenario and I was amazed that a new model could absorb that much detail in his first spanking video. Stan was totally believable and natural and he's obviously an articulate guy who can improvise really well. The scenario doesn't do much for me but that didn't wasn't a big deal me since the actual spanking was so sexy. I loved that Dad talked about "spanking" and used the word "spanking" and being "too old for a spanking" a few times. That's always a turn on. I also loved the session on those short shorts. Great spanking in that part, Dave. Of course he's sexy in briefs and sexiest bare bottomed as well. So this was an 8 out of 10 for with Stan getting a 10. I really look forward to seeing more of Stan. How about Marco or Charlie as his boss/coach/uncle? Since he's so game for doing dialogue and playing out spanking scenarios I have a feeling he'd also be a good spanker. Love the new model and I loved his spanking. Thanks for the tireless (and successful!) casting, Dave. Art, as always, the cutting is impeccable.
Reply

Dave - Straight Lads Spanked | 3rd June 2018 19:44
I've written more about this over on the blog "Dave Speaks"
Reply

LucienG | 3rd June 2018 13:48
Stan is cute. So little and son-like. Dad was a good example of what not to do or be as a father before he finally spent some quality time with his son, spanking his bum.

Dave - Straight Lads Spanked | 3rd June 2018 19:23 (51 weeks ago)
Yup, Dad for once, was setting an example of how not to be a good parent!
Reply

mstr_spkr | 1st June 2018 03:10
I love Stan but the story line was depressing. How many real life dads are selfish like "dad" in this video and missing from the lives of their children? Fortunately for us this was the way Stan got attention and I hope it's not the last time he does. Perhaps dad will make good on his promise of mouth soaping or the belt.

I'd love to see more videos with Stan but I would hope for a much better story line.

How about an interview or a bath brush beating video? He has the body and personality for them. Did "dad" ever find out who let the air out of the tires? Perhaps Stan has a confession he needs to make.

Dave - Straight Lads Spanked | 3rd June 2018 19:23 (51 weeks ago)
Hi There. I always appreciate your feedback. Yes I agree, it really is a depressing situation. I think it's probably quite common which is sad too.

I have a feeling we have not heard the last of this story and yes, what about those tires! :)

Reply

JamieJones | 1st June 2018 00:08
Oh my gosh...that was amazing!!!! Love Stan, loved the storyline, loved the dialogue, especially loved the ending, I even like the 'Dad' mask!

Seeing Chiki's idea brought to life was just so, so good. Thank you so much Dave and special thanks to Stan for playing the part to perfection. Throwing a 'Stay at peace' in there as well will make Chiki's day as we all know how much she loves that phrase :-)

I hope Stan's not a good boy for long as he's lovely and I can't wait to see him getting spanked again - sorry Stan!


Dave - Straight Lads Spanked | 3rd June 2018 19:21 (51 weeks ago)
Hey JamieJones, Thanks for the feedback. I'm so pleased you enjoyed this particular storyline. I agree with you. Stan was just amazing with this acting and he really made it very believable indeed.
Reply

FraserFan | 2nd June 2018 20:35
I like Stan and of course the spanking, but I was not keen on the scenario at all particularly. Dad is being a dick to his son. Dad actually deserves the spanking, not Stan. I generally am not keen on the scenario spankings for any model. The reasons are generally not sufficient IMO for corporal punishment. It should be bullying, theft, criminal damage, joy-riding, anti-social behaviour eg making the life of an old person on the estate miserable etc. I normally like the Mr X spankings more than the dad spankings, the scenarios are better more believable. Some of Dads reasons for spanking are more akin to bullying and abuse. Anyway, that's what I reckon, in this instance Dad is being a total dick and doesn't deserve a son who wants to spend time with him. One final word - As for Dad not allowing Stan to use his PC any parent any good parent would love their child unconditionally and wouldn't even notice their son using the PC. IN THIS SCENARIO DAD IS A TOTAL DICK - DAD NEEDS TO BE BROUGHT UP SHORT WITH HIS SELFISH AND UNCARING ATTITUDE. DAD NEEDS A SPANKING! I am a firm believer in giving another viewpoint.

Dave - Straight Lads Spanked | 3rd June 2018 19:19 (51 weeks ago)
Hey FraserFan, I quite agree with you. The Father is being quite selfish and is also being a bit of a dick towards his Son.

I don't think you are offering another viewpoint. Just accurately describing what happened in the movie.
Reply

Orla | 1st June 2018 07:53
Welcome Stan and yes I'd like to see more Stan.

Great storyline,I wasn't sure how you were going to pull this off but it worked really well and Stan is great actor too.

I want Dad to find out that Stan let the air out of his tyres and Stan of course swears at Dad and he gets soapy mouth and belted bottom.

Can I say that the true star of this movie is Daisy,she's a beautiful dog.
Reply

philimare | 31st May 2018 20:35
Love this one. Good acting, very credible. I just would have loved a little bit harder spanking. I much prefer this video than the previous one. I can't relate the black mask (in the previous video) to any type situation in my imaginary world so I much prefer videos with Dad than Mr X. Stan is great and really lives the situation. Great.

Dave - Straight Lads Spanked | 31st May 2018 23:21 (51 weeks ago)
Thanks for the feedback. Really glad you like Stan. 👍
Reply