RELEASED: 2nd November 2017
Charlie
Paddled
Traditional Punishment
This movie follows on from the previous spanking videos Charlie - Foul Behaviour & Charlie - Bubble Bath Blues.
Charlie has continued to play 'dirty' when it comes to football and has ended up with another red card. The coach warned this star football player that there would be serious consequences if this was to happen and the coach is a man who is true to his word!
Charlie has been summoned to the locker room and is awaiting his punishment, This time it really is serious and the punishment is going to be a spanking followed by a hard paddling.
Charlie has to get over the coaches knee and submit to a humiliating over the knee spanking. The coach does not waste too much time in getting Charlies shorts and underwear off so that his bare bottom can get spanked. Charlie is struggling and wriggling around but the coach does not care!
After some corner time, Charlie has to bend over the bench in position to get paddled. 6 swats over his shorts, 6 swats over his underwear and a final 6 swats over his bare bottom.
Charlie might be a tough guy but he really struggles to deal with the pain as the coach really lays into his bottom with the paddle!
STREAM
VIDEO
Available streams for iPad, iPhone, Android, Chrome, Safari, IE or Firefox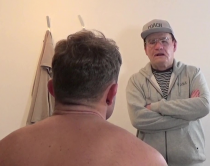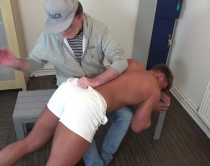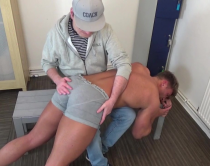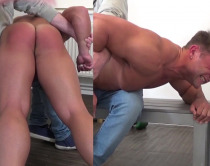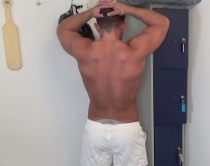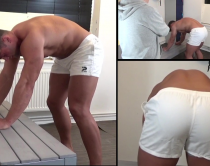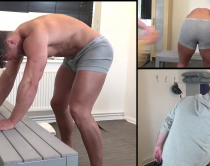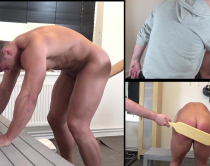 Rasputin | 3rd November 2017 19:03
Charlie is as impressive behold as ever - handsome face, smooth muscular body, eminently spankable ass. His demonstrative performing style - lots of squirming, struggling, kicking, grimacing, groaning, yelping, protesting, trying to fend off the spanks with his hand, etc. - definitely added to the appeal of this video.

I would suggest one minor change. Instead of having him wear those baggy gray boxer-briefs, Charlies should wear tight-fitting, skimpy briefs - the same kind of underwear that he wore in his "Bubble Bath Blues" and "Foul Behavior" videos. Such briefs would accentuate his eminently spankable bottom quite nicely.

Still, a very good video.
Reply