RELEASED: 28th July 2016
Fraser & Kevin
Spanked For Cheating
Part Two
This movie follows on directly from Part One.
Kevin has been exposed as a hypocrite! Having previously cheated on his own girlfriend, how dare he be so judgemental on Fraser! Of course Fraser takes full advantage of this situation and decides to order the same punishment for Kevin that he has just received.
This is nearly too much humiliation for Kevin to deal with. He really feels that he has no choice and reluctantly gets over the Mr X's knee whilst Fraser looks on. The over the knee spanking starts and Kevin feel every hard spank!
Kevin is forced to strip down to his underwear and wearing just a pair of tight boxers, he gets back over Mr X's knee as the spanking continuous. The camera angles show Kevin getting spanked and Fraser's delight in watching all in the one delicious shot!
Of course, no spanking is complete over underwear. So Kevin has to get fully naked in front of his friend for a bare bottom spanking.
Finally, both lads get a dose of the rubber plimsoll. This really packs a strong whack and each lad feels every single one!
STREAM
VIDEO
Available streams for iPad, iPhone, Android, Chrome, Safari, IE or Firefox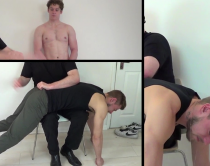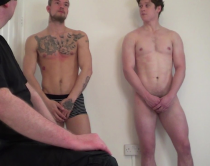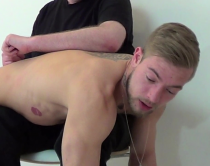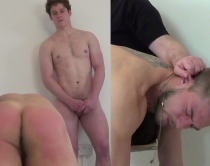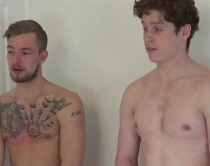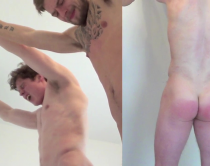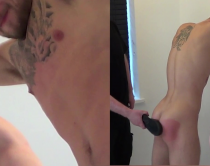 Moni | 13th February 2021 11:28
Reply

| 23rd December 2019 21:44
The Best Team 😍
Reply

jacko | 27th February 2017 12:43
Sometime before Fraser headed up north I watched him co-star with Kevin in another two-part film entitled "Spanked Footballers." Although I have yet to write a review for either part of that film, I remember thinking what a handsome youth Fraser had become; similar to my thoughts about Liam in his early film appearances.

In the co-starring role with Kevin in "Spanked Footballers", the scenario was very similar to "Spanked for Cheating". Both lads received a harsh hard-spanking followed by 12 strokes with an implement while positioned against the wall. Due to the excellent camera angles and Art's magic touch, the facial expressions and upper bodies of both lads were in view while they received their punishment. I recollect noticing Fraser's sleek physique and his ribs showing as he swung against the wall.

It was fascinating to compare that image with the similar circumstance in the film I am currently reviewing. Since returning to SLS Fraser's maturity to the physique of a young man has been obvious. When being whacked with the plimsoll and once again swinging against the wall, there was no sign of any ribs. He now has much broader shoulders and his chest is no longer sunken.

Spanking burly young men OTK has limited appeal for me. As Fraser is starting to match that description I would much prefer to see him spanked in an alternative position. For me, despite his convincing efforts with reaction, the sight of that virile young body precariously balanced across Mr. X's knees appears awkward and not true to life. On the other hand, when positioned against the wall, with smoothly-contoured backside and front regularly in view, the spanking with the plimsoll in this film was fantastic. No longer was I distracted by hefty thighs and an uncomfortably-positioned torso but my focus was directed instead to the painful expressions and the collision of plimsoll against a reddening bottom. As I have mentioned many times before, robust bodies are best spanked anywhere but over a knee. (My opinion of course.)

So far my comments have been limited to Fraser because he is a favorite of mine and therefore warrants my special attention. However, Kevin provided excellent support and interaction and his performance was equally polished.

Again, when comparing the two films I noticed that while Fraser displayed no embarrassment or reticence in either film, Kevin appeared self-conscious and embarrassed in this one. Was this part of his characterization perhaps? Although presumably a coincidence, I was amused to notice that just as Kevin dropped his undies, Mr. X crossed his legs, temporarily providing Kevin with privacy until his hands were used to cover up. Fraser on the other hand appears unconcerned about standing naked and exposing the family jewels. He doesn't flaunt his private parts but gives the impression that nudity is no big deal. I'm glad that he makes the effort much of the time to cover up.

The story-line for this film was exceptional with so much scope for humorous banter and interaction. With one big exception, the scenario was believable. There was no possibility that Fraser could have anticipated Kevin's indiscretion (especially as he was surprised to hear about it) so having the exact money to pay for Kevin's spanking stashed away in his clothes was not true-to-life. Perhaps he should have offered to pay with an IOU instead. To make matters worse, the notoriously tight-fisted and distrusting Mr. X didn't even count the money that he was handed. Viewers of "Locker Room Thief Part 5" are aware that Karl advised Kevin that he was handing him his only copy of the Internet transcript. Obviously sneaky Karl had two copies and the second ended up in Mr. X's hands. Smart lad that Karl!

In part 2 of this movie, the interaction between all three co-stars was hilarious, Fraser's clever acting skills coming to the fore as his tone of voice provoked not only heated responses from his teammate but created a character deserving of empathy and endearment. Kevin, on the other hand initially fashioned a rather disagreeable character deserving of retribution and Mr. X's wrath. Kevin's improvised dialogue is always a highlight particularly when coupled with his indignant attitude. Even the subtle facial expressions from Fraser during Kevin's spanking added realism to an already convincing scenario.

I particularly enjoy watching spanking with implements such a wooden paddle, bath brush or plimsoll because they make a great sound, inflict genuine, convincing pain and encourage vocalized and animated natural reactions. There is nothing worse than a stoic, "silent" spanking. Unfortunately, these implements are used infrequently at SLS. The plimsoll was used to great effect on Karl in "The Consequences of Cheating" and ironically also in this movie which is also about cheating.

The clever camera angles and editing ensured that I didn't miss the impact of this spanking on the two lads who reacted realistically during and after the thumping. (Thanks Dave and Art) I enjoyed these 12 strokes more than most spankings on SLS because of their severity, the reactions of the models, the story-line behind the action and the irony of the situation. I also appreciated the fact that the whacks did not leave welts, bruises or wounds other than reddened, smarting skin. The bottoms of these two lads should be insured because they provide priceless entertainment for so many viewers. However, they are worthless without the inventive story-line, the outstanding acting skills, characterization, charm and work ethic of the models and the talented efforts of Dave and Art.

I will comment more about the film when I review part one.

Part two is marvelous thanks to its skillful contributors. Although featuring two tough bouts of spanking, the humorous undertone made sure that the film maintained a positive aura and was of special entertainment value.
Fraser is now beefy enough to follow in the steps of Andy and become a regular spanker although maybe he is too quietly spoken for the role of an authority figure. Why not offer him the challenge? For me, Fraser is losing his appeal when spanked OTK because of his size but if against the wall or bending over and being whacked with an implement, there is no model who excites me more.

Congratulations all for a job well done!




Reply

mstr_spkr | 29th July 2016 16:35
I agree with the previous comments. Fraser has blossomed. He will be missed. Art's editing was superb as usual and Mr. X was, well, the quintessential Mr. X so what more needs to be said?

Kevin, too, was great! To borrow from the Bard, seeing him hoisted with his own petard was satisfying to see that justice was served to him as well. With the way he tries to explain himself and with just the right amount of cursing to earn a few extra swats (although I think Mr. X should crack down on swearing a bit more) he proves his mettle in being one of my favorites of the new guys. He doesn't overdo his reactions but you can definitely see him responding to what Mr. X properly dishes out. He rose quickly to the top of the list with his first Real Punishment videos and stays there with consistent performances. When he knows it's deserved he takes it well. Fortunately for us, his fans, he deserves it often.

I also love the way the stories lend themselves to potential sequels. Sounds like there could be some payback coming if Kevin can get his hands on Karl's butt for snitching and telling Mr. X about his dalliances.

The banter was great and the acting was top notch from all. It certainly was a job well done.

Rasputin | 4th August 2016 01:45 (286 weeks ago)
"He will be missed?" Are you saying that Fraser is no longer working for SLS? I wasn't aware that he had left.

If you know something I don't know, please reply.

jacko | 27th February 2017 07:46 (257 weeks ago)
See Fraser's interview included with the bonus movie, "Caned for Cash" and Dave's comments in the Video Discussion of the same film for an explanation. As your comment was posted 30 weeks ago, you have no doubt found this out by now but just in case ........
Reply

Giuseppe | 8th August 2016 13:24
I hope the bottom of Kevin will go up and down under your heavy hand for a very long time yet!!! and that Fraser beats his foot on the follor for a very lon g long time yet!!!
THAT'S I HOPE DAVE


Giuseppe | 8th August 2016 13:25 (286 weeks ago)
ON THE FLOOR I MEAN....

Reply

Kass44 | 6th August 2016 18:43
100% fantastic! Just wish Fraser got the chance to give Kevin the spanking of his life (and vice versa). Maybe in another film?
Reply

Kevinfan | 2nd August 2016 06:43
Kevin has such nice lips. I'll bet he is a good kisser
Reply

sumai-Davefan | 31st July 2016 17:32
Oh my god . I love this film . I love Kenvin . I love Fraser . I love Dave . I love Art . I love everything . Thank you Dave!

sumai-Davefan | 31st July 2016 17:49 (287 weeks ago)
Oh no,I'm misspelled kevin's name. I'm so sorry. Kevin I love you!
Reply

lazycat999 | 29th July 2016 13:21
Great video.Both Fraser and Kevin are awesome.Especially Fraser,his performance gets better and better.
Reply

LucienG | 29th July 2016 12:03
Loved the video. Acting is superb. Production always was excellent. Especially enjoyed Fraser. His body (though sensitive) is beautiful and his bum is a sight to behold. In the last few videos with Kevin, it looks like he may have lost a bit of weight, which saddens me. 😂
Reply

wardcoleman | 29th July 2016 09:14
I very much enjoyed this. There is something quite erotic about even the word "comeuppance" , and it was very satisfying to watch Kevin get his!!

There were some very good performances. I agree with Orla that Fraser certainly came out of his shell, bis banter was fun, especially his teasing of Kevin. Kevin also gave a great performance as an embarrassed and humiliated guy trying to retain some semblance of dignity, which, of course, ain't going to happen when he is stark naked and over a man's knee!

"Mr X" kept it all together very well and, I am sure, he did enjoy this one. Some very nice editing by Art as well.

One I shall certainly watch again.
Reply

Ooleary | 29th July 2016 01:08
This is definitely one I'll be watching lots over the weekend love love loved it.

Fraser you little legend definitely stole the show in.this movie and has really come out of his shell and banter between himself and Kevin was brilliant .That's all I'm saying for now , need to watch a few more times 😆😆😉
Reply