RELEASED: 21st July 2016
Fraser & Kevin
Caught Cheating
Fraser has been a naughty lad and has been caught "snogging" Kevin's girlfriend! This is not the way that friends behave. Kevin appears to feel very strongly about this behaviour and has decided that Fraser needs to be taught a lesson. So both lads agree that Fraser will take a spanking from Mr X.
Kevin books an appointment with the local community spanker Mr X and arranges for Fraser to be disciplined. It does coast Kevin some money, but as far as he is concerned it's money well spent. Kevin is really going to enjoy the spectacle of Fraser getting an over the knee spanking,
Mr X accepts the job and agree's that Fraser deserves his punishment. Mr X also listens very carefully to just how much Kevin does not agree with people cheating.
Fraser just finds the whole experience humiliating, The beefy football player has to bend over Mr X's knee to get spanked. Kevin just stands their grinning and laughing at the entire process. Fraser gets stripped completely naked for the final part of his punishment!
Embarrassing!
STREAM
VIDEO
Available streams for iPad, iPhone, Android, Chrome, Safari, IE or Firefox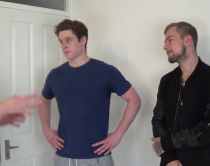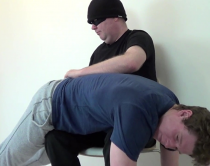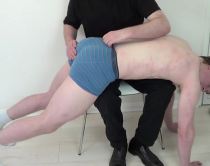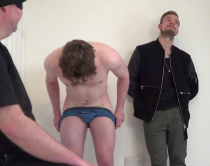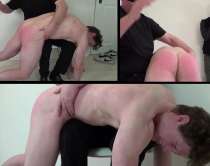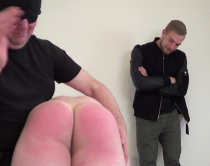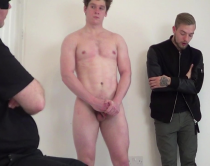 Frasier has one of the most gorgeous asses I have ever seen. I could watch him being spanked all day.
Reply

NovaDad | 22nd July 2016 14:37
Great video! Fraser and Kevin are two of my favorite SLS lads. I can hardly wait for Part 2 -- when, I assume, we will see Kevin get his due, while Fraser watches. =;-))


| 8th June 2021 15:09 (25 weeks ago)
Reply

jacko | 28th February 2017 06:47
The very first shot in this film, showing Fraser and Kevin standing side by side. is splendid because it clearly portrays the theme of this movie.

Fraser is standing with hands on hips, handsome as ever, contemplating the impending spanking that he is about to suffer. He is in agreement that it is well-deserved; the consequence of a drunken night out. The fact that he has agreed to submit to chastisement could suggest that he is feeling guilty and is eager to make amends. Alternatively, is his humility actually, as Mr. X suggests, because he was caught out and doesn't want his girlfriend to know? Whatever the reason, Fraser finds himself the victim of an unforgiving blackmailer.

Beside him stands the arrogant, self-centered character named Kevin, supposedly his mate, gleefully rubbing his hands together, his smug grin revealing satisfaction as he also contemplates the spanking that is about to occur. He is aware that Fraser has cheated on his sister Emily by kissing another girl at the club. Indignant that Fraser could possibly treat his sister in this way, he has offered Fraser the ultimatum of being spanked or alternatively suffering the consequences if he spills the beans to his sister. Cheating on one's partner is a moral disgrace that "holier than thou" Keven considers is so appalling that it deserves only the harshest of punishments. Therefore, he is paying Mr. X to do the dastardly deed of tanning Fraser's backside while he watches and enjoys. To increase his pleasure he has requested that the retribution be made especially painful by including 12 whacks with the plimsoll. Obviously the sight of the plimsoll hanging on Mr. X's wall has prompted Kevin to suggest this implement. It's Just as well the small carpet beater was not hanging there!

The period leading to the spanking consists mainly of interaction between Mr. X and Kevin. As the submissive party, certainly grateful that he been offered a way to prevent his girlfriend from finding out about his misdemeanor, Fraser is content to listen and respond when required to do so. He will have plenty of opportunity for dialogue in part two of the movie.

With relevant information stored away with which to confront Fraser later on, Mr. X, while in the process of spanking Fraser, questions Kevin further. Unknowingly, Kevin digs for himself a bigger and bigger hole while self-righteously espousing his attitude to cheating on one's girlfriend. His opinion that there should be severe consequences for such moral degradation is no doubt of interest to Mr.X who continues to share more of such severe consequences with Fraser.

In previous reviews I have likened Fraser to Michelangelo's David. However, when Fraser takes his first break from being thumped and stands next to Kevin, he looks more like Goliath. He has certainly matured! The contrast between the two is striking! (Please excuse the pun.) On the one hand, Fraser, the gentle giant, submissively ignores the barrage of snide remarks and pretentious scolding from Kevin, intent on maintaining his dignity until the spanking's end. It appears that Fraser may have been genuine in his desire to make things right with this punishment. Kevin, the sanctimonious hypocrite, relentless with his sarcastic jibes and using his concern for his sister as an excuse to humiliate and embarrass his "mate", is the epitome of nastiness.

Both models work hard to establish these characteristics for the roles they play. Kevin's dialogue is outstanding and Fraser's responses and reactions are appropriately convincing. They use gestures and facial expressions to powerfully maintain this impression. It's such a pity that Kevin's pious and belittling comments, particularly regarding Fraser's well-feigned embarrassment, couldn't be played back to him in part two.

The excellent camera angles and editing that highlight the reactions of both lads during the spanking are insightful and impact on the realism of the story line and its progression. Fraser blushes with the exertion of resisting pain while Kevin laughs and makes fun of his misery.

So well captured. Great work, Dave and Art!

The end of part one makes fascinating viewing despite Kevin's swearing. With Fraser looking more like David than ever and adopting an uninhibited response to his nakedness and Kevin frantically attempting to dig himself out of the hole he has created, there is plenty of action to persuade the viewers to continue on to part two.

An excellent part one to another brilliant movie co-starring Kevin and Fraser. Thanks lads for an entertaining 24 minutes of exceptional entertainment, during which the special talents and skills of all four of you were allowed to shine. I liked the way you didn't dominate this video, Mr. X but with tactical breaks and appropriate pauses provided opportunity for clever interaction.

My comments continue in the Part Two VideoDiscussion.

Reply

mattnyc | 26th July 2016 03:08
Great clip. Fraser is SO super sexy; those thighs, that perfect, round smooth butt. Great looking and a really good actor. Kevin gets better and better. He's become one of the best improvisers on the site. His acting is fantastic in this. And he's also great looking. Can't wait for part 2. Dave, Art, thanks for another total winner.
Reply

Ladyhaydie | 24th July 2016 10:21
Fab film! Poor Fraser!! Bet part 2 be good seeing Kevin get s taste of his own medicine x
Reply

sumai-Davefan | 23rd July 2016 11:43
I like this film,and I enjoy this plot twists.Fraser and Kevin was great.I can't wait for part 2.Do we have part 3? kevin take revenge on Karl or Karl meet MR.X for grassed? I am looking forward to Kevin Karl and Fraser appear in the same film.Thanks Dave and Art.
Reply

Ooleary | 23rd July 2016 00:53
So worth waiting for, Kevin was unbelievable he's such a great actor and the part of a protective brother so well and being all righteous and disgusted at his friends betrayal and was really relishing poor Fraser discomfort and embarrassment and when the tables turned Wow bring on part 2.

I loved all the split screens xx

Fraser did an awesome job too and took one hell of a spanking, kicking and squirming and trying to get Kevin sent out of the room to save his embarrassment.

Don't make us wait too long for part 2

wardcoleman | 23rd July 2016 10:30 (279 weeks ago)
Hi Orla

Dave had better be careful, if he keeps us waiting for part 2 there will be hoards of SLS fans hunting him down!!

Really looking forward to seeing Kevin get his comeuppance. Hopefully with lashings of embarrassment!
Reply

wardcoleman | 22nd July 2016 16:47
That really was fun! and I can't wait for part two, which will, I am sure, be even more fun.

Nothing better than watching an arrogant lad get his comeuppance!

Great performances from two of SLS's most handsome lads
Reply

CassieAnne17 | 22nd July 2016 16:39
Brilliant!! Loved this video and LOVED KEVIN! Ok I LOVE Fraser too! :) Great acting all around, Kevin is really quite a natural and plays his part well. I kept wondering if the tables were going to turn! ;) Great editing of the video too, the shots were perfect and the piecing together was wonderful Art. Looking forward to part 2...although how did Mr. X find out? LOL
Reply