RELEASED: 16th March 2018
Marco
Handsome Banker
Spanked and Humiliated
A new model makes his debut in this week's new release from Straight Lads Spanked, and he looks set to have a future as rosy as his bottom after Mr X has finished with him! The studio's brand-new male spanking video sees arrogant banker (and no, that's not rhyming slang) Marco sent to visit Mr X to be punished for some highly inappropriate behaviour with a young lady at his office. Not only has he slapped Felicity's bottom, but he has bombarded her with text messages, including some picture messages focusing on a particular part of his anatomy.... and we're not talking his hard neck. As Mr X is quick to point out, the young man should really consider himself lucky. Felicity could have insisted that he was sacked, or might even have pressed criminal charges for harassment.
When Mr X reveals the nature of the form of punishment that is his particular speciality, however, suddenly Marco doesn't feel quite so lucky, and he is about to leave.... until Mr X mentions that if he tells his boss that he refused the punishment, Marco will have no option but to clear his desk.
The young man demonstrates commendable enterprise by offering to pay Mr X twice his fee if he will tell the boss that he has disciplined him.... but then, he doesn't know Mr X like we do! Sadly for Marco, Mr X is professional to the end, even if he isn't, and eventually he realises that he has no alternative but to bend over the older man's knee for a spanking on the seat of his tight-fitting blue jeans. He may have submitted to getting his bottom smacked, but his smart mouth is still in gear, questioning why he should be punished at all when he was "only flirting", and Mr X realises that this arrogant young executive badly needs to be taught a sharp lesson about the results of inappropriate behaviour in the workplace. "I'm quite enjoying my job today," says Mr X as he gets stuck into the task of warming the lad's bottom.... and, let's face it, who can blame him? If Marco thought that he was going to get away with just being spanked on the seat of his jeans, Mr X soon reveals that he has got another think coming.
That was just stage one of three, he tells the unhappy banker, as he orders him to take off his shirt and jeans. Bending back over Mr X's knee, Marco's spanking continues on the tiny white pants that barely cover his bottom, which is now reddening visibly under the relentless assault from Mr X's firm right hand.
That leaves only stage three to be completed. And as Marco has worked out, that can mean only one thing: pants down for a spanking on the bare bottom! Mr X is clearly determined to make sure that Felicity gets the result that she is due - to be left well alone in future from this cocky sex pest. No surprise, then, that he goes out of his way to ensure the lad will remember the pain and humiliation of a good hard bare-bottom thrashing every time he sits down for the next week!
After being sent to the corner to reflect on his behaviour with his red smacked bottom on display, like a little boy, we get the feeling that Marco is beginning to learn his lesson. Well, we can always rely on Mr X to get the message across, one way or another!
STREAM
VIDEO
Available streams for iPad, iPhone, Android, Chrome, Safari, IE or Firefox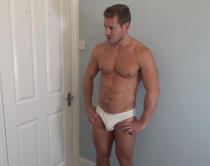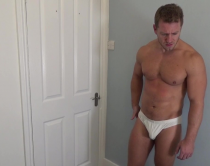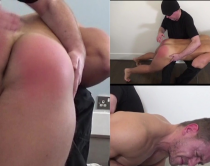 jake854 | 21st March 2019 15:01
More with Marco, please. Would like to see an interview too. He needs to be stripped and spanked again and again.
Reply

Edmund47 | 10th April 2018 17:20
Handsome and well-built 10/10
Reply

starpower1 | 9th April 2018 05:47
Omygosh! Marco ALMOST kicked his legs in the video. Won't you please arrange for him to take an otk spanking with a lot of leg kicking! Before I die, that is!
Reply

Orla | 19th March 2018 22:42
Shamrock ☘☘drowned 🍺🍺 resuscitated and drowned again Happy St.Paddys Day.
Marco is the perfect hangover cure.

Welcome Marco and your delicious bum , loved the dialogue and him trying to make a deal to get out of the spanking.Good hard spanking too and Marco showed it and the standing on the corner is always a glorious site nice red bum cheeks.
Reply

LucienG | 17th March 2018 00:18
Excellent spanking. Marco may not really be a banker but he is definitely handsome. I am always in awe of these straight guys who lay naked across another man's lap and allow one of their most intimate parts to be toched and spanked! How do they do it? Well done Marco. Really enjoyed your performance.

Dave - Straight Lads Spanked | 17th March 2018 16:57 (101 weeks ago)
Hey LucienG, Thanks for taking the time to leave a comment, I really do appreciate it. I'm delighted you like Marco. I think the question is not so much how do these straight guys do it, but more "how do I find them"! :)

flashgordon | 19th March 2018 14:01 (101 weeks ago)
Yes, "how does he find them?" is what I always wonder! Where indeed do you find so many young men who not only are willing to take a serious spanking on camera, but who also look good taking it - and can act so well too! I am as much in awe of these straight lads' ability to act their role and improvise lines as I am of their endurance. We've just seen vivid performances by Charlie and Jason - and now Marco: handsome, yes, and with a handsome body too, and (like many of your models, and it's an excellent feature of SLS) nice tight jeans for stage one of the punishment. And another excellent acting performance.

I certainly hope we'll see him more. Especially after Dave drew attention to his "nice big belt". Chekhov said "If in the first act you have hung a pistol on the wall, then in the following one it should be fired".

Of course, there's no knowing who will fire it, and the writer may well surprise us. It could be that in the long term, the only lesson Marco has taken away from his encounter with Mr X is some handy tips for dealing with other annoying people! Sure, I would like to see Marco's nice big black leather belt being "smacked across his bottom", as Mr X invited him to imagine, but if Marco wants to smack someone else's bottom with it, I'll happily watch that too! (Especially if he takes his shirt off to do it, so we can admire his nice upper body in action!)
Reply

liuhaoda | 17th March 2018 23:47
I like the dialogues so much, especially when Marco said he would like to pay double to Mr X. I think if I was sent to Mr X, maybe I wanted to make the same deal with Mr X also. That's so interesting.
Reply

Rasputin | 17th March 2018 16:48
I second mstr_spankr - Welcome Marco!

A handsome, athletic man getting a sound OTK spanking like he was a little boy - what's not to love? Those tight, faded jeans displayed Marco's eminenty spankable bottom very nicely. Those tight, skimpy "pants" accentuated Marco's ass BEAUTIFULLY. His bare, red butt looked great in the finale as well. And his acting was frosting on the cake; all that squirming, kicking, grunting, groaning, grimacing & yelping convinced me that Marco was both hurt and humiliated by this spanking.

I'm looking forward to seeing more of Marco in the future, especially when he's spanked OTK while wearing tight, small briefs.

Well done, guys. Well done indeed.

Rasputin | 17th March 2018 16:53 (101 weeks ago)
Oh, one more thing. A number of times Mr. X adjusted Marco on his lap and tipped Marco forward so that he could get a better spanking angle of attack. Marco squirmed even more when Mr. X did that. That was a very nice touch.

Dave - Straight Lads Spanked | 17th March 2018 17:02 (101 weeks ago)
Great feedback Rasputin, I liked reading all the things you liked about this movie. Yes, Marco seemed to be easy to move into the perfect spanking position!
Reply

mstr_spkr | 17th March 2018 15:24
Welcome, Marco!

I love his attitude. It's perfect for someone begging for a spanking. His interaction with Mr X was very believable. He's an excellent model: Good looking, has a nice and spankable bottom, takes the spanking well, and acts believably with nothing forced or faked. Since he ended up naked, it's hard for us literally to see more of him, but I hope he finds his way over Mr X's lap or some other guy's lap soon and often. He might even make a good spanker as well.

Well done! Don't be a stranger here.

Dave - Straight Lads Spanked | 17th March 2018 17:01 (101 weeks ago)
Welcome mat_spkr! I hope Marco wont be a stranger too! Oh I bet some people even cheered when Marco got spanked! I think we all know someone with a bad attitude that needs to be brought down a peg. Thanks for the feedback :)
Reply

philimare | 17th March 2018 07:53
I would normally not like videos with the mask and/or videos with too muscular guys but I must admit there is something special with this one. The scenario is well built, both Marco and Mr X are natural, nothing seems acted or faked. There is some sort of tension and intensity which absolutely get through. The spanking is real and hard as should be a real punishment. Marco is indeed really handsome and above all, he is into it. I am convinced, I love this video.

Dave - Straight Lads Spanked | 17th March 2018 16:59 (101 weeks ago)
Hey Phill, you really summed up in words how it felt for me at the time of filming, Marco was a natural actor and it really did feel very free and easy and very natural. Thanks for leaving this comment, I do appreciate it :)
Reply

newspank | 16th March 2018 23:52
What a strapping and handsome chap Marco is - and that superb little bit of acting after his spanking and he realises he is stood naked in front of Mr X and covers himself up. Nicely done all round and hoping we see more of him both giving and receiving.

Dave - Straight Lads Spanked | 17th March 2018 16:56 (101 weeks ago)
Hey Newspank, really glad you enjoyed it! Yes I loved that bit at the end when Marco realised he was naked! :)
Reply