RELEASED: 30th December 2016
Taylor & Chris
Late For Their Spankings
Part Two
This movie follows on directly from Part One
Taylor has just had to endure a very painful hard over the knee spanking. What made it worse is that he got spanked whilst a complete stranger (Chris) was forced to watch.
Taylor is now standing there, completely naked having to watch as hunky builder Chris now has to go over the knee of Mr X to receive his spanking!
Mr X really dishes it out to Chris and the humiliation is complete as gradually Chris is stripped naked until he is spanked hard on his bare bottom. All the time, Taylor has to watch!
That is not the end of the spanking though as both lads are made to lean again the wall with their tender, red bottoms sticking out to receive some hard whacks from the wooden paddle!
STREAM
VIDEO
Available streams for iPad, iPhone, Android, Chrome, Safari, IE or Firefox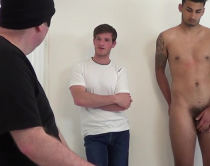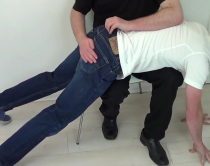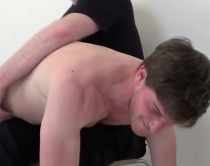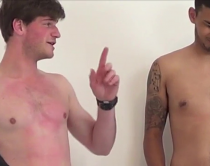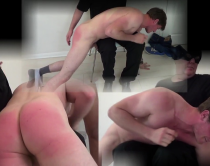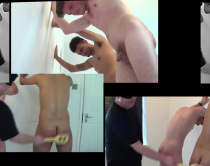 Ficwriterjet | 4th February 2017 00:28
Chris seemed to have quite the attitude in this movie. While I was watching and listening to Dave's comments on finishing jobs, and leaving people to live in a mess, I had to smile. Clearly a touch of 'real punishment' happening there. LOL I see the Levi's that a couple of the members had asked about finally made an appearance. The jeans don't do anything for me one way or another, but I thought Chris looked good in them. My favorite part of this film was when Mr. X gave Chris a couple with the paddle in the beginning for his snarky comment. And the paddling for both of them at the end was great.
Reply

jacko | 14th January 2017 19:54
Comments such as "having to watch a hairy arse" and put up with a "penis in his face" only increased my loathing for the character Chris played which I suppose is the ultimate complement to his acting. It certainly made his harder spanking and suffering with the paddle so much more satisfying.

Taylor standing naked in the background was an unnecessary distraction; a humiliation that Chris didn't have to suffer and therefore unjust. He also appeared to "feel" Chris's punishment at times and flinched accordingly. While I thought he received a poor deal in this regard he didn't appear to be concerned and proceeded with his neck stretching as if it was all in a day's work.

Although Chris's reaction to the punishment was a little more convincing (a positive) he appeared to be more regretful of his situation than of his past behaviour. But then, unlike Taylor, getting Chris's character to say "sorry" or admit responsibility is a bit difficult even for Mr. X. He wasn't even apologetic for his lateness.

Chris's backside possibly appeared to have been more harshly treated because Taylor had been standing, and at times rubbing for quite some time. Chris's character came across as a malcreant and loafer while Taylor came across as just lacking a bit of youthful self-discipline so if Chris's punishment was more severe it was well-deserved. I agree that his poor choice of undies was asking for trouble. By the end of the paddling both appeared to be regretful of their lateness and unlikely to be repeat offenders in this regard.

Congratulations to both lads for their performances during the paddling sequence although it might have been more a natural reaction to the pain than outstanding acting. I'll give them the benefit of the doubt. Whatever the reason, it was a fitting end to an enjoyable movie.

Please Dave, less full frontal nudity in future movies. I think I was more embarrassed for Taylor than he was himself. Remarkable how quickly he forgot his shyness in front of a complete stranger and found another occupation for his hands.

Taylor took a risk pleading for Chris's punishment to be halted although he was just repaying a favour. He needs to be a little more wary of Mr. X's temperament in the future.

An excellent movie Dave, Taylor and Chris.
Reply

Ooleary | 30th December 2016 16:06
One to watch again a few more times 😆 Chris is hilarious but he definitely got a worse spanking than Taylor his bottom was practically glowing.

I love watching movies with 2 lads cos i like watching the reactions of one lad watching the other being spanked and Taylor was so laid back fixing his hair in the camera etc so funny .

Chris was great pretending he couldn't get his jeans open fast enough now that deserved a swat or 2 with the paddle, plus i bet he was regretting his choice of undies they did not protect his bottom at all .

Loved the paddle and they were hard swats and loved all the split screens and different angles but because Taylor is so much taller than Chris i couldn't really see his beautiful puppy eyes .

ps all that talk with Chris about messing about and not finishing the job on time was that really about him messing you about xx

Dave - Straight Lads Spanked | 1st January 2017 17:24 (72 weeks ago)
So glad you enjoyed this and yes Chris really got a hard spanking.

Oh and you are 100% correct! This was in my mind very much a real spanking for Chris! It's great being able to teach him a lesson through these movies!

Ooleary | 1st January 2017 18:27 (72 weeks ago)
Ha ha hearing that makes me love this movie even more xx
Reply