RELEASED: 2nd December 2016
Chris & Taylor
Late For Their Spankings
Part One
Mr X the local community spanker has a very busy day. It does not help matters when not one but two of the lads are late for their spankings!
Both Taylor and Chris are proving to be unreliable and Mr X is not happy! He has a job to do and spankings to dish out!
Eventually Taylor finally makes it. Mr X is busy lecturing Taylor on his bad behaviour when Chris decides to make an appearance. Neither lad was expecting the other lad to be there. Mr X decides to make a feature of it!
So what can possibly be worse than have to strip naked and have your bare bottom spanked hard by another man? Well I guess having to do all that when another guy is standing watching every moment!
If you love watching straight guys spanked and humiliated then you will very much enjoy this movie!
STREAM
VIDEO
Available streams for iPad, iPhone, Android, Chrome, Safari, IE or Firefox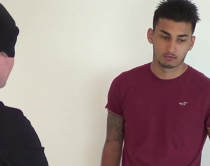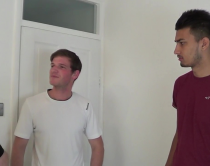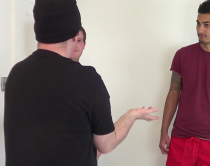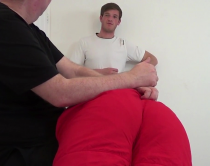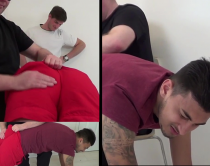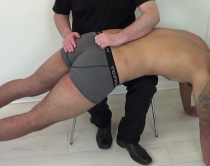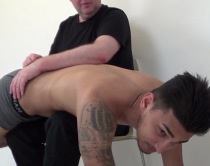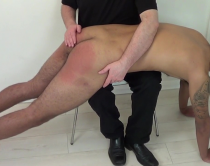 Kass44 | 22nd April 2017 00:16
got to tell you I love this film (& part 2 as well) - 100%!!! Chris is a favorite of mine. I absolutely love Chris - he's adorable, funny, sweet - I laughed out loud at the things he said! But please start asking your actors to wear tighty whites. Chris in tighty whities - that would be wonderful!

Reply

jacko | 14th January 2017 12:37
I was appalled when I watched Chris' first interview with Dave, filmed more than a year ago.. He was so arrogant then, even when not in character. Hopefully all his spankings have improved his attitude a bit. Nevertheless, playing the part of this arrogant smart arse can't have been too difficult for him. Taylor, on the other hand is a very talented actor and a very handsome model. He oozes talent. His backside is perfectly structured for spanking and provided Mr. X with an ample target for some hefty blows. I am surprised that his reaction to the spanking was in most part restricted to facial expressions, at least until he got up and started to rub with vigour. Nonetheless, I was convinced that he was relieved to be free of the relentless spanking which must have hurt a lot. Perhaps he was being extra brave in front of Chris. Well done, Taylor! With the promise of further punishment to come he has been well-conditioned for the paddle. It is unfortunate for him that Mr.X supports the same team so is not impartial.

I look forward to part two when Chris will hopefully regret his snide remarks as he receives an even harder spanking. Go for it, Mr. X!

By the way, was Taylor chewing gum or just grinding his teeth with pain.
Reply

Ficwriterjet | 28th December 2016 04:23
I had to laugh when Mr. X calls both of the guys and asks where they are. Being late for their spanking which they're getting for being late... that's hilarious. I also had to laugh at Mr. X having their phone numbers - clearly they're regular customers. LOL I liked the set up of neither one of them knowing the other, and then having to deal with getting spanked in front of each other. Fun movie so far.
Reply

Ooleary | 3rd December 2016 02:55
Really loving this storyline, Taylor and Chris work so well together.Well done Taylor that was seriously the hardest spanking xx.Chris has really come on with his acting too , funny, cheeky guy, well that is until it's his turn just hope we're not waiting too long for part 2
Reply