RELEASED: 16th June 2016
Bradley
Stepdad Rules
This male spanking movie features delinquent Bradley getting spanked by his stepdad. Bradley is an arrogant young man who has been stealing from his mother. His stepdad has discovered what Bradley has been up to and confronts him with the evidence. Bradley is very disrespectful to his stepfather and denies being a thief.
Bradley's stepdad is fed up with the lies and decides that it's about time he took charge of Bradley;s discipline. So in this male spanking movie Bradley is given an ultimatum. Accept punishment from stepdad or his Mother finds out about his thieving.
Bradley reluctantly agrees to get spanked. This is a big deal for this young, straight man to go over his stepdad's knee for a sound spanking.
What follows next is some good old-fashioned discipline as his stepfather administers some badly needed corporal punishment. You soon see some serious attitude adjustment as this male punishment movie progresses. You also see his bare bottom turn from milky white to scarlet red!
STREAM
VIDEO
Available streams for iPad, iPhone, Android, Chrome, Safari, IE or Firefox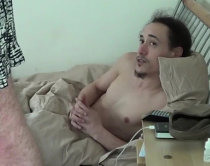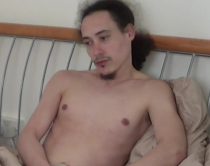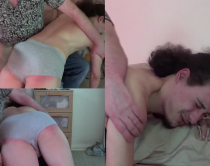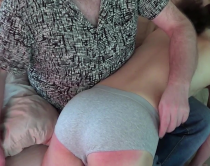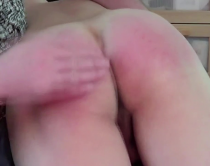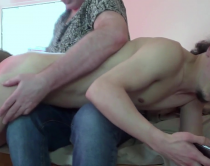 Uchikimatsu | 6th April 2017 22:58
What a great little gem! I know that there's all sorts of excitement surrounding Bradley's other purple duvet film, which is a joy, no doubt, but I must comment on this one first.
Bradley is one of those rare mythical creatures spoken about in hushed reverent tones on boards like this. He's easy on the eyes, nice bum, can take a wholloping....
What? So can all the SLS lads you say? Yes, yes this is true, but Bradley can ACT. The boy got mad tHeAtRe sKiLLz my friends. Just watch, or watch again. He really embraces the role of crappy step-son, not just in attitude, because anyone can fake a crappy attitude, but he's able to throw lines back at Dave (or Step-dad,) in character, with believable ease. The most a lot of the models are able to accomplish during a proper dressing down is some head nodding, a few "yes, dad's" or "no, dad's" or maybe a few noncommittal "uh-huh's." Brad holds his side of the conversation and does it so convincingly that I can almost construct the tense backstory in my own mind, which is how it should be. I am particularly appreciative of Brad's reaction when Dad talks about how if it wasn't for Brad's father not being there, he wouldn't be in their life. Instead of the usual "Yep" or "I guess" we are treated to a very realistic, emotional response that could only come from an actor very much in character. This is a marvelous spanking film that ticks all the boxes for me; a great spanking of course, good acting, plausibility, reconciliation. LOVE IT!
Reply

Krisk9999 | 6th August 2016 19:38
Reply

Kevinfan | 19th June 2016 23:54
Love Bradley. Lovely body. Ass to die for. Sweet demeanour . More please.
Reply

Slipper Boy | 18th June 2016 21:55
very good video yet again dave
Reply

LucienG | 18th June 2016 13:39
There's nothing like a nice rosey red bottom after a sound spanking. Thoroughly enjoyed watching this video. The after spanking self soothing was nice too. Great job guys, Dave, Art, and Bradley!
Reply

NovaDad | 17th June 2016 18:48
Bradley is great. This video is even better than his first. I particularly like the part at the very end when he lifts his butt up so he can slide his pants down and sooth his flaming cheeks!! (#!#)
Reply

Ooleary | 17th June 2016 15:08
Bradley was great here and he sure had an attitude adjustment and more respect for his Stepdad after that awful spanking.

I loved how red his bottom got and his cursing and protests about him being too old and Dad not being his real Dad etc.

Stepdad did not hold back that was a proper hard spanking and of course the good ole slipper lol.

Love the split screens xxx

At the very end when Stepdad is saying he doesn't hold grudges and wants to be friends the look on Bradley's face if you leaned in that time for a hug rather than a handshake I think he would have welled up very emotional or maybe it's just me reading too much into it ...me and my cuddly hormones ..anyway it was enough for me to give it a 10 / 10. Thanks Dave.
Reply