RELEASED: 12th March 2015
Spanking Competition
Part Four
Harry & Dom
This continues from Part Three where Harry was the winner.
Part Four brings back Dom to challenge Harry
So how does the Spanking Competition work?
Easy!
Each lad has 30 seconds to spank their friend as hard as they can.
10 Seconds to swap positions
Then the other lad has 30 seconds to get his revenge.
This continues until one lad gives up!
Why would the lads do this? Well simply to earn some cash. The winner walks away with double the money.
The winner also gets to play in the next round with another lad and will continue until he is beaten!
There is also a humiliating twist for the loser at the end!
(Please Note That Viewers Comments Below Will Reveal The Winner!)
STREAM
VIDEO
Available streams for iPad, iPhone, Android, Chrome, Safari, IE or Firefox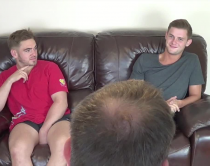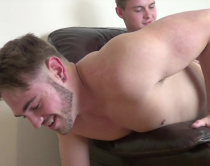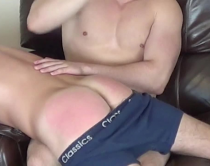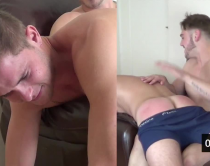 shortsspank | 9th January 2020 22:11
What I wouldn't give to see Harry spanked in the shorts he has on at the beginning
Reply

shortsspank | 9th January 2020 22:10
Reply

| 21st October 2019 01:47
Reply

kristi | 12th June 2015 12:57
I knew dom would win. He is stronger and more tolerant in all categories, he will probably be the champion of it all! Unless its fixed! And i dont think it is, i say dom is king of the spank competition series! :-)
Reply

Rasputin | 27th March 2015 01:12
I enjoyed this one, Dave. One unexpected bonus - Dom is not quite as slender as he usually appears in these videos; he appears to have put on some muscle. Has Dom been working out at the gym more, or is he simply "filling out" as he gets older?
Reply

Ficwriterjet | 15th March 2015 16:45
I enjoyed it. I thought the real life friendship between Harry and Dom clearly came through in this video, which made it a lot of fun to watch. Watching them laugh and joke with each other made me smile. Dom's repeated verbal insistence that he wasn't going to give up probably messed with Harry's head a bit. Dom seems to be able to take quite a bit of pain generally speaking, so it will be interesting to see what happens in the next round.
Reply

uchikimatsu | 15th March 2015 11:36
Even though this type of clip is not really my cuppa, there were a few moments that gave me a chuckle. My favorite moment came when Dom asked Harry if he was ashamed of himself. Even though he meant because Harry lost and not because of any naughty act, it still sent a little shiver dancing down my spine. That would be a great line from dad while scolding a naughty lad over his knee.
Reply

red1967 | 15th March 2015 10:49
I did not think I would enjoy this movie as I'm not into this type But I did enjoy it Well done Dom for winning Harry I was surprised you gave up so quickly You and Dom have a really strong friendship. I loved how you two talk to each other Well done boys Dave thank you and as you said before Dom can take a very hard spanking so was not that surprised he won.
Reply

Cherylkay | 15th March 2015 01:40
I don't know about anyone else. but I was quite surprised to see "Big Harry" give up as fast as he did. As I said in my other post, I loved the banter between Harry and Dom. You can tell they've been friends a long time. I wonder if Harry just had a low tolerance that day? It didn't look from my angle like Dom was spanking him particularly hard. I've seen him take far harder from Mr. X. Whatever the case, I'm now curious to see who Dom's opponent will be. I would it to be Karl or Dean. Either of those two would be fine with me :-)

Ooleary | 15th March 2015 02:24 (344 weeks ago)
@cheryl i agree with you Harry gave up too easily !! How about Jay or Liam as next opponent, i was going to suggest Andy or Oliver but they are quite good spankers so wouldn't be fair.

Lynne | 15th March 2015 10:15 (344 weeks ago)
Agreed..my initial thought was that Harry would win that particular match-up and he did seem to make up his mind rather quickly in that round; he didn't seem to be struggling at the start of it and then he just seemed to give in. Ah well, given that he was the one on the receiving side only he could tell and as was pointed out, sensitivities can change from day to day.

I don't thhnk Karl would be a matched opponent to Dom; I think Dom has the stronger personality there. I think Andy would be too strong as well but Oliver would be a good match, possibly Parker or Dean but we haven't seen them on the spanking side as yet so hard to tell.
Reply

celestianpower | 13th March 2015 23:25
Love Dom as ever, but this whole series would be loads better without the pants or if perhaps the pants came off half way through...

Cherylkay | 14th March 2015 00:17 (345 weeks ago)
@celestianpower, I will attempt to explain why the guys keep their pants on. First of all, these guys are straight and also good friends. If you go back and watch the Jenga films these two were in, you'll see how uncomfortable they were with even the thought of their junk touching bare skin (like a thigh when they were OTK). Dave pretty much just lets the guys do what they're comfortable with. I don't see what you're suggesting ever happening.

uchikimatsu | 14th March 2015 00:21 (345 weeks ago)
@celestianpower - I wonder how the lads would feel about having another man's dangly bits resting on his leg! LOL!

Cherylkay | 14th March 2015 14:01 (345 weeks ago)
@Chiki, if past videos are anything to go by, probably extremely grossed out! lol
Reply

Dave - Straight Lads Spanked | 12th March 2015 22:13
Yes, good points made. Lets not discuss the outcome of this competition until Saturday. :)

Dave - Straight Lads Spanked | 14th March 2015 00:38 (345 weeks ago)
Ok, so I reckon enough time has passed, feel free to discuss the outcome of this movie fully! :)
Reply

Cherylkay | 12th March 2015 22:55
Without giving away the outcome, I just want to say how much I enjoyed the interplay between Harry and Dom. I knew having them do a comp video together would be awesome and it is! I do love it when Harry talks about being hit with a handbag...he did that in one of the Jengas and I remember I laughed then, too. Great video with an awesome ending!
Reply

Lynne | 12th March 2015 21:06
Hmmm...yep...agreed. I was surprised at the ending. I can't comment further, or rather ask the question I want to ask, without giving it away so I'll refrain for now :). I will say that Dom and Harry seem much more comfortable together than some of the other pairings within their group.
Reply

Ooleary | 12th March 2015 12:35
I won't mention names yet so as not to ruin it for anyone but was surprised the loser gave up so quickly the spanking didn't look that hard loved the banter between the boys and the winner is my favourite so I'm glad he's coming back in next round.

Lynne | 12th March 2015 20:30 (345 weeks ago)
HI Ooleary :)

I am pretty sure in the first competition vid Dave asked everyone to refrain from revealing the winner for at least 48 hours. Dave, maybe a reminder each time you post these types of vids? Just in case? :)
Reply