RELEASED: 27th January 2017
Josh
Caned
Traditional discipline
This latest gay spanking corporal punishment movie features a man getting spanked and caned.
Muscular Josh might be the star player but he keeps on getting red cards! The club has a very strict policy of three red cards and you are out! Josh is given a final choice. Face a severe punishment using the cane or leave the team. Josh chooses the punishment.
So this muscular lad has to get over the club manages knee for a hard spanking, You can see his bottom filling out his tight shorts as the spanks come down. Soon though Josh is stripped naked and has to prepare for a bare bottom over the knee spanking. You can see that this really hurts as Josh is squirming around. This is only the beginning of this gay spanking movie though.
Josh has some corner time before getting into position for the cane. He has to endure 18 whacks in total. It really is a tough punishment caning indeed!
STREAM
VIDEO
Available streams for iPad, iPhone, Android, Chrome, Safari, IE or Firefox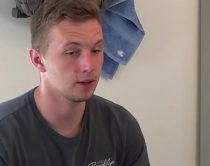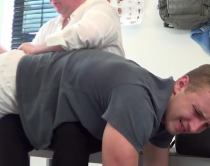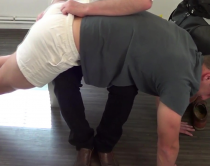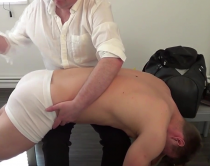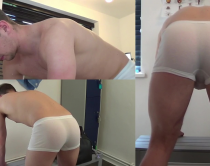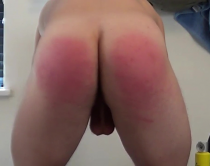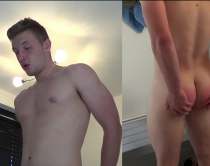 Wjrb314 | 17th September 2018 05:43
Reply

Anthony | 17th March 2017 15:40
Josh Josh Josh how on earth did you manage to stay so still absolutely excellent. I don't think anyone so far has managed to take a tough one being still. It's so hard to pick the top models now , even having top 3 of old models and top 3 of new models is just too tough. Years ago was only joined for a few month's but years gone by im still here, not so talkative as it's difficult enough for me to watch the movies.

I think underwear on this was perfect on this one. From books read seems like this type or underwear was compulsory to wear for punishments in schools by Irish brothers.



Reply

Ficwriterjet | 4th February 2017 02:44
Josh was great in this. The traditional discipline scenario isn't my favorite, but I did like Josh's performance. His subdued demeanor and acceptance of what was going to happen felt right for the scene. I smiled at him rubbing his bottom with the clothes in his hands. He did an admirable job of staying in place and taking the cane strokes while still letting it show that they hurt.
Reply

mattnyc | 1st February 2017 19:14
Josh is phenomenal. He's super handsome and he has a perfect, smooth body. What a rock star. And he may have the best butt in SLUK history. Not exactly a precise science. But it's right up there with the champions. His butt in those super tight briefs is definitely one of the seven wonders of the m/m spanking world. I also love his acting; he's always totally in character. I love that he seems naughty and deserving of a spanking but he's also polite and obedient. It's a sexy combination. I want to thank you Dave for combining OTK hand spanking with the caning. For those of us not in to canes, it's great that the clip starts out with a regular spanking. And then for the caning fans, the scene progresses to the next level. I'm happy to not watch the second part and I'm sure there are some members who will skip right to the caning. It's also great that the caning comes after the spanking so there aren't any cane marks when Josh gets spanked. It seems like this kind of clip has something for everyone. Great work. Can't wait to see more of Josh.
Reply

liu | 30th January 2017 12:36
This vodeo is a perfect gift for Chinese Spring Festival to me. I love Josh so much.

sumai-Davefan | 30th January 2017 19:00 (129 weeks ago)
Happy Chinese New Year!😀😀😀

liu | 31st January 2017 13:59 (129 weeks ago)
Thank you so much, Smnai-Davefan.
Reply

peterbrown1 | 29th January 2017 16:14
I think we have to take our hats off to Dave. For those of us who love the cane, we have now seen Josh, Fraser, Taylor and Oscar all experience it. Getting these delightful young men to push their limits through the cane is a real achievement. Despite being plainly more painful than the spankings Josh has received he takes the cane very well. I love the fact it plugs into such a great fantasy - good looking, athletic young men in the early 20s who fall foul of club rules and are prepared to take an old fashioned form of punishment. I am hoping Josh (like Oscar and Taylor) also did a post-caning interview for his impressions. Can this be improved? Not much in my view. Perhaps just two suggestions: first, in my experience a young man in shorts always looks even better if he is over something a gym horse (I appreciate practically difficult) or perhaps more easily found - 2 chairs back to back. Then we have the added bonus of the backside even better position and sight of the upturned face of the recipient. Otherwise, perhaps Josh asking a bit about what is to come (eg what, the cane? Like they used to have in public schools? Six of the best? I suppose it has to be more for me, sir as I am no longer a schoolboy etc). Many many thanks for posting Dave (and Josh!).

jacko | 30th January 2017 01:15 (129 weeks ago)
Don't forget the best caning movie of all time, namely "Prison Punishment - 'Karl - The Rod'. Fifty strokes on the bare backside; you couldn't want better than that. Of course, if you want some others to throw in for good measure, try "Liam - Valentine Caning", "Real Punishment - Sebastian - The Cane", "Danny - Birthday Spanking" and "Birthday Spanking - Kyle!"
Reply

LucienG | 28th January 2017 23:07
Just curious:. Why is this called a gay spanking movie?

Dave - Straight Lads Spanked | 29th January 2017 00:17 (129 weeks ago)
Hey, you can ignore that. It's important that I add words onto the website that relate to what people use in search engines to ensure they find the website.

Dave - Straight Lads Spanked | 29th January 2017 00:18 (129 weeks ago)
Oh and you just added the phrase again in your comment which is very useful! :)


LucienG | 29th January 2017 14:15 (129 weeks ago)
Oh okay, understood.

Not a fan of the cane, but a I always enjoy seeing Josh. Good if not short hand spanking. Josh certainly takes it well.
Reply

welshboy | 29th January 2017 11:42
From the film clip I new this one was a winner. Josh WOW, tight white shorts WOW, white underwear WOW and then to top it all of the red and hot bottom that Josh has WOW. What is there more to say 10/10.
Reply

Rasputin | 28th January 2017 16:05
Let me repeat myself. I liked this video. I look forward to seeing more of Josh over another man's knee.
Reply

Rasputin | 28th January 2017 16:04
I liked this video. Josh is a good-looking, athletic lad with a demonstrative acting style. He looked very hot in those white briefs.

This video would have been even better if Josh had been wearing tight, skimipy bikini briefs like Taylor wore in his "Taylor Caned - Traditional Punishment" video, and if Dave had pulled Josh's soccer shorts and briefs down rather than having Josh stand up and pull them down himself. That way the momentum of the spanking is not broken, and the spankee is even more humiliated by having another man strip him.
Reply

Ooleary | 28th January 2017 15:17
Josh just knocked Kevin off my No.1 spot,Wow what can I say i loved absolutely every second of this movie , I need to see more Josh please please please say there is an interview to follow xx
Reply