RELEASED: 7th January 2016
Karl
Bedtime Spanking
Karl has been a lazy lad! He had one important chore to do and that was walk the family dog. Karl decided he had better things to do.
Dad discovers that Karl has not only been neglecting the dog, he has also been telling lies.
Karl is all tucked up in bed when his father comes home from work. After a long lecture, Karl is dragged over Dad's knee and has his bottom soundly spanked.
This is a hard, fast spanking that leaves Karl feeling very sore and very sorry for himself!
STREAM
VIDEO
Available streams for iPad, iPhone, Android, Chrome, Safari, IE or Firefox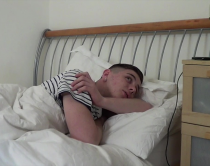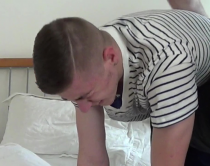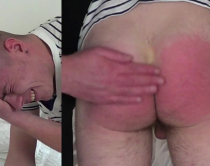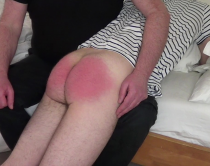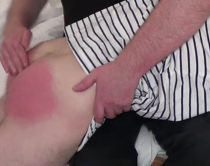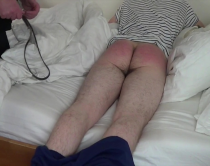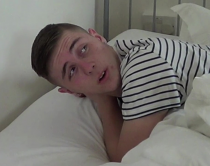 Slipper Boy | 27th December 2016 23:26
A gem from from the great Karl plus well done Dave
Reply

LucienG | 14th May 2016 13:45
Another great spanking! Karl's bum is lovely--one of my favorites. I love his reactions...

Not a fan of belts or dog leashes but Dad's hand spanking was superb.
Reply

lazycat999 | 25th January 2016 02:16
Reply

Snowball | 14th January 2016 08:50
Always nice to see cute Karl and his lovely bum.
Reply

welshboy | 13th January 2016 11:12
What I love about Karl is his eyes and face. When you watch any film with Karl in. You can tell so much by looking into his eyes and face. Also what helps is that Karl has the most spank able bottom. But Karl has grown so much since coming to Straightladsspanked. So I do enjoy any new film with Karl in.
Reply

Ficwriterjet | 12th January 2016 08:21
I enjoyed this film quite a lot. I liked the way Dad caught Karl in the lie. Though I agree with Ooleary - Karl really should know by now that if Dad is repeatedly asking if he's lying, he's already been caught. LOL I really loved that Karl had to go walk poor neglected Daisy before the punishment, since he hadn't put her needs first all day. I thought the over one knee with a foot balanced on the edge of the bed position was kind of exciting to see. I can't remember seeing much of that in previous SLS films. I'm sure it's a bit of a difficult position for staying balanced and being comfortable while filming, but it was fun to see. Getting spanked with the dog leash at the end was very fitting considering the crime. :)

Very nice job all around. Thanks for the entertainment.
Reply

Rasputin | 8th January 2016 03:46
Sorry, Dave. I usually like Karl's videos, but this one was a disappointment.

Initially I thought it might have been Karl's baggy sleeping attire that turned me off. Then I remembered that Liam wore the same outfit in his "Bedtime Spanking" video, and I enjoyed that film. It had to be some other reason why this video misfired.

Then it finally dawned on me. You didn't spank Karl hard enough, thus Karl didn't respond to his spanking in a sufficiently demonstrative manner for me to enjoy this video. Mystery solved.

I hope you find this comment useful and constructive. Better luck next time.

uchikimatsu | 8th January 2016 04:50 (54 weeks ago)
Karl can take some of the hardest spankings, and even then, I agree, he doesn't like to make much fuss about it, preferring to take his punishment more stoically
Reply

Ooleary | 8th January 2016 02:48
Great to see Karl , he's such a cutie in this movie ,he ought to know by now that if Dad keeps asking if you've lied to him that he obviously knows you have lol.That was some hard spanking he got and i bet that dog lead is harsher than Dad's belt ....was watching out to see if Daisy would make an appearance.Love the pj's too.Thanks Dave loved this movie ....now to get Kevin in those pj's mmmmmm..
Reply

uchikimatsu | 8th January 2016 01:20
AAAWWWWWWWWWWWWWWWWE!!!!!!! KARLLLLLL!

Heh heh heh *giggling maniacally*

I loved this back-to-basics clip. Karl's charms never wear thin on me, he's just so adorable. I do have to say that as a seasoned veteran of SLS, he should know better than to look into the cameras....naughty Karl!
Reply

MJM | 8th January 2016 00:16
This was just... YUMMY!
Reply

Spanked Chris | 7th January 2016 20:31
Thanks Dave for another gem

What a surprise you using a dog leash to spank Karl I bet he was shocked to see you spanking him with Daisy's leash
Reply

lazycat999 | 7th January 2016 16:05
Wow!A big surprise today.Karl is my fave.Thanks Dave.
Reply