RELEASED: 7th January 2016
Karl
Bedtime Spanking
Karl has been a lazy lad! He had one important chore to do and that was walk the family dog. Karl decided he had better things to do.
Dad discovers that Karl has not only been neglecting the dog, he has also been telling lies.
Karl is all tucked up in bed when his father comes home from work. After a long lecture, Karl is dragged over Dad's knee and has his bottom soundly spanked.
This is a hard, fast spanking that leaves Karl feeling very sore and very sorry for himself!
STREAM
VIDEO
Available streams for iPad, iPhone, Android, Chrome, Safari, IE or Firefox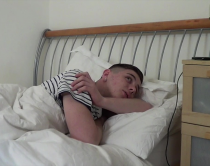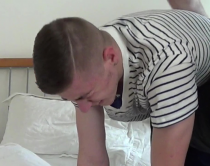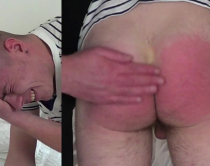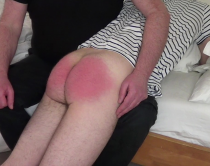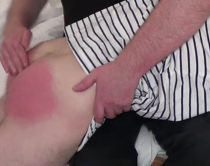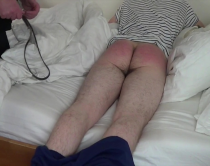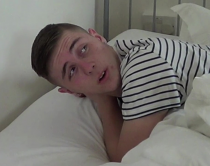 jacko | 9th February 2017 10:39
Continuing on my tour of Karl's films, I find myself watching a film made more than three years after I started my journey.

I have just been watching an interesting video about male earrings and studs. I was prompted to do so when I noticed Karl wearing ear enhancements in bed during the filming of this move. In fact he has worn such jewellery in the past two films as well. Other than that I noticed that they haven't featured since two of his early films when an 18-year old. I don't know if there is an significance in the fact that they don't appear in any movies that follow this one.

This movie commences with Karl "asleep" in bed, a familiar scene to viewers of "Broken Curfew" and a similarly welcoming introduction to his family home; no dog in sight this time. Dad opens the door without knocking (a hint that trouble is brewing) nevertheless sharing a pleasant conversation. (He has an ulterior motive; beware young Karl!)

Incidentally, Karl's PJ's appear identical to Liam's when he had a bedtime spanking. This film however is not a duplicate of Liam's movie. It has a more original, innovative storyline which unlike Liam's scenario provides plenty of scope for Karl's acting skills. A good example would be the moment when he has to admit that he has lied.

It is unfortunate that more was not made of Karl having to walk the dog in his PJ's. It was a punishment in itself and a creative twist in the storyline. However, it was allowed to pass without further development. What an enormous impact it would have made to this film if a few seconds of outside footage of Karl walking Daisy had been included. Outdoor footage has been used before in an SLS spanking movie to good effect. Failing that, a discussion of Karl's humiliation on return would also have been an impactful inclusion.

What follows is a typical Karl - Dad interaction including lots of dialogue and an appropriate spanking. I find it quite amusing that even while Karl is enduring a hard spanking he will still make a cheeky comment that results in a harder or extended spanking. He did it again in this movie:
Dad: You're too old to be telling lies. You're too old to be getting away with it.
Karl: I'm too old for this.
In fact, I wouldn't be surprised if does it in all his movies that involve interactive dialogue.

I agree with welshboy about Karl's eyes and face. I quite often watch Karl's movies with the sound turned off, focussing on only his facial expressions. Try it! You will be amazed at the waves of emotion and expression that wash across Karl's face. Of course, Art has assisted us in this exercise by showing Karl's face whenever possible. Thank you, Art!

I can appreciate uchikimatsu's comment about Karl looking into the camera. I can recollect him doing this in ALL his movies. In really harsh punishment scenarios it gives the impression that he is pleading to the viewer for rescue. Perhaps it is something that Dave could talk to him about because it might peeve some viewers. Personally, the more Karl looks at me, the more I like it.

This was an original storyline with enormous potential and for the most part the movie developed the theme in an entertaining and memorable manner. However, although it reached meritorious heights, it could have been a world-beater if just a little more attention had been given to that walk with the dog.

Thank you Karl, Dave and Art. A very entertaining movie.







jacko | 9th February 2017 11:24 (63 weeks ago)
A correction to something I wrote in my review.

I have just watched Karl's next film, "Ladies of the Night - Fraser & Karl" and note that Karl is wearing an earring on the right ear for the entirety of this movie.
Reply

Slipper Boy | 27th December 2016 22:26
A gem from from the great Karl plus well done Dave
Reply

LucienG | 14th May 2016 12:45
Another great spanking! Karl's bum is lovely--one of my favorites. I love his reactions...

Not a fan of belts or dog leashes but Dad's hand spanking was superb.
Reply

lazycat999 | 25th January 2016 01:16
Reply

Snowball | 14th January 2016 07:50
Always nice to see cute Karl and his lovely bum.
Reply

welshboy | 13th January 2016 10:12
What I love about Karl is his eyes and face. When you watch any film with Karl in. You can tell so much by looking into his eyes and face. Also what helps is that Karl has the most spank able bottom. But Karl has grown so much since coming to Straightladsspanked. So I do enjoy any new film with Karl in.
Reply

Ficwriterjet | 12th January 2016 07:21
I enjoyed this film quite a lot. I liked the way Dad caught Karl in the lie. Though I agree with Ooleary - Karl really should know by now that if Dad is repeatedly asking if he's lying, he's already been caught. LOL I really loved that Karl had to go walk poor neglected Daisy before the punishment, since he hadn't put her needs first all day. I thought the over one knee with a foot balanced on the edge of the bed position was kind of exciting to see. I can't remember seeing much of that in previous SLS films. I'm sure it's a bit of a difficult position for staying balanced and being comfortable while filming, but it was fun to see. Getting spanked with the dog leash at the end was very fitting considering the crime. :)

Very nice job all around. Thanks for the entertainment.
Reply

Rasputin | 8th January 2016 02:46
Sorry, Dave. I usually like Karl's videos, but this one was a disappointment.

Initially I thought it might have been Karl's baggy sleeping attire that turned me off. Then I remembered that Liam wore the same outfit in his "Bedtime Spanking" video, and I enjoyed that film. It had to be some other reason why this video misfired.

Then it finally dawned on me. You didn't spank Karl hard enough, thus Karl didn't respond to his spanking in a sufficiently demonstrative manner for me to enjoy this video. Mystery solved.

I hope you find this comment useful and constructive. Better luck next time.

uchikimatsu | 8th January 2016 03:50 (120 weeks ago)
Karl can take some of the hardest spankings, and even then, I agree, he doesn't like to make much fuss about it, preferring to take his punishment more stoically
Reply

Ooleary | 8th January 2016 01:48
Great to see Karl , he's such a cutie in this movie ,he ought to know by now that if Dad keeps asking if you've lied to him that he obviously knows you have lol.That was some hard spanking he got and i bet that dog lead is harsher than Dad's belt ....was watching out to see if Daisy would make an appearance.Love the pj's too.Thanks Dave loved this movie ....now to get Kevin in those pj's mmmmmm..
Reply

uchikimatsu | 8th January 2016 00:20
AAAWWWWWWWWWWWWWWWWE!!!!!!! KARLLLLLL!

Heh heh heh *giggling maniacally*

I loved this back-to-basics clip. Karl's charms never wear thin on me, he's just so adorable. I do have to say that as a seasoned veteran of SLS, he should know better than to look into the cameras....naughty Karl!
Reply

MJM | 7th January 2016 23:16
This was just... YUMMY!
Reply

Spanked Chris | 7th January 2016 19:31
Thanks Dave for another gem

What a surprise you using a dog leash to spank Karl I bet he was shocked to see you spanking him with Daisy's leash
Reply

lazycat999 | 7th January 2016 15:05
Wow!A big surprise today.Karl is my fave.Thanks Dave.
Reply