RELEASED: 21st June 2018
Sebastian & Spencer
Mates In Trouble
Part One
We all know that sometimes even grown men can forget themselves and behave like they are still teenagers. And when that happens, maybe it's only right that they should be punished like teenagers.
Long-suffering building firm proprietor Mr Smith must certainly think so, judging by the number of times he opts to address misbehaviour in the workplace by sending the culprits direct to Mr X. Do not pass Go; Do not collect £200; Do not doubt that you will get out of a good spanking if you deserve it!
In this week's brand-new male corporal punishment movie from Straight Lads Spanked, real-life mates Sebastian and Spencer turn up at Mr X's door after a fracas in the works canteen which resulted in the place being trashed. They wouldn't fess up to Mr Smith about who started it, and they also seem reluctant to admit culpability to Mr X. Of course that means only one thing: they are both going to get their bottoms smacked!
As members will know, Mr X is nothing if not a paragon of fairness. He warns them that if they don't come clean, they will both be going over his knee, and they will be spanked until one of them confesses. But Mr X's warnings fall on deaf ears, with both saying only "No comment" when pressed for an explanation. Mr X soon realises that while one of the young rascals is nobly declining to shop his mate, the other is letting him share the punishment that should be his alone.
Having given them both the chance to come clean, Mr X is in no mood to delay the punishment any further. And as they both giggle nervously at the prospect of being spanked in front of each other like naughty schoolboys, without further ado he puts Sebastian over his knee and spanks him hard on the seat of his tight jeans.
Soon it's Spencer's turn to go over the knee, and when Sebastian can hardly contain his amusement at seeing his friend getting his bottom smacked, Mr X warns him that he will soon be wiping that smirk right off his face!
True to his word, it's not long before the community disciplinarian is ordering Sebastian to take off his jeans and his shirt and bend over again, for a good hard spanking on the seat of his skintight white Calvin Kleins. We can tell from the lad's grimaces and grunts that Mr X is delivering a very sore bottom, but Sebastian remains tight-lipped about who started the fight, and when Spencer too is put back over Mr X's knee and smacked on his bottom-hugging grey boxers, he does the same.
Only then does Mr X inform the young rogues that at 5pm that day, they are to attend a meeting in the very same staff canteen that was the scene of their misbehaviour, and bare their red bottoms in front of the assembled workforce to show that they have been punished, as an example to others of what they can expect if they misbehave. What's more, it is to broadcast live on Facebook!
Both protest immediately that they just won't do it.... but Mr Smith is clearly not an employer to be messed with. It's either that or they get their cards!
As this stage of their punishment draws to a close, we learn that it's not over yet for the hapless pair - not by a long chalk. Mr X orders Sebastian to pull his pants down. These boys are both going to be spanked on their bare bottoms, as the other looks on! Watch this space!
STREAM
VIDEO
Available streams for iPad, iPhone, Android, Chrome, Safari, IE or Firefox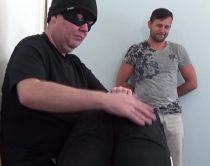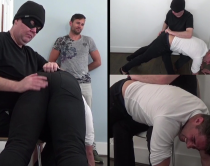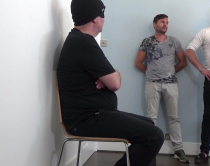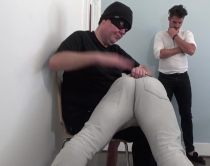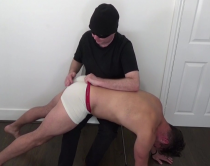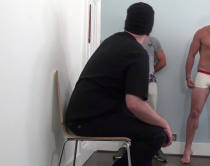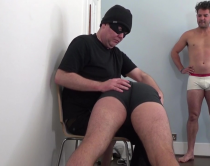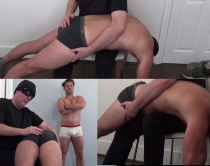 Reply

Ficwriterjet | 29th September 2018 18:07
I tend to find it amusing to see real life friends come in together to get punished by Mr. X because of the expressions they inevitably have while watching their friend getting spanked. Thanks Sebastian for bringing in someone new! And thanks to Art for making sure we got to see the reactions of the person waiting their turn.
Reply

JamieJones | 23rd June 2018 20:48
I love Sebastian so much that he could be filmed sat on a sofa, fully clothed, doing nothing and I'd still watch the movie, Spencer is great too, but I'm just not sure about this one.

I wouldn't have had Sebastian down as someone who allowed a 'friend' to take a Mr X spanking they didn't deserve and he's always seemed to own up to his mistakes in the past (although usually after getting spanked!) Like Orla, my money is on Sebastian having started it (sorry Seb!) but part of me thinks we don't really know Spencer that well yet so it could just as easily have been him.

Can't wait for Part 2 when we'll hopefully find out, what the fight was about, who started it and why neither of them would own up.

Reply

Orla | 23rd June 2018 10:31
Definitely Sebastian's fault.he started the fight and I bet it's all over a girl too😂.Spencer got a harder spanking though but I really like him and looking forward to part 2.

All this talk about putting it on Facebook live has given me an idea could you maybe do a straight lads spanked live spanking 🤔🤔
Reply

mstr_spkr | 22nd June 2018 20:51
This has the makings of a good video series, depending on how Part 2 plays out, and especially if you really do broadcast a Facebook Live presentation for us all to see. Sebastian always takes a good spanking so it's doubtful that Mr X could spank him too severely. Spencer also took a pretty good hand spanking his first time across Mr X's lap so the wooden paddle in Part 2 (if that's why it's there) will be a welcome addition, regardless how gingerly he rubbed his cheeks at the end of the clip.

It was a fine job all around.

I have two general comments, if I may. First, Mr X should be more aggressive in punishing foul language and obscene gestures. It would add another dimension and by their behavior the guys can regulate how much they want to get in addition to the agreed-to punishment for the video.

Also, in my opinion Mr X should never take things easy on anyone based on his feelings of who might be guilty or not. He was paid to do a job and if he took it easy on Spencer, that would send a message that you just need to do something afoul with someone more nefarious and you get off light.

Bring on Part 2!
Reply