RELEASED: 10th May 2019
Bobby & Alex
Spanked Footballers
Part Two
In the last male corporal punishment movie from Straight Lads Spanked, we saw young footballers Bobby and Alex getting their bottoms smacked over the coach's knee after getting into a fight.
In the first part of their punishment, the two lads were spanked on the seat of their shorts and on their tight underpants, and all - much to their embarrassment - in front of each other! But if they thought it had been an embarrassing ordeal so far, it was nothing compared to what was yet to come. As the credits rolled, Coach was ordering the first of the young footballers to pull down his pants for a spanking on his bare bottom!
Bobby, the lad in question, tried to protest, but it will come as no surprise to anyone that Coach wasn't going to have any of that!
At the start of Part 2, we pick up the action as Bobby strips naked and bends back over Coach's knee, legs wide apart and revealing an already very sore, red behind. Again Coach asks both boys who was responsible for starting the fight, but Bobby steadfastly maintains his innocence, while Alex can only stand to one side and giggle.
Coach is clearly determined that Alex will soon be laughing on the other side of his face, and so it's not long before the lads are told to swap places again and it's Alex's turn to find himself draped over the older man's knee with his pants down.
Alex whinges, whines and laughs hysterically, and Coach warns him that if he doesn't stop that nonsense, he will be writing to his father to tell him about the trouble he has got himself into!
By this time, both lads have bottoms as red as Alex's dreadlocks, but their ordeal isn't over yet. Coach produces a wooden paddle and tells the pair of them to bend over the changing-room bench and assume the position for 12 swats apiece!
After counting out their whacks, the lads are ordered to stand against the wall with their hands on their heads and think about their behaviour. Then Coach tells them that they will stay in the changing room for an hour, to resolve their differences. These young footballers would be well advised to do as they are told, if they don't want to end up getting another practical demonstration of Coach's particular variety of penalty time!
STREAM
VIDEO
Available streams for iPad, iPhone, Android, Chrome, Safari, IE or Firefox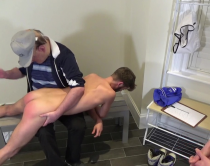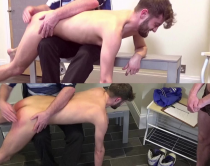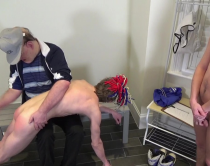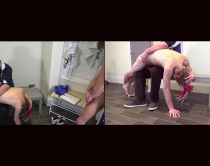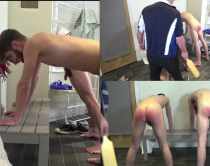 meyers | 28th June 2019 12:41
Reply

philimare | 12th May 2019 18:48
Well, this part 2 confirms again that Bobby is one of my absolute favorite. I will not repeat what I said on part 1. I just wish we see him more, playing different scenarios, I am sure he would be a great actor too.
I agree with mattnyc, those shorts and underpants suit the boys very well :-) Also, Bobby is very sexy when he gets spanked, he naturally takes a nice position (especially with on leg on the bench, one on the floor) and I turns to be one of the sexiest spanking ever (between 1'55 and 2'15 for ex ... or during the paddling session, see at 12'00 ...).
Contrary to part 1, I found Alex really annoying in this part. I too like when boys are verbal and respond to the spanking but it has to be on purpose. I don't feel the laughing and giglling were a response to the spanking but for me, it more looked like an uncontrollable reaction, even often totally disconnected from the situation. I agree he is totally sexy though ...
I voted again 10. For Bobby.

PS, on a pure technical point of view, I prefer when the face camera position is more head on and not positioned too high, from an above angle. I prefer the front camera to be right in front of the action :-) Yes, I know, it's me who become annoying now lol
Reply

mattnyc | 12th May 2019 18:11
I get why there are some Alex haters. The giggling is kind of maniacal. Weirdly, I find him sexy. And his reactions are so real. I like when the boys respond to the spanking more than when they're stoic. So his giggling and especially his wriggling and kicking are hot to me. They seem like a real naughty boy response to a spanking. And the dreads are kind of ridiculous but they seem real to me; a kid would definitely make that hair choice these days. So although he's strange, I'm team Alex. But he's definitely not for everybody. Bobby is pretty much a perfect spanking model. Not much to add to what others have said about him. I love both parts of this clip. The first was really hot because the shorts and underpants were amazingly short, tight, and sexy. This part because they both have such cute, spankable bottoms. And I love when the models get spanked in front of each other. I'm hoping Bobby will do more work and have that amazing "reaction" he had in his first clip. That was one of the hottest things you've shot, Dave. Love this one, too. Great work Dave, Art, and both models.
Reply

Orla | 12th May 2019 13:55
Love Bobby , great guy and was amazing in this movie but Alex ruined it he's so annoying No More Alex.
Reply

Bobbyfan | 10th May 2019 23:34
I love Alex and his laugh. He's cute
Reply

Serena89 | 10th May 2019 20:59
Hello there, Bobby!! I am so glad you did not make us wait, Dave! I am now totally convinced that Bobby can star in a full disciplinary video on his own! I don't count his first video so much as it was the more friendly first and last spanking scenario and was not for punishment! He is just perfect for this sight and I am soooo glad you found him, he is the perfect combination of sexy and cute for me and humble and polite but with a little bit of boyish rogue and a lotttt of charm!

I take back what I said last week at warming to Alex... I am totally nope nope nope with him now. That is not personal at all I am sure he is a great guy but this field is not for him! The laughing can only go so far and as well as the ridiciolous and over the top moans and jumping/dancing about during the spanking... hahaha even coach seemed genuinely done with his behaviour at the end.

I would have voted a 9 or even a 10 for Bobby's performance as he just does nothing that annoys me and has some special ability to hit every thing on my checklist from his way and manner of speaking, subtle movements and even his groaning he he he.

BRING BOBBY BACK SOOOOON.


Reply