RELEASED: 23rd November 2017
Charlie & Ashley
Bully Gets Spanked
Part Two
Some boys just never seem to learn, do they? It's only been a few weeks since school bully Ashley picked on the wrong kid... the younger brother of man-mountain Charlie... and ended up getting a taste of his own medicine in the shape of a hard spanking over Charlie's knee.
In this brand-new male spanking movie from Straight Lads Spanked, we find that, amazingly, Ashley hasn't learned his lesson. When he makes the mistake of bullying Charlie's brother again, and then adds insult to injury by asking Charlie, "What you gonna do about it?", well, it was never going to end well, was it?
Giving attitude to a big brother with a beef is never a good idea, especially one who's built like Charlie. And when he throws the lad over his knee and begins to spank him, first on his tracksuit bottoms and then his tight white pants, it soon becomes clear that being on the receiving end of a spanking or two himself has taught one of Spanking Straight Lads' rising stars a lesson in more ways than one!
Charlie hauls Ashley over his knee, and with his powerful, muscular arms, administers a very painful punishment spanking. Throw in a full complement of ear-pulling, scolding and some impressively loud, hard smacking, and Charlie reveals himself to be an accomplished and formidable disciplinarian.
If he thought that his punishment was finished when he is allowed to pull up his trousers and sit down, Ashley has got another think coming! Charlie is furious, and he's not finished with this young bully yet...not by a long chalk. Ashley watches in horror as Charlie removes his belt. And before he knows what is happening, he has been hoisted over Charlie's knee and had his tight pants unceremoniously pulled down. He is in for another hard spanking, this time on his bare bottom, and then a sound thrashing with the belt, over the arm of the sofa.
With the trademark multiple camera angles in our latest m/m spanking video showing Ashley's tearful pleading, Charlie swinging the belt over his head with relish, and the leather cracking down on Ashley's sore bare bottom, it's clear that this bully is going to be a very sore and sorry lad before Charlie is finished with him. The big guy is going to impress on him in no uncertain terms what will happen if he ever has cause to deal with him again!
STREAM
VIDEO
Available streams for iPad, iPhone, Android, Chrome, Safari, IE or Firefox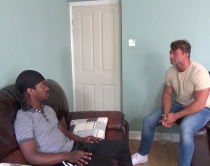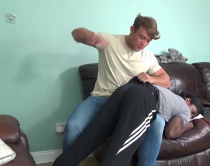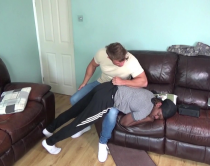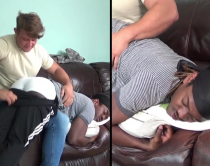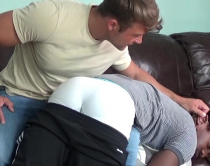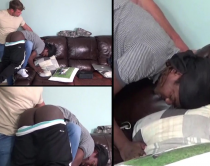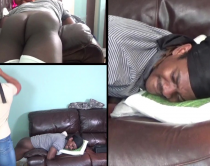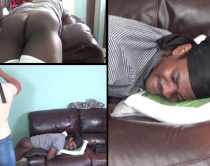 Uchikimatsu | 30th November 2017 01:13
There is absolutely nothing anyone can do or say to convince me that Ashley doesn't actually enjoy being thrown over the Man Mountain's knee and spanked like the little b*tch he is.

Ordinarily that would be a big turn-off for me, but for some reason, with these two characters, it just really works for me so I made it head-canon, just for myself. But if anyone else needs much convincing, just observe Ashley...
The biggest clue is, well... who the hell would go and do anything the Man Mountain just finished telling you not to do after beating your ass the first time? Also, Ashley attempts no resistance at all; he allows the Man Mountain to pick him up and toss him around like a rag doll. He doesn't move, attempt to block the spanks, or offer much verbal defiance. What he does say seems specifically designed to make Charlie spank harder! Those adorable mewlings and moanings and whimperings are open to interpretation...

I know this was absolutely not the intended outcome of the film, but I can't help what I see! And I absolutely LOVE IT! I love imagining Ashley picking on Charlie's little bro, just to gain Charlie's attentions.

But 'Chiki, you say, its STRAIGHT Lads Spanked!

Don't care, say I! I see what I see!

But 'Chiki, you implore, the lads are not supposed to want the punishment!

Don't care, say I! I see what I see!

But 'Chik-

Shut the hell up, I can believe what I want. Either Ashley is inadvertently playing his CHARACTER as exceedingly passive (which would be unusual for a bully...?) or Ashley the ACTOR is a true spanko and landed the dream job of a lifetime...

JamieJones | 2nd December 2017 15:12 (68 weeks ago)
Hi Chiki,

I had watched this movie twice but it really wasn't working for me, then I read your comments and I've just watched it again... you've made me view it in a whole different way! While it will never be one of my favourite movies, I've just laughed all the way through it so thank you for that . :-)

One thing you didn't mention, which I think helps your argument or at least it does in my head, was the way Ashley jumped up and over Charlie's knee when Charlie put his foot on the arm of the sofa, it was almost as if Ashley couldn't wait for the spanking to continue!


Uchikimatsu | 3rd December 2017 04:38 (67 weeks ago)
Hey there JamieJones! I was going to retract my comments and apologize for anything I might have posted while under the influence of a very potent cocktail of pain medication (see also Suggestion Blog, LOL) but I'm glad you were able to get a good chuckle! You just can't unsee it now, can you???

And you're right, I did forget about Ashley jumping over Charlie's knee! Clearly that was something rehearsed to get Ashley up and over that high, but it did look kind of funny in this context!
Reply

Rasputin | 24th November 2017 23:12
Here is an idea for a "Charlie & Ashley - Bully Gets Spanked - Part three" video.

Charlie, his brother and Ashley are in the same school. (You can cast anybody you want in the role of Charlie's kid brother, but let's assume for the moment that John is playing Charlie's little brother.) John is in his first year at the school, Ashley is a year or two older, and Charlie is in the senior class. Andy plays the school coach who hears of this situation and decides that an adult authority figure should set matters right.

The coach calls Charlie, John and Ashley into his office and tells them the jig is up. He tells Charlie that he had no right to take the law into his own hands, and that he will be punished for disciplining Ashley without adult supervision. While Ashley and John look on, coach Andy gives Charlie a hard OTK spanking with a wooden bath brush - first on his trousers, then on his tight, skimpy briefs, and then on his bare buttocks. Charlie iniitally "takes his punishment like a man", but soon into the spanking he begins to kick, squirm, grimace, groan, yelp, etc. as the bath brush takes its toll on his bum. John looks sadly upon his big brother's ordeal, but Ashley can barely conceal his glee.

After Andy has finished spanking Charlie, he applies some cortisone cream to Charlie's enflamed buttocks and lets him up. Then Coach Andy turns to Ashley, and says "now it's YOUR turn, Ashley!" A stunned Ashley protests "But Charlie has already spanked me - twice!" Andy says, "Charlie was out of line for doing that on his own, and he has been punished for it. You, however, have never been punished officially for bullying John. Now get over John's knee!" Ashley says "What?" and Coach Andy replies, "It's only fair that John gets some satisfaction for what you did to him. Now drop your track pants and get over John's knee, or you're kicked out of school!"

Ashley reluctantly drops his track pants gets over John's knee, and John gleefully spanks his nemesis with his bare hand - first on Ashley's tight, skimpy briefs and then on Ashley's bare buttocks. Ashley does plenty of squirming, kicking, grunting, swearing, whimpering etc. as John exacts his revenge.

After a while Coach Andy pulls up Ashley's briefs up, lifts him up off of John's lap and then drapes Ashley over his own lap. Ashley blurts out "What the fuck?" and Andy coldly says "John has gotten his revenge. Now it's time for your official punishment for bullying him twice!" He then severely spanks Ashley with the bath brush - first on his briefs, then on his bare bum. Ashley does plenty of kicking, grunting, swearing, whimpering, even sobbing as Coach Andy lays into him with the batch brush. Charlie and John watch gleefully as Ashley gets what he deserves.

After he has finished spanking Ashley, Coach Andy applies some cortisone cream to Ashley's ravaged buttocks, lets the whimpering Ashley up off of his lap, says "And let this be lesson to all of you!", and orders all three boys out of this office.

Can you make this "Bully Gets Spanked - Part Three" video, Dave?


LucienG | 25th November 2017 23:46 (68 weeks ago)
Andy with a bath brush! No way!
Reply

LucienG | 25th November 2017 23:45
Ashley is still one of my least favorite models. He did seem to clean up a bit for this production. What I enjoyed most were his pleadings, supplications, and cries. Lovely. He really takes a spanking well. Charlie is a natural.
Reply

mstr_spkr | 24th November 2017 22:19
Charlie is an excellent spanker. Perhaps he should spank his brother for not standing up to the bully. I hope there are other venues where he is the spanker. I'd love to see him in a paddle dare with

I can also see a Part 3 where Ashley's step-dad spanks Charlie for not letting him take care of his bully son.

Although Charlie delivered a good spanking, all the time I was waiting for him to serve some cheese with that whine.
Reply

mattnyc | 24th November 2017 20:39
Wow. Charlie is sensational. Dave, you have found the sexiest spanker on your site. He's super sexy getting spanked as well but in these two clips with Ashley he reveals a major talent. Great acting, great scolding, and most important, great spanking. I LOVE the high over one knee position he uses on Ashley's bare butt. Was that your idea, Dave? Or did Charlie just came up with it himself. Please have him use that position on some of the other guys on the site. Not sure why but it's incredibly sexy. I love how in character he is. He really gets inside the no nonsense, strict disciplinarian and makes it completely believable . Fantastic acting. Great work on this one Dave. I love the scenario and the direction. And great work casting Charlie in the first place. Please, more like this from Charlie. I'll leave a specific suggestion on the suggestion blog as well. Thanks, Dave. Thanks Art. And a big appreciative thanks to Charlie for being so great.
Reply

Kass44 | 23rd November 2017 22:35
love Charlie as a spanker - maybe he can become a trainee to Mr X? I also love these anti-bullying theme films. Having been bullied horribly as a teenager I always wished those bullies got a good hard spanking/paddling. You really should do a series with Charlie as a sort of superhero BULLYBUSTER, or something, where he discovers someone getting bullied and he just spanks the attitude right out of the guy.


FraserFan | 24th November 2017 16:15 (69 weeks ago)
KASS44 I really like that idea. Actually, bullying is the only reason that I think anyone should get paddled, caned, belted any form of corporal punishment at school for.
Reply

Fuse74 | 24th November 2017 01:57
Did not expect to see Ashley again as he did not seem very popular. I am happy to see him and Charlie together again . I like Ashley :) Charlie is nice too :)
Reply

| 23rd November 2017 23:37
I need Charlie in my life. That belt is incredible and he swings it hard.
Reply