RELEASED: 22nd December 2016
Bradley
Old Fashioned Spanking
This movie features an intense, no nonsense OTK hand spanking.
The inspiration for this movie came from a suggestion from member "Billenkoek1984" who gave some input in the "Reasons For Punishment" blog.
He described a punishment from Dad that involved a relentless hand spanking to an unruly grown-up son. I liked the description and it got me thinking that it would be a nice change to make a Father/Son movie that did not involve a lot of dialogue and really just concentrated on the spanking and punishment.
I also decided that I wanted to make this movie as realistic as I possibly could and decided that it would be filmed in one complete take with absolutely no breaks in the spanking so that I could capture 100% real reactions from the model.
So I discussed what I wanted to do with Bradley and he told me that he was up for it. I really hope you like the end result. Bradley's reaction was beyond what I could have hoped for. Including tears!
Oh and make sure you watch the movie all the way to the end!
Let me know what you think of this and whether you would like to see more movies in this style? Don't worry though, I will always continue to make movies that include lots of lecturing. But I also like the idea of occasionally making movies like this that allow the audience to fill in the gaps as to what might have happened that led to a spanking like this.
STREAM
VIDEO
Available streams for iPad, iPhone, Android, Chrome, Safari, IE or Firefox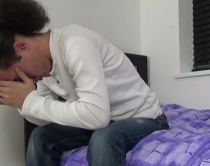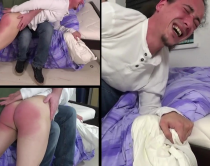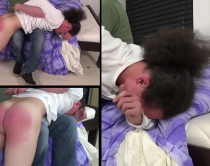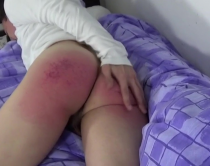 jacko | 15th January 2017 01:01
I can support spanking without dialogue so that the focus is then on the punishment itself and the reactions of the victim so long as there is introductory dialogue to set the scene and at the end there is a sense of closure and reconciliation. Unfortunately, this movie featured neither so for me it was a purposeless exercise and Bradley suffered a harsh spanking for nothing. To make matters worse, Bradley's dialogue was very limited and hard to hear so it added nothing to the experience.

It would be interesting to see a remake of this film (not the spanking part) with the addition of an introductory scene and a positive conclusion with closure. I am sure it would add to the impact and make the movie so much more entertaining. Even with Bradley's limited dialogue a close-up of facial expressions including the tears, even if inserted later would make a world of difference. It's not too late to consider a remake and in my opinion the dividend would be considerable.

While the interview helped to soften the blow and was appreciated, it was not a satisfactory substitute for a story line.

Looking back at the original suggestion, this movie was missing the initial "yelling at one another" (setting the scene and justifying the harsh punishment), the teenager "screaming: STOP DAD PLEASE STOP and kicking with his legs" and the "macho son crying: MWAAA BOEEHOEEE DADDD NOOO THIS HURTS TOO MUCH I CANT STAND NOMORE PLEASE BOEHOEE OMG I FEEL SO EMBERASSED STOPPPPPPPP THIS SOUND EVERYONE WILL HEAR BOEHOEEEEEEE." Of course, as explained in the interview, you do not direct a model how to react to a spanking but in this case Bradley could have been directed in advance to let the audience know through dialogue and animation just how much the spanking was hurting. Other than the squirming and the colour of and bruises on Bradley's spanked backside, there was little else to indicate the effectiveness of the punishment. Perhaps you might consider that to be sufficient but vocal clues are always helpful.

Well done Bradley! You needed a little more direction to derive maximum outcome from your suffering but otherwise a very brave and energetic effort.

Please Dave, no more videos without an appropriate introduction and conclusion.
Reply

Ficwriterjet | 28th December 2016 03:47
I have mixed feelings about this one.

On the one hand I LOVED the spanking itself. I thought Bradley did an amazing job of sticking it out instead of calling it quits. I loved the relentlessness of the spanking, and getting to see all of Bradley's reactions as the pain increased. I loved the way 'dad' had to hold him down, and then manhandle him to get the pants and underwear down. I loved the tears, and the way Bradley couldn't stop himself from putting his hand back repeatedly. I found all of that really hot, and I'm positive that I'll watch it again.

On the other hand I didn't like not knowing what it was for. Generally I love it when 'dad' or 'Mr. X' scolds the guys while spanking, but I can see why that wouldn't work in this type of spanking - but I think it would have really added to the movie if there had been a very short scene of 'dad' and Bradley talking before the spanking. It could even be as short as 'dad' saying 'I can't believe you did (blank). Go to your room.'

Also Dave - I completely agree with you - I would have loved to see a little more caring once it was over. Something like you said - reassurance for Bradley that it was over, and a hug would have been awesome.

I was so glad that you put the before clip and after clip in there. They were wonderful to watch - especially the after clip where we did get to see a hug. :) And it was good to see that Bradley was okay once it was done. Because while I do love to see them suffer, I want to know that they're okay after.

I hope you do some more of these 'old fashion' ones, because I REALLY liked the spanking itself. I'd just like a tiny bit of dialogue from 'dad' pre spanking and then again post spanking.
Reply

Kass44 | 26th December 2016 15:20
I absolutely loved this film! Give all the boys an Old Fashion! Wish you made them wear Tighty Whities.
Reply

Dave - Straight Lads Spanked | 23rd December 2016 18:38
So I just wanted to speak some more about this movie. I just watched it back and it reminded me just how intense it was to film. Working with Bradley on this movie was really incredible! I really didn't have much more conversation before filming with him other than what you see in the interview. I just sensed that he understood exactly what I was trying to achieve.

I never really imagined that I would get through the entire movie without stopping and the way that Bradley responded exceeded all of my expectations.

During the filming it felt about as real as anything I have ever filmed before. I had nothing to do other than spank his bottom and I did my best to get into the character of Dad who had a job to do and was not going to finish until it was achieved. In my imagination there had already been an almighty discussion between Bradley and his Father and there really was nothing left to discuss.

I spanked Bradley as hard as I could and it certainly got harder as the spanking continued. The wriggling around from Bradley was very real and I had to use a lot of effort to keep him in place. Just how purple his bottom was at the end of filming was testament to how painful it must have been.

The feeling in the room after the spanking was also quite unusual. I guess you might imagine it would feel strained or awkward but it didn't. The best way to describe it was that we both felt that we had made something quite special. I guess it takes a lot of trust on both sides to achieve that. Trust from Bradley that I would not push him too far and I guess trust from myself that I knew that I could really push Bradly to his limits without fear of him complaining and scaring him off!

Anyway, I hope a sense of that comes across in the interviews afterwards.

If I could have done anything differently with this movie I guess I would have preferred Dad not to have left Bradly so abruptly at the end. Maybe have had Dad reassure Bradley that it was all over and everything was going to be ok. Or maybe even have had the hug that we had after the movie as part of the ending of the movie.

Ah well, it just means that I am going to have to film some more Old Fashioned Spankings like this with some of the other guys!
Reply

Ooleary | 22nd December 2016 20:36
Brad u r a Legend .

WOW LOVE LOVE LOVE this movie and the interviews, defo more movies like this but i also want the Dad movies with Dialogue, i know I'm a greedy little Piggy lol xx

Dave i just love how you man handled him when you were taking down his jeans and boxers and also you trying to hold him down with all his squirming.

THE HUG aahhh my heart,i need a hug now.
Reply

mstr_spkr | 22nd December 2016 19:57
Excellent job! Brad did a great job of enduring the spanking. I really like these continuous one-take videos. We get real reactions and Brad, as I said was great pushing through it.

Let's see more of him.
Reply