RELEASED: 11th February 2016
Darren
Weed Habit
Darren likes to relax by smoking a bit of weed. Some might say it's a harmless, however Darren is wanting to join the armed forces and there is no way he will pass the medical if the weed shows up in the testing.
Darren's mother wants the best for her son but has reached the end of her tether! She decides he needs to learn a lesson. Darren gets sent to visit the local community spanker Mr X!
Mr X is very good at teaching lads lessons. He does this by spanking their bottoms! This is what awaits Darren. A no-nonsense, over the knee hand spanking!
In this movie you see Darren stripped back as he loses layer after layer of clothing until finally he is spanked hard on his bare bottom! Ouch!
STREAM
VIDEO
Available streams for iPad, iPhone, Android, Chrome, Safari, IE or Firefox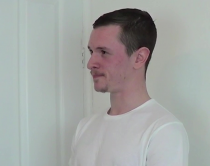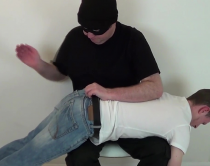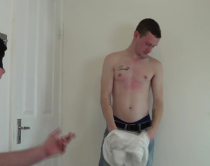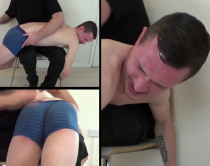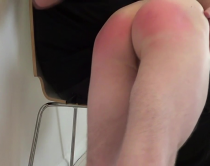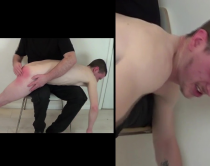 melly | 30th December 2021 04:56
Reply

melly | 30th December 2021 04:56
Reply

melly | 30th December 2021 04:56
Reply

melly | 30th December 2021 04:56
Reply

welshboy | 25th March 2016 16:56
I have to say Darren is a grower. I have had to watch this film a few times and their is something quilt likable about Darren I think its his eyes that draw you in and he does have a very spank able bum.
Reply

Ficwriterjet | 1st March 2016 04:29
My favorite part of this one was the deal that Mr. X makes with Darren about coming back each week to do testing, and then offering to give the money back if he is clean at the end of the month. :) Sweet. I liked Darren's attitude during the whole thing - not wanting to be there, but admitting that he deserved it, and apparently wanting to change his ways.
Reply

Dave - Straight Lads Spanked | 13th February 2016 10:23
Hey, so just wondering what the general feedback is about Darren. Would you like to see more of him?

Ooleary | 13th February 2016 16:26 (311 weeks ago)
Orla would yes he's a little cutie xx

Kevinfan | 13th February 2016 21:42 (311 weeks ago)
Dave, I demand more Darren. :-D

LucienG | 14th February 2016 05:44 (311 weeks ago)
Yes. I thought he did a good job. Bottom reddens really nicely too.
Reply

Snowball | 13th February 2016 01:26
I've noticed that Dave seems to like prodding their bums on each cheek. Seen him do it in several videos. Haha :-)
Reply

spank100 | 11th February 2016 19:55
I loved the way his face turned red as red as his butt. And how he squirmed at every spank he got. You can see it in his face it was hurting him. I also like the way Mr. X stops and puts his elbows on Darren's back to give him a lecture. Looking forward to seeing what the drug tests shows. Hope to see more of Darren Soon.
Reply

Kevinfan | 11th February 2016 18:18
Must admit I was about to take another extended break from the site, just because I prefer the older more explicitly shot videos.
But this video feels more like some of the old classics in that we finally get (1) some nice junk-between-the-legs shots ((2) shots of Darren's cock rubbing on the chair/lap of Mr X (3) Some crack close ups, sort of.
Plus Darren is absolutely adorable. Great find!
Now we just need some of the classic writhing and wriggling to the extent shown by Andy, Patrick and Dom. And some nice hole shots aka. Wayne.
Reply

kayjoe | 11th February 2016 14:47
Please can I test him now? Plus a thorough physical exam. :-)
Reply

Ooleary | 11th February 2016 12:44
Yep I like Darren , and we'll be seeing him again soon cos i think when he gets home he's gonna smoke more weed.
Reply