RELEASED: 19th June 2012
Bailey's Bath Brush Beating! The Hardest Spanking we've yet filmed!!
Bailey is in big trouble! Caught stealing from his boss Old Mr Smith. Bailey's life has been out of control and he really has hit rock bottom this time.
He is sent to see Mr X! Bailey is truly, deeply ashamed of himself and knows he is is serious trouble.
For once there is no cocky lad answering back but a sorrowful, troubled lad prepared to accept his fate.
Mr X pulls no punches and lays into Bailey like never before! The hard hand spanks reign down on Bailey's denim covered bottom.
But only for a short time as Mr X decides to use his bath brush. This is only used for the most serious of punishments.
What happens next is harsh. Bailey is beaten hard with the brush. over denims, then underwear and finally bare bottom.
Bailey's pants are pulled back to reveal an already purple bottom.
By the time Mr X has finished it is beaten black and blue! Bailey literally falls into a crumpled heap on the floor when the punishment is over..
After Bailey is given time to reflect on it all, Mr X shows a more kindly side and invites Bailey back over his knee as he tends to the lads burning buttocks with some soothing cream.
......more from Mr X...
Ok, please be warned that this was a serious punishment and is harder than anything I've ever released on Straight Lads Spanked before. Bailey takes a proper beating from the bath brush and is left sore and bruised.
This is the scene that Bailey discusses in his interview over on my blog www.straightladsspanked.com which he says left him unable to sit down for the rest of the day and sore and marked for the next three days!
I am pleased to report that no Bailey's were left traumatised in the making of this film and he has since been back for more!
STREAM
VIDEO
Available streams for iPad, iPhone, Android, Chrome, Safari, IE or Firefox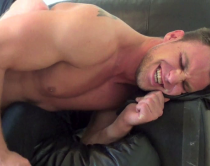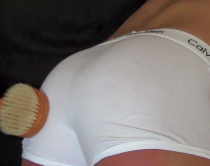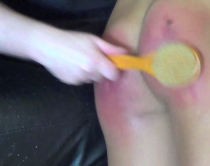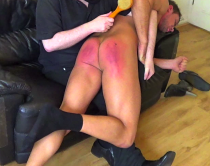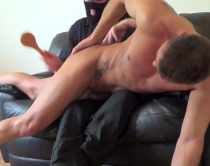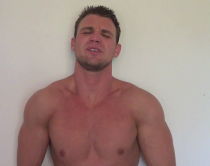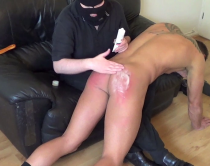 coerver
|
Voted Video 10/10
| 16th January 09:31
Bailey's butt held up incredibly well under the bath brush. The guys getting beat up on this website have wonderfully strong butts and olympic sized hearts. And they really haven't done anything wrong. They take harder discipline than any really bad guys. I would feel sorry for them but I respect them too much to do that.

lorilee
|
Voted Video 10/10
| 19th January 21:46
This is one of his best, I really felt sorry for him. The pain was clear to see on his face.

Rasputin
|
Voted Video 10/10
| 20th January 13:07
Bailey is still the "gold standard" against which all other models must be compared, and this is his best video. This is probably the best video you have ever released, Mr. X.

cami
|
Voted Video 10/10
| 22nd February 18:54
I so agree with you lorilee. I did too.


Mr X
|
Not voted video yet
| 28th February 08:30
It was painful, but I'm pleased to say that no Bailey's were broken during the making of this movie! :)

cami
|
Voted Video 10/10
| 3rd March 18:51
lol @ Mr X . Will he will not steal money anymore lol. This was a great movie but we did feel sorry for bailey.. :)

cami
|
Voted Video 10/10
| 14th March 17:10
Q for ya: Why was Mr.X laughing or smiling at bailey when he was slowly coming of Mr.X lap from the beating???
Mr.X you got a lot of explaining to do? Lo
I watch it again and felt sorry for bailey & Mr.X laughing.. :O .


Mr X
|
Not voted video yet
| 17th March 06:29
You might get your question answered here Cami! http://www.straightladsspanked.com/watch-video/bailey-bath-brush-beating-the-lost-footage-/83/

cami
|
Voted Video 10/10
| 29th March 08:04
U were smiling cuz you told bailey you loved him ? The lost footage video was so awesome loved the way you showed us how the video' s come to life.


Mr X
|
Not voted video yet
| 29th March 08:38
Awwww! Well Bailey is very loveable! He was a proper hero in that movie!

bluewave369
|
Not voted video yet
| 22nd May 10:21
I wasn't able to download this movie

Dave - Straight Lads Spanked
|
Not voted video yet
| 22nd May 10:40
Hi, I just checked and it downloads fine. This is a huge file though at 554.9mb's. Maybe that is the issue depending on your internet speed?

kitkat
|
Voted Video 10/10
| 26th April 16:01
Bailey is my favorite and this is my favorite Bailey video. Thank you so much for adding the "lost footage" and telling us more about what he had to go through to get this video done. Such a wonderful sneak peak behind the scenes for my favorite spankee!

Ok so maybe no Baileys were traumatised but i sure as hell am OMG that bath brush sure left a mark ,well done Bailey hot, sexy and so brave .Wow Mr X i don't know how you could carry on and stay in character with what poor Bailey had to go through i really admire you for that it must have been so hard well done xxx

Cherylkay
|
Voted Video 8/10
| 12th November 14:57
Holy guacamole, Bailey's butt was a mess when this one was over. I'm sure that had to do with the reshoots, but man, I was feeling for him towards the end. He was a real trooper that day. Poor guy!