RELEASED: 2nd April 2015
Peeping Toms - Andy & Matt
Part Two
This movie continues directly from Part One
Having already been spanked hard in front of each other the humiliation and pain continues as the lads

are asked

to remove their underwear for a bare bottom,

OTK

spanking. For two straight lads, this is very humiliating indeed!
Andy Lee goes first and Mr X does not hold back. Andy really gets spanked very hard indeed! His friend Matt had never been spanked before so was rather sensitive to the spanking.
Andy Lee gets it a lot worse though as Mr X decides to whip him with the dreaded Chinese Birch!
This impliment really leaves

it's

mark as the individual strands all cut in leaving their mark on an already tender bottom!
If you enjoy seeing two

real life

, beefy body builders get spanked bare bottom then you will love this conclusion!
STREAM
VIDEO
Available streams for iPad, iPhone, Android, Chrome, Safari, IE or Firefox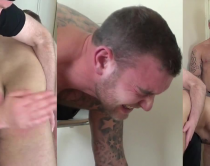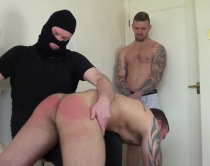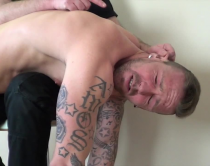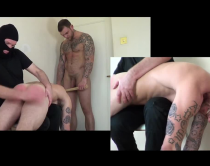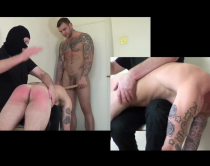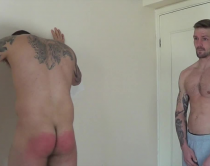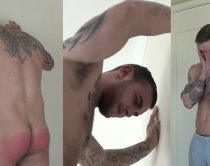 jacko | 2nd March 2017 12:07
I have reviewed both parts of this movie in the Part One Video Discussion.

I'm pleased to see that Matt made a further film to follow on from Part Two of this one. It was possibly produced on the same day. (His backside was still red at the start of the "Bubble Bath Blues" film.) If that was the case, then his bottom would have been very sore by the end of the day. That might be the reason he didn't return.

Andy's birching against the wall didn't look as awkward as the OTK spanking and allowed him more opportunity for full body reaction. I much prefer this position for the beefy boys although of necessity an implement needs to be used.

I reiterate my comments after Part One that this was an unusual film in which, for me, the highlight was not either the spanking or the birching.

Well done, Matt, Andy, Dave and Art.
Reply

kristi | 12th June 2015 12:50
I love you andy!!!!:-)
Reply

red1967 | 12th April 2015 17:11
Poor Andy that did look sore . Andy looks so cute when he knows he messed up. Mr X your mean making Andy hold the birch and giving him an extra one even though he was been cheeky. lol Matt Well done can't be easy watching your mate getting spanked love it when you got told that your dad knows what you did Hopefully that be your next movie. Look forward to seeing that. need to see more of you Thank Andy and Matt you worked well together . Just joking Dave about Mr X and thank you to you and Art
Reply

Domfan | 4th April 2015 17:20
Hey where did my comment go?
Reply

Ficwriterjet | 3rd April 2015 05:44
That birch looked quite painful. Andy did a commendable job of staying in place through the whole thing. I loved that he got one extra for his little joke about those first taps counting as hits. I liked that Mr. X made Andy get and hold the birch while waiting. Nice psychological torture there.

As with part one, I think my favorite part of this video was seeing Matt's reactions to watching Andy getting spanked and birched. His expressions let us all know exactly how he feels about what he's seeing. I loved Matt's insistence that Mr. X won't ever see him there again - he sounded earnest. (though personally I do hope we see him again).

Loved the teaser at the end. Hooray for the possibility of another video with Matt when he goes home to face his dad. :)
Reply

Cherylkay | 3rd April 2015 05:12
Poor Matt! He was really uncomfortable watching Andy get spanked. The way he rubbed his bottom was great, too. Leave it to Andy to have a smart ass comment to make about the Chinese birch LOL. If that line was improvised, it was one in a million. It's also great that this isn't going to be the end of it, at least not for Matt.

But as much as I enjoyed this movie, I like Andy much better when he's dishing out the spanking rather than taking it. I mean, both Andy and Matt are amazing eye candy, no doubt about that. But I just prefer Andy as a spanker.

OK, now that the bitching is out of the way...LOL. Dave, you were quite perturbed both Andy and Matt in this one. I would think, if a community spanker really existed, he would get frustrated at seeing the same guys over and over. I can't wait to see how Matt faces his "Dad".

Art, as always, my hat is off to you for the editing and graphics. You're a total professional.
Reply

Ooleary | 2nd April 2015 20:59
This was so good .well done Andy even i was flinching watching the spanking Mr. X usually alternates from cheek to cheek but there were a few times when he smacked the same spot 5/6 times ouch.Loved Matt's reactions holding his tummy, rubbing his head ,poor guy just wanted to get out of there. Glad to see Andy still had a cheeky comment when the birch came out lol ,again loving the split screen so I can see both reactions Thanks Art xx Yippee we'll be seeing Matt again when he goes home to Dad.
Reply