RELEASED: 12th February 2015
Peeping Toms - Andy & Matt
Part One
Andy Lee has a new friend, Matt which of course means there is new mischief to be had! They are both builders working in a department store. The lads think it is a great idea to install a hidden camera in the changing rooms!
Unfortunately for them, their supervisor catches them! He decides the lads need to be punished properly so they get sent to visit the local community spanker, Mr X!
Of course Andy Lee is a familiar face to Mr X but young, hunky builder Matt is not! It's his very first time getting spanked!
Of course Mr X give the sorry lads a real lecture but then the punishment begins!
First of all Andy Lee is taken over the knee and spanked, followed by Matt. As a straight lad, getting spanked in front of your mate is extra embarrassing!
Watch the two lads squirm as the spanking really starts to hurt!
Stand-by for even more punishment in Part Two!
STREAM
VIDEO
Available streams for iPad, iPhone, Android, Chrome, Safari, IE or Firefox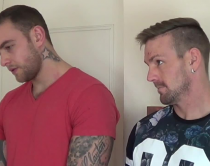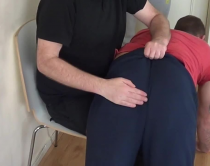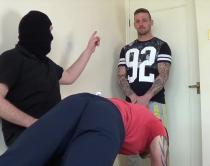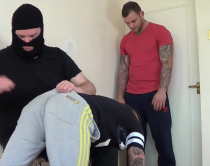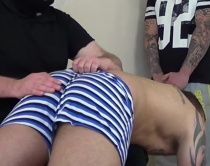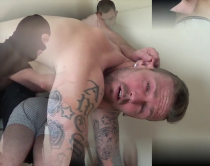 jacko | 2nd March 2017 11:49
I don't like watching beefy boys like Andy being spanked OTK. I much prefer them to be doing the spanking if they possess the necessary skills with improvised dialogue and can deliver an effective whacking. However I decided to watch the two parts of this little drama to assess the performance of the new model, Matt. Andy has introduced many highly-skilled mates to SLS so even a 26-year-old associate was worth a look.

I was not disappointed. This movie was ever so enjoyable. However, the source of the entertainment was not an intriguingly original story-line, a brutally painful spanking or Andy's commendable pain tolerance. For me the catalyst of my pleasure was quite simply, Matt. Whether his antics in the background were the result of superb acting or natural reaction is not important. He was hilarious, successfully distracting me from the spanking as his gestures, body language and facial expressions punctuated each swat. If this was acting, then it was cleverly done. If it was natural reaction then it was an engaging diversion that I have not observed in SLS films previously.

As I write this review I note that Matt's final performance with SLS was two years ago after starring in only two videos. A pity about that! I am privileged to have experienced this unique moment of magic.If Matt's filmed response to Andy's spanking was merely an emotional, uncontrolled reaction, this might explain why he departed so soon.

Apparently overwhelmed by Andy's interaction with Mr. X in the introduction to Part One, Matt was light on dialogue and animation. There was no suggestion of the startling transformation that would add life to an otherwise mundane story-line. While Mr.X and Andy dominated the banter, Matt was a silent partner, obviously contemplating what would follow.

With the first swat on Andy's backside there a dramatic change. I must admit that from this moment on, my focus was totally on Matt as I delighted in every second of his genuine response. It was due to Dave and Art's skilled direction and editing that this was captured on film for all to appreciate in the future. Well done, lads! Of course, I selfishly bemoaned every time the camera returned to focus on the spanking. Whenever Mr.X glared in his direction, Matt became became disinterested and expressionless.

When it came time for his own spanking, Matt's convincing facial contortion and vocalizing added further to his diverse repertoire of responses. Rubbing his bum at the end of each spanking session was not only amusing but intensified the scene's realism.

Matt remained impassive even when Andy stripped to his boxers, but once again with the first whack the delightful facial vibrancy returned. Despite the clever split screens of Andy's suffering, all I wanted to scrutinize was Matt. When the camera panned from the powerful thumps on Andy's backside to a full view of Matt (skilfully done) his arms were writhing with nervous energy and moving to wipe the inappropriate joviality from his face before it betrayed his true feelings. Fantastic!

And so to the end of Part One.

The sight of Andy's bare backside being clobbered instigated a different range of emotions and expressions from Matt. Now gone was the cheerful smirking to be replaced by the worrying contemplation of one awaiting execution. His stance could best be described as like a young lad needing to go to the loo but using his hands to curb his desire. Again, fantastic! So realistic!

The reaction from Matt when it was finally time for his bare bottom spanking was one of despair as he despondently lowered his boxers and allowed Mr. X to take him by the hand and lead him to his position of submission where his backside presented invitingly. Mr. X didn't hesitate to accept the invitation but proceeded to slap the reddening target with force. Matt strained to maintain composure as the pain sizzled and there was even a hint of leg kicking towards the end of his ordeal. The sight of Andy standing full frontal and disinterested in the background, obviously contemplating his confrontation with the Chinese birch, once again encouraged me to focus on Matt and his reactions. Congratulations Matt on surviving to end of Mr. X's discipline with relative dignity.

It was encouraging to observe that while Andy was attempting to weather the onslaught with the Chinese birch, Matt was still rubbing his behind and reacting to each slash with the birch as if he was receiving the blows himself. Although his own spanking was at an end he was not relaxing or showing indifference. He was remaining in character even if that character was based in reality.

Thank you Art for the three-frame split screen. You were perceptibly aware of the impact the three views would make if displayed together. Involuntarily, Matt continued to rub his backside with his hands and with the wall as he "lived" Andy's pain and discomfort. He appeared to be extremely relieved when it was at an end.

This is the most amazing SLS film I have ever viewed because while I found it thoroughly entertaining and stimulating, Andy's spanking was almost a non-event due to my focus on Matt. My main focus was on something other than the spanking.

Congratulations Andy on your great performance and endurance although I was distracted and missed much of it. For once you played second fiddle to a memorable demonstration of reality which may have been unintentional.

Matt was brilliant, as previously suggested, either due to outstanding acting or just being himself. It doesn't matter which. It is such a pity that he made only two movies.

Thank you for a rare gem of a movie. I'm so glad to I decided to watch it.




Reply

switchers | 10th May 2015 18:14
This is the first video I watched after Hubby signed me up for the site. At first I thought I there was a bit too much dialogue and not enough spanking, but I found myself really enjoying the way Mr. X was making Andy Lee, especially, squirm uncomfortably knowing what was coming to him. Once the punishment commenced, I couldn't help but laugh out loud at how his new friend Matt was smirking and covering his mouth for fear that Mr. X would notice his attitude. Matt obviously didn't know what to think about what was happening to his friend and it showed in his face. Great acting! (or was it acting? LOL) On the technical side of things, I was really impressed by the split screen shots in several of the videos I watched last night. It's obvious there is a lot of thought and creativity that goes into these films. Awesome job everyone. Hopefully soon I will know everyone's names so I can point out their contributions personally. Great job everyone! Thank you so much for doing what you obviously do best!
Reply

Ficwriterjet | 3rd April 2015 04:56
I decided to review this one today since part two just came out. :)

One of the things that I kept noticing about this movie is how BIG Andy is. Even when he's hanging his head, he still looks tall and broad shouldered. But maybe it's the camera angle of looking up at him that makes him seem big. Does anyone know how tall he actually is? Andy looks quite good in that shirt - and even better with it off! LOL

I think it's both fantastic and hilarious that Andy has brought along another friend with him. Thanks Andy!

Matt is cute, and well built. My favorite part of this video is watching Matt's reactions when Andy is getting spanked. Thank you Art for making sure we got to see that, because it was highly entertaining. Matt looked genuinely shocked and appalled more than once. It seemed like he kept trying to look away from the horrible thing happening in front of him, but his eyes kept being drawn back anyway. I also enjoyed Matt's reactions to his own spanking - clearly disliking it, but not trying to be particularly stoic or over dramatic about it. I also love that he rubs his bottom after each session over Mr. X's knee. :) Very cute.

Mr. X did a great job of scolding. I always love that. And his exasperation with Andy was understandable since he's been there so often. I thought it was pretty funny that Andy tried to say the whole thing was Matt's idea, only to find out that Mr. X didn't believe it for a second. LOL I also loved it when Mr. X told Matt to stop smirking, and then Andy made a point of telling Matt that Mr. X was being serious about that.

Reply

red1967 | 13th February 2015 23:44
Andy spying on girls again you naughty boy and Mat when your mate say let spy on the girls you should of said no lol but glade you didn't I love seeing Andy getting spanked I hope you have learnt your lesson and don't do it again ( please more ). Well done Andy you where wonderful as always. Mat you did a grate job for your first time please come back. Mr X wow good lecture you really laid into them before the spanking began Well done all of you looking forward to part 2. Art you did a grate job thank you
Reply

MJM | 12th February 2015 23:26
Loved it. Looking forward to part two.
Reply

Ooleary | 12th February 2015 12:55
Andy Lee and friends yet again it's a wonder he's any left.Loved Andy here head down , feeling sorry,resigned to his fate, that spanking looked seriously hard.Matt great job for his first spanking ,looks tough with his muscles and tattoos but his eyes were so red it looked like he was about to cry , can't wait for part 2. (Is this really going to be the end of Andy 😟).Great job Mr.X love your lectures and your poor hand no wonder it's in installments i hadn't volume on my phone turned up high and it sounded hard. xx Orla.
Reply