RELEASED: 15th March 2019
Alfie
Enough Is Enough
It's not been a good week for Alfie. Just seven days ago, the handsome young star of the latest male corporal punishment movie from Straight Lads Spanked had a girlfriend, a house, a job and a cat. Now he doesn't have any of those.... and in their place he has a criminal record, after being caught smoking what he oughtn't to have been.
It's by no means the first time that 20-year-old Alfie has messed up, and girlfriend Jessica has finally decided that enough is enough. Alfie has returned home with all his worldly goods packed in a small suitcase, and expecting Mum and Dad to take him in.... but Dad has got different ideas about how that is going to play out! Furious and bitterly disappointed in his son, he informs Alfie that not only is he going to get his first ever spanking today, but he is going to be spanked again next week, and the week after that, and the only variables will be how hard he gets it, and with which implements!
With this dire warning ringing in his ears, the sorry lad is told to bend over Dad's knee, and is soon feeling a firm paternal hand warming the seat of his tight jeans. As he spanks, Dad lectures the unfortunate reprobate on the sorry turn that his life has taken, and what Dad expects him to do to turn it around.
Before long, it is time for Alfie to take down his jeans and bend over again for the spanking to continue on his bottom-hugging black Calvin Klein underpants. Dad's strong hand soon has him wincing and grimacing, and saying how sorry he is, but Dad is a man with a mission, and he isn't finished yet.... not by a long chalk!
Setting the lad back on his feet, Dad orders him to take down his pants. Before he knows what is happening, Alfie finds himself back over his old man's knee, being spanked hard on his bare behind like a naughty little boy. Humiliated and with a sore red bottom, Alfie has no choice but to lie there and wait for his ordeal to be over.
When his punishment is finally complete, Alfie is a very sore and sorry boy. But now Dad is going to go through his suitcase, looking for illicit substances. And with another painful behinder reminder on the horizon for him, this is one lad who is bound to be asking himself where it all went wrong. And well he might, the silly boy. What IS it all about, Alfie?
STREAM
VIDEO
Available streams for iPad, iPhone, Android, Chrome, Safari, IE or Firefox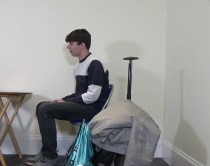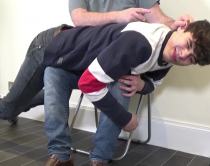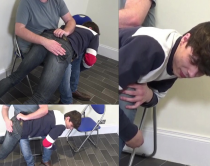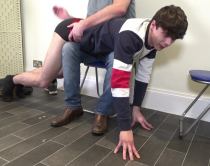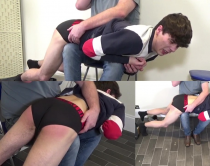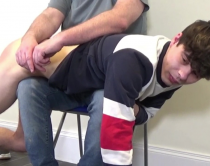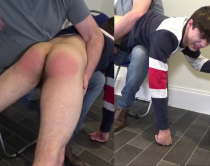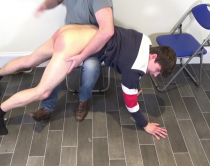 Lee | 6th September 2019 23:13
Alfie is amazing. Love him.
Reply

Serena89 | 15th March 2019 22:05
Wow! This was worth the wait. I love seeing a new model :)
Alfie is so beautiful I love the soft and floppy, wavy hair. I also love the thick accent.
He is very natural and sweet if not a little shy but I see a lot of potential here! Like LOADS.
Alfie takes the spanking with a lot of poise and I believe he has a high pain tolerance which is exciting! I think it will take a mucu harder punishment to bring his more vocal side out which is why I look very forward to week 2 of this series!
Something I noticed and loved and which is unique to Alfie is when sometimes he takes his hands and arms off the floor and sort of hugs Dave's legs which I found touching and also hot haha.
Dave you were as commited and believable as always and I LOVED the hug at the end!
Shall be rating this highly when I get the chance.
Well done to you all.
Welcome Alfie, you did amazing and I reaaaally hope you come back.

Dave - Straight Lads Spanked | 5th April 2019 20:10 (77 weeks ago)
You know it was really nice when I felt Alfie cling on to my leg too! I agree he was not very vocal but sometimes the lads express the pain in different ways and for Alfie it was grabbing onto my leg!
Reply

philimare | 16th March 2019 15:20
Alfie is a very good addition to the team. He is indeed very natural, the perfect exemple of a "genuinely authentic" person. All is so simple and credible in this video, without any scripted dialogues and attitudes, I almost had the feeling it was all real. Alfie seems very shy to me, which is very understandable, knowing it is probably his first public video and more than that a spanking video. Now I wish he will do more, be more relaxed and confortable and hopefully be more vocal.
@Serena89, you are absolutely right the way Alfie is clinging on to Dave's leg is touching and indeed very hot :-)
And one word for Dave, you are damn good spanker !
Oh ! and by the way, a very (very very) nice butt :-)

Dave - Straight Lads Spanked | 5th April 2019 20:08 (77 weeks ago)
Thanks Phil.... I'm trying to work out whether its me or Alfie that has the nice butt???

:P
Reply

Orla | 17th March 2019 09:52
I love Alfie.
What a great new model , he's adorable and so sweet and shy looking ,kind of reminds me of Fraser a little.
I love the whole story its so believable, Alfie doesn't say much but his head shakes and ah Haha are enough cos he has beautiful story telling eyes.
Dad said this was just a warm up but you could see it really hurt and I too love it when the lads grab and hold on to your leg it shows that they trust you.
This is where it gets tricky for me, I want Alfie to get back with Jessica and sort himself out but I also want him to fuck up again like smoking weed and not turning up for job interview for example and Dad to beat him with the belt .
I'm giving Alfie a 10/10 ,he did so well with the spanking and had a beautiful red bottom and I love the hug ahhhh.

ps Dave I'm really curious to know about the glitch in the film it kind of skips when Alfie is asked to take his Jeans off, was it a camera issue or did Alfie get nervous or something else ...... Orla xx

Dave - Straight Lads Spanked | 5th April 2019 20:07 (77 weeks ago)
Awwww! I want Alfie to sort to out with Jessica too!

I'm sure when Alfie took his jeans off I just had to adjust some camera angles.
Reply

Bobbyfan | 24th March 2019 00:40
What a cutie. Sexy as fuck


Dave - Straight Lads Spanked | 5th April 2019 20:06 (77 weeks ago)
Agreed!
Reply