RELEASED: 2nd March 2018
Jacob
Enough is Enough
Week One
This week's brand-new male corporal punishment movie from Straight Lads Spanked introduces a brand-new model who is sure to prove an instant favourite with members!
Jacob has just turned 18 and has left school, but he seems to think that that gives him the right to lie in bed all day and do nothing. Unfortunately for him, however, his dad has got very different ideas!
It's 1pm on a Wednesday, and Jacob was supposed to be at work hours ago, but he has slept in. Big style. When Dad comes into his room and confronts him about it, he makes the mistake of giving him a bit of attitude. And when the brat has the cheek to lie there and roll his eyes at his lecture, an exasperated Dad tells him that he has got three choices: hand over his digs money; be grounded for a month.... or go over his knee for the good spanking he should have given him years ago.
Well, it comes as no surprise that Jacob doesn't have the digs money. And he refuses to be grounded and not see his girlfriend.... which would appear to leave only one alternative, except he's not keen on that idea either.
"There's no way you're spanking me," he says. "I'm a fully grown man!"
When Dad sits down on the bed, puts the lazy layabout over his knee and warms the seat of his tracksuit bottoms, Jacob soon discovers that it takes more than just turning 18 to become "a fully grown man".
Jacob still has a lot to learn.... not least of which is not to swear at Dad when you're over his knee getting a smacked bottom! He is told to take his trousers down, and when he argues the toss yet again, Dad tells him in no uncertain terms that "things are going to change around here, and one of the things that's going to change is the colour of your bottom!"
Jacob's punishment continues on his tight white pants, and eventually Dad pulls those down to take his hand across the lad's bare bottom, which by now looks very red and very sore.
To make matters worse for Jason, Dad gives him notice that in seven days' time he will be conducting the first of a series of regular weekly performance reviews, to consider his behaviour, attitude and contribution to the household in the previous week.... each of which will be followed by a spanking. The only elements in question will be duration, severity.... and choice of implement!
"I'll be a good boy," says Jacob. "I'll be a good boy!" I suppose we'll wait and see, but I wouldn't bet on it....
STREAM
VIDEO
Available streams for iPad, iPhone, Android, Chrome, Safari, IE or Firefox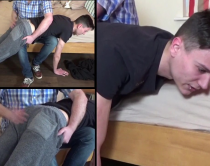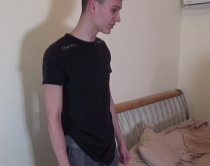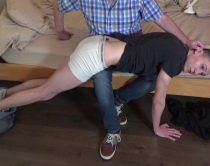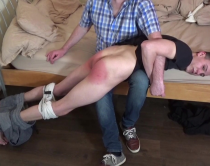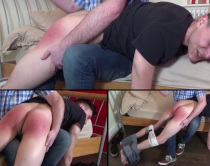 spankjason | 19th March 2018 23:37
Jacob is fantastic, great clip and very believable spanking. I hope to see much more of him here. The same goes for Jason. I'd love to see both of them get spanked by you, Dave. Maybe in some kind of sleepover setting?
Reply

Nat74 | 17th March 2018 11:45
I enjoyed this movie, really looking forward to week 2. :-)
Reply

MistressAlex | 11th March 2018 03:10
Jacob looks great! I always love seeing new models. Rasputin, Dave doesn't make videos solely for you so cut him and Jacob some slack. Not all of the models are going to match what everyone on here likes. I originally liked Bailey and Andy and when they left I began to like other models. They aren't all my "type" but this isn't a dating service and any critique on a model's physique is not ok. His acting also seemed perfectly fine to me. He will get into the swing of things, I'm sure doing his first movie made him nervous but it certainly didn't show to me.

Dave, please let Jacob know he did a good job and that people on here DO want to see more of him.
Reply

tinhead | 10th March 2018 23:57
A very handsome lad who is ideal for this. Nice face, lean frame, good bod. And as for the spanking - perfect first time treatment!
Reply

Rasputin | 9th March 2018 01:56
Come to think of it, if Jacob worked out to build up his muscles up a little bit, stopped wearing his lip ring, and affected a more demonstrative acting style, he would correct all of the shortcomings I mentioned earlier, and he would be a fine model. He already has the aforementioned good looks, and his easily-reddened ass is frosting on the cake.

JamieJones | 9th March 2018 09:58 (2 weeks ago)
Rasputin, I do respect your opinion and understand that Jacob isn't to your taste but can you just accept that not everyone shares your views? If Jacob did work out to build up his muscles, lost the lip ring and affect 'a more demonstrative acting style' he would be a completely different person and would appeal to a completely different group of members who subscribe to this site.

We clearly don't all like the same type of model but I think Dave does an amazing job of mixing it up so we all get to see models that we like rather than him sticking to just one type of model and alienating various groups of members.

Personally I don't want Jacob to change, if I want to watch a more muscular model I'll watch a different movie. I hope Jacob stays exactly as he is and makes loads more movies for SLS.


Dave - Straight Lads Spanked | 9th March 2018 18:59 (2 weeks ago)
Rasputin, I do appreciate your feedback and support of my work.

I've listened very carefully to your comments and I hear you when you tell me that you think Jacob should work out, build up muscles a bit, lose his lip ring, be less twinkish and improve on his mediocre acting.

It's clear that this was not a favourite movie of yours.

I find it very hard reading this Rasputin as you are making very personal comments about another persons physical appearance. In particular their body shape. The problem I have is that there is nothing that I can do with this feedback Nothing that I can change. I'm certainly not going to suggest to a model that they need to change their body shape. This was Jacob's first evert attempt at putting on a performance in any kind of movie. Everything was new. I thought he made a tremendous effort. But yet, he has had to sit and read this his acting is 'mediocre'.

I thought his acting was really terrific. He played the part exactly as I wanted and brought a lot of humour to the role too. He made a real effort to understand the character and the comments he came out with were wonderful.

It would be a lot more helpful if you kept your feedback to what actually happened in the movies rather than listing all the things you would liked to have happened or felt should be done differently.

Of course, I am always open to feedback and constructive criticism, Always, However I really don't want my models to be reading comments about their body shape.

I understand that of course when you choose to model you need to be open to feedback. Of course that is fine, I feel its perfectly fine to comment that you are not a fan of a certain build or look, It very different when you say that someone should change their appearance to suit your own taste.

I'd really appreciate it if you could bear in mind that the models are going to be reading everything that you write about them.

Thanks
Reply

Ficwriterjet | 7th March 2018 14:54
I thought this movie was great. I especially liked that 'pack your stuff and get out' wasn't one of the options Dad gave Jacob as it is in so many other movies. And I can imagine a guy Jacob's age would pick a one time spanking that lasts a few minutes to being grounded for a month without being able to have his girlfriend coming over. Of course now that he knows exactly what that means, maybe he regrets his choice.

I thought Jacob did a very nice job of playing the put upon teen who can't be bothered to wake up and go to work. Lovely eye rolling, and all around 'I know more than everyone else' teenage attitude.

Dave, I know in the past you've said that you don't tell the guys how to respond to the spanking, so does that mean the 'I'll be good' line was something Jacob came up with on his own? Because I have to say I loved that, and if it was his natural reaction to playing his role, then I can't wait to see what he decides to say next time. :)
Reply

Rasputin | 2nd March 2018 22:37
Jacob is a good-looking lad, and his bottom reddened nicely during his spanking. However, his acting is mediocre, he is too twinkish for my taste, and his lip ring turned me off. No thanks.

Dave - Straight Lads Spanked | 3rd March 2018 00:16 (3 weeks ago)
Quite an unnecessarily scathing review of a models first attempt at making a movie. Such a shame he has to read this.

philimare | 3rd March 2018 08:18 (3 weeks ago)
And if he reads this, he should know that some others completely disagree with this comment. Jacob "twinkish" look makes me mad. His acting is precisely not too much and quite natural. More of Jacob, please.

Uchikimatsu | 5th March 2018 02:59 (3 weeks ago)
First of all, "no thanks" is something you say to a piece of chocolate when you're dieting, not to a human being!

Secondly, Jacob's is more talkative, interactive, and expressive than many of the veteran SLS models, so I don't understand how it could ever be described as mediocre.

I thought Jacob was fantastic here, not just for his first time, but simply fantastic! I do hope we haven't scared him away and he comes back to film more movies, specifically with "Dad." I thought the chemistry between Jacob and "Dad" worked really well and seemed natural.

Like others that have commented I loved it when Jacob promised to "be a good boy," and especially when Dad told him "shut your mouth!" (not in that order LOL!) That was really exciting.

In the past I have voiced concern over "Angry Dad" and the amount of frustration and anger directed at the "son" while he is being disciplined. These last few Dad/son movies has shown Dad flaring with frustration at the lack of obedience and raising his voice, but this time it seems more assertive than angry and it is very thrilling to hear Dad speak like that. Dave, you've really hit the perfect balance now of acting the Dad that *has* to raise his voice in order to get his son's attention and respect, rather than a Dad that is truly angry and taking his frustration out on the son's backside. Nice job, really. Its awesome.

I thought Jacob did a marvelous job at acting incredulous at first, then slowly realizing that he is going to get a proper spanking, and finally to a repentant young man.

I really can't wait to see what happens to poor Jacob at his next meeting with Dad (sorry Jacob, but you have talent and we all want to see you getting your adorable bottom smacked again!)

Rasputin | 5th March 2018 03:42 (3 weeks ago)
If Jacob can discard the lip ring and affect a more demonstrative acting style in future videos, his performance would be much more effective IMHO.

Uchikimatsu | 5th March 2018 22:50 (2 weeks ago)
Fun Fact:

The "H" in IMHO stands for "humble."
Reply

JamieJones | 3rd March 2018 17:36
Ooh Dave, where did you find Jacob? He's lovely :-) He's totally my cup of tea young, slim build, good looking, polite - although he does need to learn the words 'Sorry' and 'Please' as in 'I'm sorry Dad, please stop' rather than 'Dad, I think that's enough...' or 'Stop Dad, stop.' Maybe a few more trips over Dad's knee will teach him to mind his manners and watch his language.

Loved the way Jacob acted like a typical teenager, rolling his eyes and trying to make it sound as if he was going to 'allow' Dad to spank him. Ha Ha! So funny!

Can't wait for part two to see more Jacob and I'm especially looking forward to finding out what Dad spanks him with next. Sorry Jacob!!!


Uchikimatsu | 5th March 2018 03:05 (3 weeks ago)
I agree, JamieJones!

I loved the attitude, which wasn't over the top but just very typical and normal for a teen! He did a great job! I also loved the eye roll as I don't remember seeing a model do that before. It actually made me laugh out loud. He's a very nice looking lad and fits perfectly into the "son" role at SLS.

I'm really looking forward to the next Enough is Enough movie with Jacob, but would also love to see a BBB or WTYFGH with him as well!
Hooray for this fantastic new model!

Uchikimatsu | 5th March 2018 03:06 (3 weeks ago)
I agree, JamieJones!

I loved the attitude, which wasn't over the top but just very typical and normal for a teen! He did a great job! I also loved the eye roll as I don't remember seeing a model do that before. It actually made me laugh out loud. He's a very nice looking lad and fits perfectly into the "son" role at SLS.

I'm really looking forward to the next Enough is Enough movie with Jacob, but would also love to see a BBB or WTYFGH with him as well!
Hooray for this fantastic new model!
Reply

mooner | 4th March 2018 10:41
Jacob's one of my favourite models in a long time - love this video! Can't wait to see part 2!
Reply

mattnyc | 3rd March 2018 16:59
Jacob's great. I'm always amazed when a model does that well in their first film. He was really relaxed and in character. He seemed to instinctively know how to turn his natural personality into the character in the clip. I know the piercing is going to divide the members a bit but I find him really sexy. And he's perfect age and look-wise to get spanked. Great, smooth, long legs, and a really cute spank-able bottom. I also loved the transition he acted from smart-ass to sorry, "good boy". I love that he said he'll be "good". So sexy and such a great instinct particularly for a first time actor. Great new model. Great work, Dave and Art.
Reply

philimare | 2nd March 2018 19:20
wow, i am a fan of Jacob ... already. Perfect look, perfect body, very good acting. A very credible father & son spanking, exactly as I love it. I definitely will wait for more with Jacob. I put in my top 3 on this site (yes, it is definitely more my type that too muscular, beefy guys). 10/10 for me.
Reply

Orla | 2nd March 2018 09:50
Firstly Dave you've put Jason in the title instead of Jacob.

I like Jacob ..Welcome to SLS Jacob.looking forward to seeing more Jacob.

Good little actor (not over the top and not too shy,just right).Nice red bottom and I loved him saying I'll be a good boy 😂😂 which we all know means he'll be good as long as his bottom is still sore once the pain wears off he's back to his old ways hopefully xx.

I'd like to see more Jacob for sure.Thanks Davexx
Reply