RELEASED: 19th October 2018
Sebastian & Spencer
Mates in Trouble
Part Three
This movie follows on directly from Part Two
In Part Two, we saw Sebastian and Spencer both getting their bare bottoms soundly smacked by community disciplinarian Mr X after getting into a scrap in their works canteen. As if that wasn't bad enough, the lads learned that they would have to report to their firm's boardroom later that day to pull down their pants and show the proof of their punishment, in a meeting in front of their workmates which would be broadcast live on social media!
This week's new male spanking movie takes up the story as Spencer arrives at Sebastian's place after their public humiliation, and to say that he is hopping mad would be something of an understatement! We discover for the first time what had caused the fight in the first place.... Spencer had caught Sebastian red-handed, thieving money from the works raffle!
Sebastian gives the appearance of being sorry - but after all that he has gone through that day because of his mate, Spencer is going to make sure that he makes him sorrier still! He tells Sebastian that either he will grass him up to their boss, Mr Smith.... or he will give him what he has had to endure: another good hard spanking!
At first Sebastian thinks that his mate is joking, but it's not long before he realises that Spencer is deadly serious! And if any last vestige of hope remained that he would be able to talk him out of it, it is dashed when Spencer pulls him over his knee and begins to spank the seat of his jeans! This is payback time!
Sebastian pleads and whinges, trying to make excuses for stealing the money, but Spencer has been spanked and humiliated, and he is in no mood to take pity on his old mate. He is determined to exact revenge and give Sebastian exactly what he had to endure!
Eventually, he tells Sebastian to take his jeans down. Again Sebastian tries to wheedle his way out of his punishment, but Spencer is unmoved, and merely repeats Sebastian's options. Down come the jeans, and back over the knee goes Sebastian, for Spencer to deliver a firm smacking to the seat of his friend's skintight white CK boxers.
But Mr X didn't stop there when both lads were punished earlier in the day, and Spencer is damn sure that he isn't going to stop there either! He is a young man out for satisfaction.... and the only way he will get it is to give Sebastian exactly what he himself got! With no warning, he pulls down Sebastian's pants and spanks his muscular bare bottom, just as Mr X had done hours before!
Not for the first time, Sebastian ends up a very sore and sorry, red-bottomed boy. And also not for the first time, very well deserved, too!
STREAM
VIDEO
Available streams for iPad, iPhone, Android, Chrome, Safari, IE or Firefox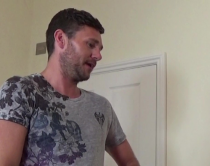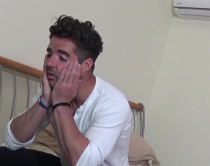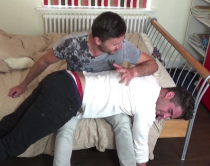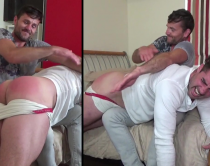 cookiebri | 25th October 2018 03:11
Reply

mattnyc | 21st October 2018 16:44
Great new clip. I love when one of the models does a turn as a spanker and Spencer was excellent. I think this is his first time in that role and he was totally convincing. He's great with dialogue and seems like a natural at spanking. I loved that he told Sebastian he was going to "spank him like a naughty little boy." So sexy. Sebastian is always great and his butt looked particularly spankable in those super tight jeans and even tighter briefs. Hope to see more of Spencer as a spanker. He proved he can totally deliver. I'd also love to see him over Sebastian's knee. Great job, as always, Dave, keeping things interesting and with the writing and directing. Art's editing is always great. More like this, please!
Reply