RELEASED: 29th June 2018
Sebastian & Spencer
Mates In Trouble
Part Two
This movie continues directly from Part One, in which real-life mates Sebastian and Spencer took turns bending over Mr X's knee to be soundly spanked in punishment for a fight in their works canteen.
Part One ended as Sebastian was being told to pull his pants down to be spanked on his bare bottom. And this week's new male corporal punishment movie from Straight Lads Spanked takes up the story with Mr X ignoring Sebastian's protests about his mate witnessing the indignity of a bare-bottom spanking, and putting the now naked lad back over the knee.
To make matters worse for Sebastian, Mr X is mindful of the fact that the lads are going to have to show their spanked bottoms to Mr Smith's workforce in a staff meeting which is set to be broadcast live on Facebook at 5pm that day.... and we all know what a professional Mr X is. He's going to make very sure that every inch of those bottoms is fiery red! After all, his reputation as a community disciplinarian is on the line here! Sebastian feels Mr X's hand smacking his bare buttocks, and smacking them good and hard!
He may be a consummate professional, but Mr X is also nothing if not fair. Time and again he gives both lads the chance to come clean, admit who started the fight and bring the punishment to an end, and time and again both lads refuse. So then it's Spencer's turn to take down his pants and go back over Mr X's knee. Spencer complains that it is embarrassing.... but Mr X reminds him that this isn't going to be his most embarrassing experience of the day!
Both lads have now got very sore red rear ends.... but to Mr X's obvious frustration, they are staying tight-lipped about who was to blame for the fight in the canteen. Mr X has no alternative but to bring out the big guns.... or to be more accurate, the wooden paddle! They are told to stand against the wall and stick out their muscular bottoms for 12 hard whacks each.
By the time this final part of their punishment is over, both lads are desperate to rub the sting out of their bruised red bottoms, but Mr X tells them to stand against the wall with their hands on their heads and think about their behaviour for a while. It's been a lesson that these young reprobates aren't going to forget in a hurry!
STREAM
VIDEO
Available streams for iPad, iPhone, Android, Chrome, Safari, IE or Firefox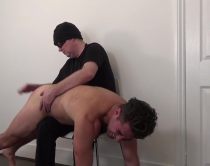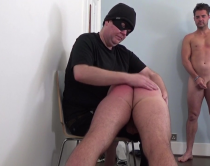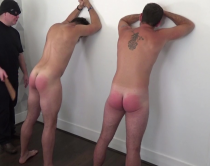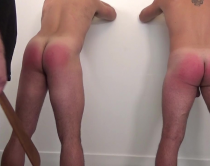 Ficwriterjet | 29th September 2018 18:11
Very nice. I especially loved the last bit with the paddle against the wall. I was surprised that neither one confessed. It makes me think they're either both to blame, or covering for someone else. But since I've read the comments, I see that there will be more to the story, so I look forward to seeing what happened. :)
Reply

JamieJones | 1st July 2018 14:00
I am so confused...there must be a Part 3 to this movie, if not already filmed at least planned, otherwise it doesn't make any sense at all. Why would Sebastian and Spencer just not tell Mr X the truth about who started the fight? Maybe the lads have been threatened with something worse than a visit to Mr X (but what could possibly be worse!!!) by the person who did actually start the fight.

The only other thing I can think of is that Sebastian and Spencer have upset Dave in real life and Dave is so fed up with filming 'Real punishment' movies with Sebastian that he has decided to just punish them hard in a storyline movie with no storyline!

Sorry guys, love Sebastian, love Spencer, love Mr X - just didn't love the storyline!


Dave - Straight Lads Spanked | 3rd July 2018 07:24 (51 weeks ago)
Hey JamieJones,

I'm sure there is more of this story to unfold!

Dave
Reply

mstr_spkr | 30th June 2018 15:58
Great job all around, both in front of and behind the camera. Excellent spanking as usual and the guys took it well with a decent amount of relatively believable dialog.

One question remains outstanding. Will we ever find the truth of what happened: who started the food fight and why? Perhaps there will be a Part 3 when the actual perpetrator is revealed. If it's not one of those guys perhaps they can participate in that malefactor's punishment.

Thanks to all.

Dave - Straight Lads Spanked | 1st July 2018 13:29 (52 weeks ago)
Glad you enjoyed it!

I'm sure we haven't heard the last of this saga!
Reply