RELEASED: 18th January 2019
Jerry
First Time Spanking
This week's brand-new male spanking movie from Straight Lads Spanked introduces the latest in a long line of handsome young models to the studio's impressive stable.
Jerry has been a silly lad, and taken his dad's car without permission. Not only that, he hasn't passed his driving test yet, and he has been caught driving without insurance or licence - and over the speed limit! With this catalogue of offences, the police could have thrown the book at him.... but luckily for Jerry, the police officer who nicked him is a friend of his dad's, and brought him home rather than book him at the police station. It is on condition, however, that Dad deals with the lad by way of a trip over his knee.... and the police officer is going to be coming back later in the evening to make sure that he has done so!
Dad appreciates the favour, and he is determined to make sure not only that he does a good job of disciplining his errant boy, but that he is seen to have done a good job.... so that his policeman mate will be satisfied and the matter will go no further.
Jerry hasn't given his parents any trouble before, but over Dad's knee he duly goes, for his first ever spanking in his 24 years. Dad smacks him hard on the seat of his tight jeans, letting him know as he does so, in no uncertain terms, that he is thoroughly ashamed of him. And as his father's hand warms his bottom, it's clear that a very sheepish Jerry is every bit as ashamed of himself.
"Do I have to take my trousers down?" he asks, when Dad tells him to get to his feet. "Of course you do," answers his exasperated father. Back over Dad's knee he goes, and the punishment continues on the seat of his tight white pants. "This is hurting me a lot more than it is hurting you," says Dad, but Jerry could be forgiven for not being entirely convinced of that!
There's only one way to check if Jerry's bottom is red enough to pass the forthcoming inspection, of course; eventually it's time for his pants to come down.
When the lad pulls down his undies, we can all see that his bottom is by now glowing almost as red as his hair, but not quite. Dad is mortified that his policeman friend has told him to punish Jerry like he should have done long ago, and he is determined to give the lad a lesson he won't forget in a hurry. "Dad, I'm sorry!" wails Jerry as his father's hand cracks down over and over on his bare bottom, but his apologies fall on deaf ears.
The policeman will be coming back to the house in half an hour to make sure that Jerry has been sufficiently punished, and so his bottom has to stay rosy-red for at least 30 more minutes, until the results of the punishment have been inspected. Accordingly Dad announces that he will be administering 30 more hard spanks, which Jerry must count out.
When his ordeal is over, Jerry is told to stay exactly where he is, in just his tee-shirt and pants, until the police officer arrives, and to think about what he has done. We can only hope that his little spin in Dad's car was worth the price he had to pay for it!
STREAM
VIDEO
Available streams for iPad, iPhone, Android, Chrome, Safari, IE or Firefox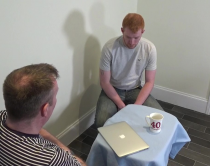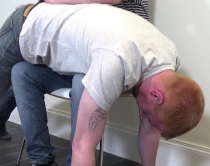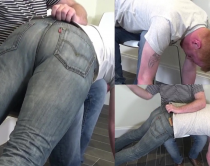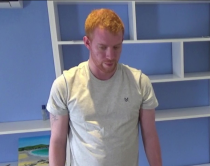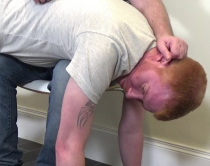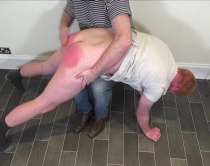 Serena89 | 13th February 2019 07:14
This is my favourite video I have watched so far... Sorry for all of my comments I am just on a spree of videos as I havent been able to watch full videos of this quality in a long long time also I am sick and can't sleep more than 2 hours at a time... besides that, Jerry is awesome! He's very uniquely attractive and has a beautiful speaking voice and demeanour. This is honestly the most genuine I have ever seen anyone be in any clip... it felt like it was so real. Either he is an outstanding character actor, pretended this was real in order to get through it/ give the right performance or he was drawing on something personal in his life. Bravo!

I loved the natural dialogue. I enjoy all TYPES of reactions but it was refreshing to have a guy so calm and polite and ask things like 'are you going to spank me' instead of being like 'what are you doing omg you cant be serious'et haha
Reply

vinniecp | 10th February 2019 18:40
Love Jerry perfect bit older which I love. I do like it Dave that you have such a mix of models normally buy clips from the clips store but joined up today
Reply

jddavidson61 | 25th January 2019 19:26
A fine video with a new model. Though there are so many guys that model for you that look like him. A bit older, well built, etc. I would love to see more variety. Would be great to see more boyish models like Jason getting disciplined.
Reply

flashgordon | 21st January 2019 22:33
I agree with the other comments: Jerry is an outstanding new recruit to the site. Handsome; beautiful red hair; a nice bottom for spanking; wears his jeans gloriously tight. And he gives a compelling performance. I don't know whether there is something more than acting going on, as Philimare speculates (maybe so, or maybe that's just what really good acting makes you think?), but his demeanour, so ashamed of himself right from the start, is very moving, as is his disappointed Dad, compelled to give his son his first spanking - not what he would choose to do, you sense, but determined to make a good job of it.

Mr X's leather paddle, Mstr_spkr? Or perhaps a big thick black leather police belt, on loan from Dad's policeman friend Ted? I see that over on the Suggestion Blog Mattnyc has some interesting ideas for what should happen next. While I like some of his ideas, I have slightly mixed feelings: I think Jerry has learned his lesson - for now, and I'm not sure I would want to see him punished again for this misdemeanour. On the other hand - and let's be honest, we all want to see Jerry back for another film, surely? - things would be very different if, for example, he passes his test, and celebrates by having too much to drink, then drives himself home...
Reply

Ficwriterjet | 20th January 2019 23:21
Aw, thank you Dave! :) That was wonderful. I loved it. :) Jerry's demeanor was perfect - good acting. He seemed legitimately ashamed of himself, and resigned to taking the spanking, even though he was clearly unhappy about it. And I also liked Dad's attitude in this one. Not quite so angry as in some of the other films, but obviously not pleased with his son's choices, and believing that the spanking was the right thing to do, even if he didn't enjoy carrying it out. I loved the bit with Dad asking Jerry who was going to take the underwear / 'pants' down. And of course I was very, very pleased to see a hug at the end. :) Again, thank you so much. I hope you do more of them!
Reply

philimare | 20th January 2019 12:28
I totally love this one ! There is something special in this movie ... Jerry is not of the twinkish type and it makes it even more real and exciting. He is so much into it, he seems to live this with so much intensity and even some sort of emotion. I had the feeling it was not just pure acting but that Jerry was definitely living something. Maybe I am wrong ? Am I the only one to feel there was something of a different intensity here ?
Reply

mstr_spkr | 19th January 2019 20:24
Welcome Jerry!

Very nice job all around. I have found that ginger guys redden quickly so he's fortunate in that dad didn't have to go longer as he'd have to for darker-skinned guys. Nevertheless, it was a good spanking taken very well.

I hope Jerry comes back often. He's an excellent addition to your portfolio of models. I hope we see more of him (literally and figuratively). I'm sure Mr X would not take it so lightly on him if he had to use the leather paddle.

Any chance on an interview?
Reply