RELEASED: 8th June 2018
Marco
Bubble Bath Blues
When we were first introduced to Marco, a few weeks ago, he had been sent to Mr X for a well-deserved spanking in the wake of some highly inappropriate behaviour with female colleague Felicity at the bank where he works.
In this week's new male corporal punishment movie from Straight Lads Spanked, Marco is back.... but he's not out of trouble yet!
Returning home after his appointment with Mr X, Marco rubs his sore red bottom as he strips off for a long, restorative soak in a warm bubble bath. The camera pans up and down his muscular naked body as he eases his aches in the soapy water. But his bath is rudely interrupted when a stranger walks uninvited into his house and right into the bathroom, to confront a naked Marco and introduce himself as Bryan - Felicity's boyfriend!
It's safe to say that Bryan is not a happy man. He has heard all about Marco harassing Felicity; he has seen the pornographic texts Marco has been sending to her phone.... and he even knows that he has just been spanked by Mr X. But Bryan is a man with a plan. Since Marco had spanked Felicity's bottom, Bryan will spank Marco's.... or he will report him to the police.
Marco tries to argue the toss, saying he has already been punished by Mr X, but Felicity's boyfriend is having none of it. Marco will go over his knee too, or it's a trip to the police station.
Marco is a rogue, but he's not stupid. He dries off and joins Bryan in the bedroom, where he eventually pulls off his towel and reluctantly bends over Bryan's knee, revealing a bottom that is still red from his earlier punishment. But Bryan is going to make sure that he paints it an even brighter shade of red!
Hell hath no fury like a woman scorned, they say, but maybe a boyfriend with a grudge would give her a run for her money. Bryan smacks Marco's bare bottom hard with his hand, and even admits that after a lifetime of being put down by muscular studs like him, he is going to enjoy it too!
With Marco still draped over his knee, Bryan makes him pull the belt from his jeans and hand it over. Doubling it up, Bryan leathers the banker's bottom until he begs for mercy. But Marco isn't going anywhere until Felicity's furious boyfriend has had satisfaction.... and that satisfaction is only going to come from giving Marco the thrashing he deserves.
Multiple camera angles show every detail of the muscular rascal's punishment, from the grimaces on his face to the deepening hue of his now very sore bottom.
Marco's painful ordeal finishes when Bryan hands him the phone and has him delete the 47 text messages he sent to Felicity - accompanying each delete with a good hard smack! Maybe from now on he'll think twice about slapping ladies' bottoms in the office!
STREAM
VIDEO
Available streams for iPad, iPhone, Android, Chrome, Safari, IE or Firefox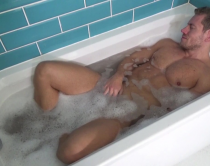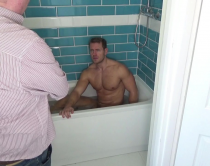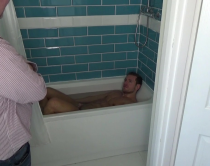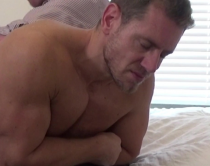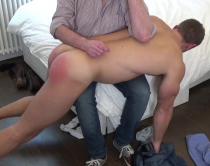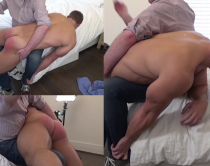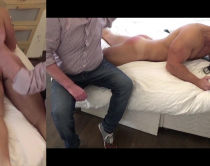 jake854 | 21st March 2019 14:59
Please, more of naked Marco, he needs to be stripped and spanked. Amazing body and very good acting.
Reply

hvicn1960 | 5th September 2018 01:49
hire this guy aGAIN!
Reply

Rasputin | 15th June 2018 12:20
Very good video, Dave. Handsome, muscular Marco is a feast for the eyes. His acting is great, and his butt looks great while being spanked. PLEASE give us more videos starring Marco.
Reply

Teacherman123 | 14th June 2018 09:00
Marco is certainly a keeper! Impressive physique.... spankable bottom.... cocky attitude.... talent for ad libbing.... did I mention his spankable bottom? Would love to see this lad getting himself into trouble on a regular basis!
Reply

newspank | 9th June 2018 13:48
Mmm, yum. Marco is certainly one hot SLS model. Maybe as a follow-up he is caught by dad sending a photo of his male member to another girl?
Reply

Orla | 9th June 2018 08:18
Wow wow wow loved every second of this video.Marco is exceptional here his acting ,his expressions trying to humour Bryan and his clearly I'm bored now get out of my house look,his accent and that bod though mmmmmm..delish😉

So many favourite clips here like when Marco asked him to dry his back 🤣🤣 when he told Bryan he couldn't take it and he put on a girly voice 🤣🤣 even just when he was laying in the bath showing himself off not bothered about Bryan .

Loving the new house Dave ,New bedroom, New bathroom ..i like the colour on the bathroom tiles.
Reply

Uchikimatsu | 8th June 2018 22:20
I absolutely LOVED this clip! Although it did make me feel vaguely uneasy to hear Dave talking about his girlfriend (I know, I know, its "Brian's" girlfriend - but still...)

Dave playing the enraged boyfriend of Felicity works so well because, while every model on SLS has his own charm, it would be really difficult to find a foil for Marco's superior acting skills, quick wit, and gift for dialog. Dave did the right thing by stepping in and played against Marco's sass beautifully.

Other than a few "real punishments," I think this is one of the most realistic spankings on the site. I loved the dialog between them. Brian's understandable frustration, not only about Marco's treatment of Felicity, but about his cavalier attitude in general. I loved that Brian got to work out the anger he's been harboring regarding men like Marco and how they treat others.

Marco played his character perfectly and stayed in character the entire clip, which I'm sure can be difficult when you are buck nekkid in front of a camera being belted by another man. His running dialog fit perfectly with the scene. My favorite line, second only to "Do you mind drying my back," is when Brian is getting a bit snarky himself, talking about taking photos and humiliating Marco, and he just blurts out, "Shut the fuck up." I laughed at that because it was such a real thing to say.

I agree with mstr_spkr down there, we need more Marco. I wonder what will happen when Dad gets ahold of his son after learning of the way he's treated his female co-workers. I'm sure that is not the way Dad raised Marco and will have a thing or two to say to his son.

Dave, where is Marco from? I love his charming accent but had difficulty with some of the dialog here.
Reply

mstr_spkr | 8th June 2018 19:50
Brian has a real potty mouth, doesn't he? Marco is a real trooper to take the belt so soon after a session with Mr X. I suppose now all we need is "Dad" to "explain" to him how disappointed he is in Marco's behavior. Perhaps a bath brush beating is in order (one can only hope, can't one?)

Excellent job! I hope you have not worn him out. I, for one, would love to see more of him in upcoming videos (figuratively, of course; it would be difficult to literally see more of him after this video.) I hope he comes back soon.
Reply