RELEASED: 22nd March 2013
This movie follows on directly from The Consequences of Cheating - Bailey & Karl where swimmimg champ Karl gets severely punished from Coach Bailey. Bailey informs Karl's Dad of the situation and Karl is told to go home and wait in his bedroom for Dad to get home. This is where this movie begins.
Sorry Karl is dreading what is going to happen. He has faced his Dad's belt before and knows that it is going to be tough. His bottom is still throbbing from the harsh spanking dished out by Coach Bailey!
The time comes for Karl to strip down to his pants and lie on the bed. Furious Father gets home and lectures his son.
Then the punishment properly begins. Karl's father shows no mercy as he lashes his sons bottom with his heavy leather belt! Karl has already been spanked and it is almost too much for him to bear!
Real Domestic Discipline Movie!
STREAM
VIDEO
Available streams for iPad, iPhone, Android, Chrome, Safari, IE or Firefox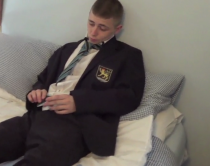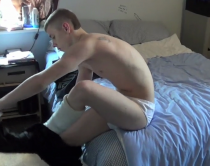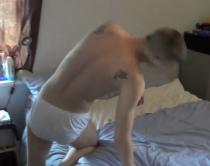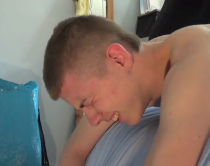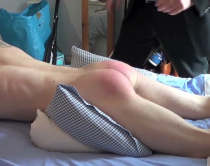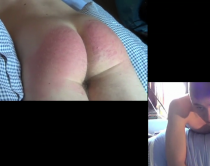 jacko | 3rd February 2017 18:42
In Karl's fifth movie he had to cope with an angry father who fortunately chose to use his belt on Karl's backside instead of a more severe implement. More than 90 strokes over his undies and nearly the same again on his bare backside must have been very painful for Karl, particularly after the beating given to him by Bailey. It revealed once again, that while still a teenager, Karl's pain threshold was amazing.

Although Karl's performance was convincing, it was not an enjoyable movie for me, watching my favourite model being spanked relentlessly by an abusive father who didn't deserve to be a parent. But then, it was the excellent acting that created that impression and encouraged my feelings of abhorrence and empathy.

I don't like the "Wait Till Your Father Gets Home" format because it provides little opportunity for innovation. The waiting before the spanking, while a fact of life in days gone by, loses its believability in these movies because of the time most models spend lying on the bed, waiting. Half an hour or so would be more realistic. The spanking that follows is generally no more than an unrelenting, traditional spanking without positive counselling or incentive.

Another wonderful step taken in your sparkling career at SLS, Karl. Thank you for suffering on our behalf.
Reply

Hunter | 22nd June 2015 15:56
Brilliant I don't know how I missed this Gem of Karl's

bad actions do have consequences and for Karl he had to learn the hard way.

Bailey did his job as a coach punishing his naughty swimmer and Karl's dad really took his frustration out on Karl's bottom with the use the belt
Reply

lorilee
|
Voted Video 9/10
| 22nd March 2013 11:53 (431 weeks ago)
Karl you did a great job, and you sure can take a good spanking keep it going, Bailey sure did a number on your back side then to Mr.X you really looked sour by the end.

wardcoleman
|
Voted Video 10/10
| 23rd March 2013 14:52 (430 weeks ago)
A great performance by Karl. He's a star and a real trooper. I recommend watching Consequences 1 and 2 in sequence to really see how much Karl took

Karlfan
|
Voted Video 10/10
| 9th May 2013 12:51 (424 weeks ago)
Karl is so beautiful. He has the best bum ever. I wish he knew how horny I found it seeing him get that belting. Maybe if he did, he'd spank me as punishment. How I would love that.

Dave - Straight Lads Spanked
|
Not voted video yet
| 18th May 2013 09:24 (423 weeks ago)
awww! I'll pass your thoughts onto Karl!

Karlfan
|
Voted Video 10/10
| 18th May 2013 13:55 (423 weeks ago)
Please do. I'd love to hear his reaction!!