RELEASED: 18th December 2012
'This movie contains scenes of full frontal nudity and some masturbation'
Brothers - Caught with Porno - Andy & Patrick
Andy & Patrick are two brothers that have been working late on a rather nasty plumbing job. Both in their 20's these lads are still living at home with Mum and Dad.
There is never enough hot water so it is always a race to see who gets in the shower first. Patrick manages to strip of first and dive in, getting the hot water with big brother Andy having his turn later.
With the parents still not home, these cheeky lads decide to steal some of Dad's vodka and settle down for the night in their shared double bed with a pile of dirty magazines doing what red blooded males do!
Dad comes home furious to find his vodka missing! He also finds the aftermath of what the two mucky lads have been doing with the magazines!
Both boys end up getting their bare bottoms spanked in front of each other!
""""More from Mr X..............
This movie is unlike anything I have ever filmed before, for many different reasons! For the first time, I actually focus more on the build up to punishment rather than the spanking itself. This movie runs at 30 mins long and we don't see a bottom spanked for the first 19 minutes!
Another thing that is different about this movie is that the story came entirely from the models Andy & Patrick themselves. This was not some fabricated story but a real reflection on their own lives growing up together.
So let me tell you some more details.
Andy really is Patricks older brother. They grew up together as part of a large family living in a small house. They shared not only a small bedroom but just one bed from being young boys right through until their late teens. There was never enough hot water and coming home filthy from playing football the only way to get a hot shower was to race to get in first or sometimes just share. This was part of their everyday life.
The other thing that was a part of growing up for these sometimes naughty guys was regular spankings from their father..
I never intended the movie to be so long and I certainly never envisaged that there would be two thirds of the movie without any spanking. There was no way I could ever have imagined how the lads would simply just fall back into the easy, natural routine that is clearly ingrained deep within. There was no script at all in this movie. All of the dialogue came from the boys and it just kept on coming. I just thought at the time that it would be a crime to stop them and I just let it keep on going and carried on filming planning to trim it down during the editing. My editor Art and I, however both watched the footage back and decided that it would be wrong to drastically trim it away. In fact, what is left is about 99% of what was actually filmed. This is also the first movie to contain subtitles! The atmosphere between the brothers became so relaxed that there rich irish accents became stronger. Art spent many painstaking hours going through it all and adding the subtitles. That is true dedication!
The close, easy relationship between these two brothers is a joy to behold! When Andy first suggest that we shoot a movie with them sharing a bed, my first thought was that it would just look odd! Andy replied, "it's not odd or acting, it's just real life to us". I like to think I have captured a reflection of their real life in this movie."""
"Please note that even though this movie is 30 minutes long, the spanking does not get underway until 20 minutes into the movie and is not exactly an intense spanking"
STREAM
VIDEO
Available streams for iPad, iPhone, Android, Chrome, Safari, IE or Firefox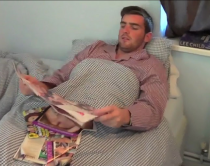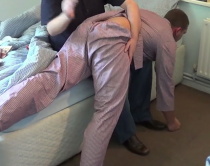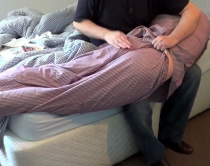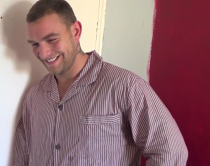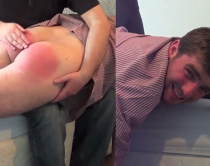 SLSlad
|
Not voted video yet
| 9th January 00:54
Excited to watch this video now, am downloading! Love that you give us full non-compromised videos like this. Takes a bit longer but least I know I am getting the full thing

regina1985
|
Voted Video 10/10
| 11th January 03:45
I think I may love this video the most. I love the interact between the brother.

lorilee
|
Voted Video 10/10
| 16th January 23:04
Andy and Patrick you were so good in this one . I can see you and patrick doing just that when you were younger. You are so funny to watch some time. Keep up the great work my friend.

Aimee1234
|
Voted Video 10/10
| 29th May 17:30
I just love this movie. I realise it isn't the most intense spanking or anything but the build up is great. The interaction between the two brothers really gave us an insight into the guys personalities. I can just imagine that this is how they would have carried on together when they were young. I particularly liked when they started discussing being sick of dad and discussing the punishments they received. It really gave an at home, realistic feel to the whole video. Just great. These Lee brothers just make my day :-)My imagination goes into overdrive after watching videos like these.

Would have given it a higher vote if i could .Loved the interaction between the brothers so natural and u can tell they really have a close relationship it's so sweet.It helps that they are both very pleasing on the eye too lol.Andy is so hilarious really reading titty mags for the articles ha ha more Andy and Patrick please.