RELEASED: 21st April 2016
Callum
Pays For His Debts
This latest mm spanking video features a home Corporal Punishment situaiton featuring Callum and his father.
Young Callum has been behaving irresponsibly. He borrwed money from some loan sharks, missed a payment and before long the interest had built up making it impossible for him to afford to pay it. These are guys you don't mess aorund with. Fortunately Callum's Dad was on hand to pay them off.
Callum got a real scare and thought his ordeal over. Dad though has other ideas. Callum needs to be taught a lesson. He also needs to understand the value of money. So it's time to introduce some good old fashioned Corporal Punishment in the form of a thourough spanking!
Dad orders Callum over his knee and proceeds to soundly spank his bottom. In this MM Spanking Video you see Callum getting stripped down to being soanked on his bare bottom! Dad does not hold back and even though Callun is close to tears, Dad keeps on spanking!
STREAM
VIDEO
Available streams for iPad, iPhone, Android, Chrome, Safari, IE or Firefox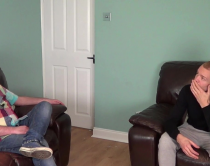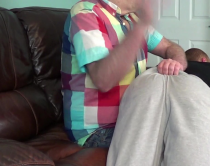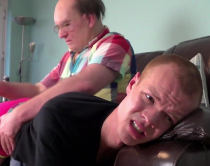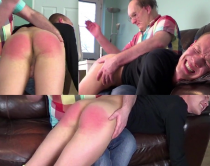 tinhead | 22nd April 2016 17:22
Loving Callum but that Dad mask - I just can't look!

Dave - Straight Lads Spanked | 24th April 2016 18:29 (301 weeks ago)
Just look at the bottom Tinhead, it's the best option!

LucienG | 10th May 2016 12:40 (299 weeks ago)
That is so true! Callum's bottom is definitely one of my favorites. It helps that the spanking was administered so skillfully...you guys are the best!
Reply

IanClips | 28th April 2016 21:17
OK, the cat is too much. You need to start adding a cat tag so I can see all of her videos.

Ooleary | 29th April 2016 13:21 (300 weeks ago)
Cat alert Chris -real punishment interview

Cat alert Patrick - WTYFGH (i'm not a cat person but this is adorable)

Cat alert Karl - spanked for getting caned at school.

lazycat999 | 29th April 2016 13:59 (300 weeks ago)
I love the cats,too.
Cat alert Dale-Wait Till Your Father Gets Home(Jimmy)
Cat alert Fred-Interview(Jimmy)
Cat alert Geroge-Interview(Jimmy&Charlie)
Cat alert Liam-Valentine Caning(Jimmy)
Cat alert Andy-Bubble Bath Blues(Charlie)

lazycat999 | 29th April 2016 14:02 (300 weeks ago)
Cat alert Spanking competation part four Harry&Dom(Charlie)
Reply

mattnyc | 27th April 2016 09:55
Callum is great! Best new actor on the site; beautiful, long legs, and a super sexy, smooth, round, bottom. Very cute, boyish face as well. But what really distinguishes him is how good he is with dialogue and the acting. Totally convincing and in character. I hope to see lots more of him. Great OTK action in this clip; love the spanking on his tight briefs and I love the bare, OTK spanking even more. Good scenario, great spanking, direction, writing, editing, etc. Callum is a great addition to the site.
Reply

Ficwriterjet | 23rd April 2016 15:27
Another good movie. It was kind of cool to see how different Callum behaved in this movie as opposed to his first movie, with so much less in the way of protesting and complaining. It did make it seem like he knew he deserved it for what he'd done. I really liked the bit at the very end when he was bent all the way over Dad's lap. :) I also loved that he was sent to go make up with his mom once it was done. Wonderful acting all around, and fantastic editing. Thanks for the entertainment.

Dave - Straight Lads Spanked | 24th April 2016 18:32 (301 weeks ago)
It's a pleasure to provide the entertainment and it;'s reading comments like this that spur me on to do it. I too liked the change in Callum's attitude. He seemed to genuinely acknowledge that he had got into trouble way to deep and needed his Dad to bail him out.
Reply

LucienG | 23rd April 2016 10:53
Excellent spanking! I thought Callum took his spanking well and without swearing. It's like he's more into it. That beautiful, red bum! No fan of the mask but dad still delivered a thoroughly good hand spanking. I'm glad he didn't get the belt or other implement. Editing was flawless and professional as always. Thanks Art.

Dave - Straight Lads Spanked | 24th April 2016 18:30 (301 weeks ago)
Hey Lucien. Really great feedback Thanks. I have a feeling that there will be time for the belt at some point for naughty Callum
Reply

Ooleary | 22nd April 2016 12:38
Move over Kevin we have a new star seriously Cal is just Fabulous in this movie his acting is wow top notch.(ps Dad didn't do too badly either lol).

More Callum please say there's more Callum.

I just love how he's resigned to his faith and takes his spanking and i love his facial expressions and how red is bottom gets and that was a hard hand spanking.

I predict that Cal misses a payment to Dad , he either spends his money foolishly again or just gets bored with his job and quits ha ha ☺

Dave - Straight Lads Spanked | 24th April 2016 18:28 (301 weeks ago)
Hey Olral! Isn't Callum AMZING with his acting! To be honest, I feel he makes me act better as I never have to give him any lines. He just plays the part.

There is more Callum. There. I said it!
Reply

CassieAnne17 | 21st April 2016 21:00
Great movie! Callum has such a natural petulant little boy look, it's great! The exchanges are so natural between you two. I hope there is plenty more of Callum to come?!

Dave - Straight Lads Spanked | 24th April 2016 18:27 (301 weeks ago)
There will be more Callum and he is a joy to act against. He makes it so easy for me as we can just do everything in one take.
Reply

David | 21st April 2016 18:24
Awesome video, i loved the expressions on his face, he does need the belt!

Dave - Straight Lads Spanked | 24th April 2016 18:26 (301 weeks ago)
Hi David! Callum's facial reactions are just amazing. They are incredibly real. I don't think it's possible to even fake that.
Reply