RELEASED: 26th July 2019
Alfie
Enough Is Enough
Part Three
In the latest release from Straight Lads Spanked, we catch up again with Alfie, the feckless lad who has already had his bottom warmed twice by his dad after losing his job.... and putting precious little effort into finding a new one!
In his previous disciplinary encounter, he was spanked for failing to hand out the 100 CVs that Dad had printed off for him.
This week, he has at least handed out the CVs. But when Dad asks him what else he has done, he doesn't have much to say. He hasn't followed up on any of his calls, and obviously thinks that all he has to do now is sit back and wait for lucrative offers of work to flood in!
Well, Dad knows better. It's punishment day, and even if Alfie can't summon up the energy to do what has to be done, Dad certainly will! He reckons that Alfie needs to be taught a lesson again for not making enough of an effort. With that in mind, he wastes no time in putting the lazy lad over his knee and giving him another good smacked bottom! This is one dad who would make a pretty good Minister for Employment; he would slash the dole queues in a matter of weeks!
He does concede that Alfie has at least handed out the CVs, so it is not going to be as severe a punishment as the last one he had to endure, but he is still going to make sure that his son feels it!
Eventually he stands the lad up again, undoes his jeans and pulls them down, before putting him back over his knee to continue the spanking on Alfie's baby-blue pants. The boy protests, but his words fall on deaf ears. Dad is determined to teach him a lesson he won't forget on the subject of obligations and free enterprise!
It's not long before Alfie is denied even the flimsy protection provided by his underwear. Dad tells him in no uncertain terms to pull his pants down, and he has to bend over again for the spanking to continue on his now very sore, very red bare bottom.
By this stage he is wriggling and squirming on his father's lap, protesting, "It hurts, Dad!" But Dad is unmoved. In fact, he promises that if Alfie doesn't put in an awful lot more effort in the next week, he will be in for another spanking, but it won't be with his hand the next time!
And let's just say that if Dad was a politician, he would be that unusual variety that you could always rely on to keep his promises!
STREAM
VIDEO
Available streams for iPad, iPhone, Android, Chrome, Safari, IE or Firefox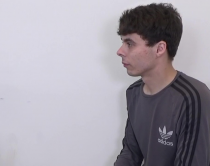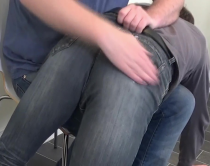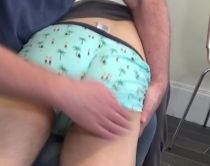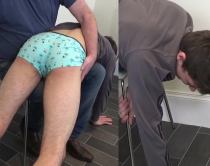 Lee | 6th September 2019 23:15
He is amazing!
Reply