RELEASED: 11th October 2019
Alfie
Enough Is Enough
Part Four
It's time for Alfie to check in with his father to review his weeks behaviour. This is not going to go well! Dad has discovered that Alfie has been stealing money!
This is not good. Dad has produced his hefty paddle that has the word CONSEQUENCES written along it. Alfie is about to discover that their really is consequences for his actions.
Instructed to bend over the bed, Alfie puts his bottom in the perfect position for it to be whacked! Dad does not hold back as he lays into Alfie with that paddle. Whack after whack and Alfie is struggling to retain his position. He gets a brief break when told to pull his trousers down. The paddling continues on his underwear. It's nearly too much to bear and Alfie is really struggling. His underwear comes down and you can see how bruised and red his bottom is!
After the paddling has finished Dad really wants Alfie to be punished so puts him over his knee and spanks his bare, sore bottom HARD!
STREAM
VIDEO
Available streams for iPad, iPhone, Android, Chrome, Safari, IE or Firefox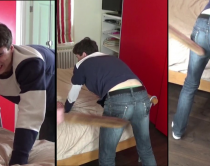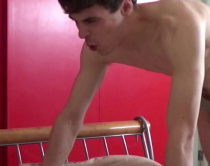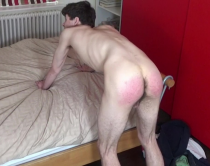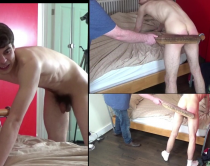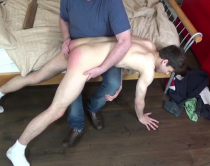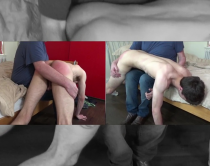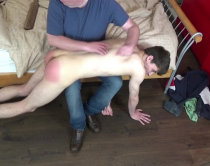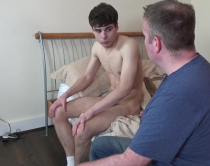 platt13 | 4th January 2020 00:25
Loved the boys hairy ass! So hot
Reply

JoeJoeJoe | 30th November 2019 14:24
Reply

oh987654 | 13th October 2019 04:37
I messed up my star rating on this one. Totally 10 out of 10 stars. (Accidentally, hit 7 out of 10 and can't change it. Sorry!) Great acting. Punishment appropriate for the crime without being brutal. A new favorite for me.
Reply

SerenaG3 | 11th October 2019 19:51
This was my favourite video in a good while! Perfectly simple and intense enough without being brutal. Alfie is one of the most realistic, authentic and sympathetic characters/ models on the site for me. He is just so hot without having to try and just very endearing.
I like the straightforward scenario and lived the variety in the video with the paddling over the bed then OTK hand spanking and then a bit of otk paddling. I thought it was a nice change of space that this one started with an implement and then had the hand spanking afterwards. Poor Alfie lol! Everytime he would have thought he was done dad decided there was more lol The dad in this one felt very real and frustrated but not cruel.

Great job!

SerenaG3 | 11th October 2019 22:48 (120 weeks ago)
Love*
Change of pace*

I cannot type.
Reply

mstr_spkr | 11th October 2019 21:30
I don't know how you are going to beat this (pun intended). Excellent performance, Alfie 10/10! If he needs money why doesn't he get a job as a model for a male/male spanking video web site? I wonder what "dad" would do if one of his co-workers gave him an anonymous tip with some screenshots or promo pics from the video.
Reply