RELEASED: 13th October 2017
Andy & John
Brother In Charge
Part 12
Warning! This is the hardest Over The Knee hand spanking I have ever filmed! Only watch if you enjoy seeing muscled hunks dishing out very hard bare bottomed spankings!
Andy Lee is back!!!!!
The sorry saga of the younger lads getting involved with drugs continues. This time John has been enticing Andy Lee's younger brother Dan to smoke weed!
Big Brother Andy finds out and it not happy. He decides to teach John a lesson. Andy wastes no time in dragging John over his knee and spanking his bottom. This is no ordinary spanking. Andy really goes to town on John and ensures that he delivers a hard, relentless spanking!
STREAM
VIDEO
Available streams for iPad, iPhone, Android, Chrome, Safari, IE or Firefox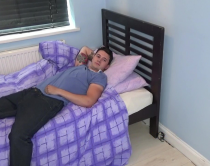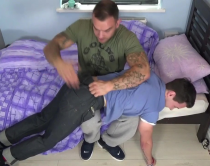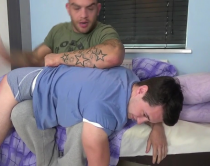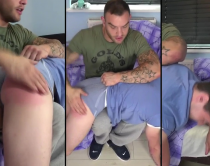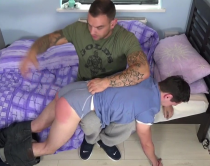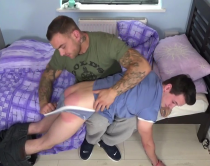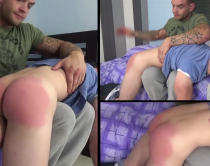 wander | 4th October 2019 11:35
like to see andy spanked red and raw by mr x. relentless with good closeups of andy's hot ass crack!!!!
Reply

Jamesy500 | 27th November 2017 16:35
excellent = more like this please

Reply

sumai-Davefan | 22nd November 2017 16:02
Wow surprise!
It's great to meet up with Andy again. I have always liked him. wish him and his family all the best.
thank you Dave!
And thank Andy for come back!
Reply

FraserFan | 5th November 2017 18:09
Awesome to see Andy back. Andy is amazing, he does actually seem like a very nice person. I do think Andy is too old to be spanked (except in a judicial prison or military type scenario with implements - he is definitely too old too go otk) I could easily see Andy as a deputy to Mr X or as a dad himself. With Andy dishing out the spankings. I hope now that Andy is back he will be in lots more movies. And maybe Dan might come back as well.
Reply

Rasputin | 27th October 2017 13:34
I was so glad to see Andy back with us that I forgot to mention John's good work. He's cute, he's got a smooth, firm, round "bubble butt" that reddens quite nicely during a spanking, and he gave a good performance. His underwear could have been tighter and skimpier, but I liked that footage where Andy wedged John's briefs up into his crack and spanked his smooth, exposed butt cheeks.
Reply

mattnyc | 18th October 2017 17:23
This is an instant classic. Dave, you and the site are on a roll this month. I honestly can't imagine a sexier pairing. John is the perfect spanking model; Adorable face, flawless, smooth, muscular body, and a perfect, round, boyish butt. And Andy is the king of this site. That pretty much says it. I love the way he's totally inside the characters he plays and how serious and strict he is when he gives a spanking. I loved that he called John a "naughty little boy" at the beginning. So sexy. And it's kind of amazing how he actually dominates John, who seems like a pretty headstrong model, and reduces him to a sorry, obedient young man. The arc of this one is really sexy to me. I also love the "three phase" spanking, pants, underpants, then bare. And I especially love the way Andy yanks John's underpants up tight for his spanking. And as other members point out, Andy has no problem pulling the other guys' underpants all the way down for a spanking. He just seems to channel the disciplinarian character and take off. Great scolding and great spanking. I agree with the member who thinks it got a bit "brutal" at the end but I realize this is totally subjective and that's probably the element that other members liked the most. Great storyline, Dave. I can't wait to see the Marcus chapter! It's fantastic to have Andy back as a spanker on the sight. I repeat: he's the king.
Reply

jamester | 16th October 2017 22:42
Hot video. Andy is one of my favorite models and wish he did more videos as a spanker. Hot to see a hard hand spanking. Would love to see him take a paddle or belt like that to some lucky boys butt:)
Reply

wardcoleman | 15th October 2017 16:16
Great to see Andy Lee back, and in such great Spanking form. That spanking looked devastating.

Poor John, I bet he didn't enjoy receiving it anything like as much as we enjoyed watching it! Great work by Andy, unlucky John, Dave and Art
Reply

MistressAlex | 15th October 2017 03:40
Dave, I just wanted to say that seeing Andy back has made my bad weekend very pleasant. So thank you to you and everyone involved in this movie for making my days better. I hope to see more of Andy in the near future. I enjoyed the movie and did not think it was too much.
Reply

JamieJones | 14th October 2017 16:09
Am I the only one who thought John's spanking was just a bit too brutal towards the end of this movie? I love the realism in these movies and that the models take a real spanking rather than just acting like they are being hit but in my view Andy just stepped over that invisible line between it being a good hard OTK spanking and it being a brutal punishment.

Don't get me wrong, I loved about 98% of this movie but the two things I didn't enjoy were that Andy looked as if he was spanking in anger towards the end and his comment about what could happen to a 'pretty boy' like John if he went to prison.

I get that Andy was playing the part of an angry older brother who was upset with John, for encouraging Dan to smoke weed, but I still think he took the spanking too far. There have been movies where 'Dad' has said to his son 'I'm so angry with you right now' or 'I'm absolutely furious' but on most occasions (I know there have been a few times that Dad has stormed out of the room after the spanking) 'Dad' has remained calm and in control and that's what I think was missing here.

Regarding the second point, one of my all time favourite (mainstream) movies is set in a prison and contains very graphic descriptions of sexual and physical violence so it's not as if I was shocked by Andy's language I just didn't like it within the context of this movie.

That said I love John and think he is totally gorgeous and an absolute star to have taken the spanking he did and it's great to see Andy back keeping the younger guys in check!

As some of the others have already said I also love the way this movie opened the door for so many more chapters in the brilliant 'Brother In Charge' saga. Thank you Dave for coming up with the idea in the first place, Art for the amazing work you put in editing the movies but especially John and Andy for taking and delivering a great spanking.

Reply

LucienG | 14th October 2017 13:58
Dave, I wouldn't agree that this was the hardest spanking you ever filmed. Karl in Real Punishment, Trust-that was the most intense spanking ever!

So glad to see the very hunky, handsome Andy Lee! As I expected, he gave a thoroughly good spanking! Poor John...did he even know who was going to spank him before he came to work that day? Probably not or he would have stayed home. The crescendo near the end was amazing! I loved the dialogue as well. What is Andy Lee's ethnicity? Is he Scottish? Did anyone else notice the bit of wetness on Andy Lee's sweat pants after John got up?

Thanks guys for another excellent production.

Dave - Straight Lads Spanked | 14th October 2017 14:44 (186 weeks ago)
Hey Lucien, I take your point about Karl's movie. It was really intense too. My point was that this was the hardest hand spanking I have ever filmed (without any additional impliments)

Andy is Irish!
Reply

Orla | 14th October 2017 02:21
Wow seriously hard spanking there well done John xx How great is it to see Andy back again and doing the spanking he really takes no shit.

Like mstr_spkr I'd love to see an interview and hear how traumatised poor John was left after big muscle Andy. I also agree that there are a few scenarios that could develop from here with Dad Marcus etc.

Andy made me laugh when he was talking about what would happen to pretty boy John in prison ...loved him mentioning his brothers and the problems he had with them and drugs ,so this wkend I'll be watching the brother in charge series.

More John please he is just adorable and his bottom colours so beautifully and if course more Andy as a spanner..i really love his no nonsense approach xxx



Orla | 14th October 2017 02:23 (186 weeks ago)
More Andy as a spanker not a spanner lol xx
Reply

NovaDad | 13th October 2017 21:25
Great Video! Welcome back Andy.
John is, of course, always welcome back as well for an OTK spanking.
My question is: Is John brave enough to get spanked over-the-knee by Dave with the dreaded wooden hair brush? (_!_)... (=!=)... (#!#)
Hoping for a positive answer -- I'll start crossing my fingers as soon as I finish typing. =;-))
Thank Andy, John, Dave, and Dan

Reply

mstr_spkr | 13th October 2017 19:54
Welcome back Andy! John, you are a real trooper to take something like you got here. We could easily see the marks. Of course with drugs involved, you did get off easy (or so I wish so that you have to get more spankings for that). I would also be interested to see a post-spanking interview if one is there. I'm curious about John's reaction to such a hard spanking and how Elliott compares to Andy as John's spanker.

Excellent direction and editing, too. Very good job.

Andy is such a good spanker. He's not afraid to get the pants all the way down so he can deliver a good, all over spanking. Maybe you can film him giving the models pointers as one model to another in how to deliver a proper spanking (just a thought).

John seems to cause a lot of trouble and that's great for us. John, for the sake of the videos, I hope you never learn your lesson. You are such a great spankee. I do hope that your behavior in real life is not like on camera. If it is, perhaps Dave needs to do some corrective action like he did with Sebastian.

Of course, the dialog did open the door to several possible sequels, for example:
Dad and John - when he finds out about John's involvement with drugs
Andy and Dan - for Dan's involvement, especially if we find out he was the instigator
Andy and Marcus - for selling Dan the drugs
Marcus and John - for ratting him out to Andy
John and Dan - for ratting him out to Andy
Dad and Marcus - for selling drugs

Of course (outside this series) seeing Andy get spanked again would be fantastic as well.

This series might never end and I, for one, am happy about that. Keep up the good work, everyone.
Reply

| 13th October 2017 19:47
Wow that is amazing. The perfect video. Andy is amazing and he has a great hand built for giving hard spankings. This is the Andy I want in my life.
Reply

Kass44 | 13th October 2017 19:44
Loved this! Let Andy lose on all the boys in your old fashion style films! Maybe let Andy have a go spanking Elliot to get him back for giving it to Frasier when he really had no right to! Hey, in that series of films Elliot stayed quiet to save his own ass at the expense of the entire team - now - here comes Andy to set things straight!

Reply

sukemnsee | 13th October 2017 19:35
Not only is it great to have Andy back but young John has a gorgeous bottom that colours wonderfully
Reply

newspank | 13th October 2017 14:11
Wowser, now that's what I call a hand spanking! Welcome back Andy, you've lost none of the magic
Reply

Rasputin | 13th October 2017 13:21
Welcome back, Andy! I can hardly wait for YOU to be on the receiving end of an OTK spanking again. :-)
Reply