RELEASED: 5th October 2018
Andy Lee & Sam
Brother In Charge
Part 26
Poor Andy Lee. The poor guy really needs to get some decent staff on his payroll, doesn't he? Instead, he ends up with wasters like his own younger brother Conor, and Conor's feckless mate Sam, who can't even be trusted to do the simplest plumbing job without flooding one of Andy's building sites.
In this week's new male spanking movie from Straight Lads Spanked, Andy turns up at Sam's house to find out why he hasn't shown up for work.... and finds him still in bed, sleeping off the effects of a big night out. He tells him to get up and get to work or he will be fired, but the ungrateful brat has the cheek to argue the toss, even telling long-suffering Andy that he hasn't learned anything while he has been working for him.
Well, that was a mistake. "I'll teach you something right now!" says Andy, as he pulls the young brat out of his bed and hauls him over his knee for a well-deserved spanking on the seat of his shorts. Andy has come straight from punishing Conor in a similar fashion for sleeping in for the third time in a week, and he is clearly in no mood for an argument! These lads have been getting away with far too much for far too long, and it's time they were taught a lesson!
After warming the seat of Sam's shorts, Andy pulls them down to continue the lesson on the lad's tight orange pants. Tugging them right up the crack of Sam's bottom, the boss uses his strong right arm to drive home the message that Sam should be making the most of the opportunity presented by his apprenticeship, rather than squandering it. And it's a message that this silly lad will remember for a day or two if Andy has anything to do with it!
"Are you learning now?" asks Andy as the smacks rain down on Sam's fast-reddening bottom. "I'll tell my mum about this!" complains Sam, but that threat doesn't wash with an infuriated Andy. "Your mum would want me to do this!" he counters.... and, still holding the lad firmly in place over his knee, yanks his pants down.
"I can't take it any more!" cries Sam, suffering visibly over Andy's knee. "That's exactly what Conor said!" answers Andy, cranking up the heat on the lad's bare red bottom. Sam wriggles and whimpers, but Andy has been messed around enough, and he is a man with a mission. Just like Conor earlier this morning, this lad is going to be taught a lesson he will never forget! He holds him tight and spanks him harder than ever....
By the time Andy is satisfied, Sam is close to tears and his bottom is tomato-red. Andy sits him down for a final telling-off before leaving, and a very sore and sorry Sam is left rubbing his sore rear end.... and probably wishing he had set his alarm!
STREAM
VIDEO
Available streams for iPad, iPhone, Android, Chrome, Safari, IE or Firefox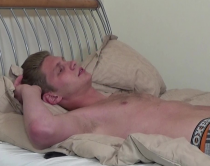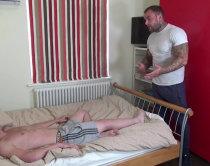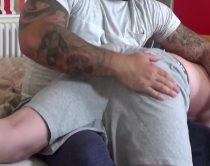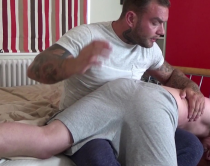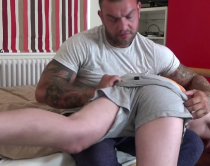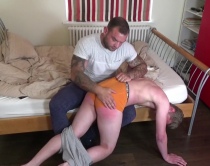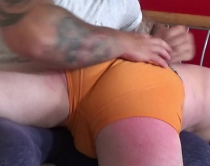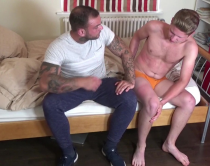 dannyredburn | 23rd October 2018 23:40
I love the Brother In Charge series and I've followed them through. Andy is such an awesome spanker. He delivers it firm and strict and he looks like he's got a great grip to pin you down and keep you there. Man, in another life I'd have auditioned to be spanked by him. A boy can only swoon. Great video and really enjoy it! (Though poor Sam and his well-warmed backside!)
Reply

mattnyc | 6th October 2018 22:37
I gave this a 10 out of 10. Andy is amazing in every spanking clip he's in. In addition to being super handsome, he's by far the best spanker of any model who's ever worked on the site. Clearly he learned a lot from Dave, the master! But he's instintively great at it. He's committed and always totally in character so he makes the other models better actors too. They kind of get thrust into the scenario by Andy and it makes them react in a much more natural way. Andy is great at spanking and the best with scolding. This clip becomes an instant classic when Andy threatens to smack Sam's hand "like a naughty schoolboy". It's such a sexy bit of dialogue and it totally pushes all my buttons. I'm sure Andy's not "turned on" by spanking but he obviously enjoys being in charge and giving the fans 100%. There have been many great models (many that I love!) on this site but Andy's unique in that sense. At least for me. Sam's a great, sexy spankee. Super cute face. Not the most in shape model on the site but I love his legs and big, round, smooth butt. It's perfect for spanking. And he did a great job of going with Andy's energy; starting off a bit pissed off but becoming contrite. There's something really sexy about the way Andy knows how position the butt of the guy he's spanking to show it off and make it the perfect target. And I always love how he yanks the guy's underwear up tight so it's almost like their butt is bare. It's super hot that Andy pulls Sam's underwear all the way down totally exposing him. It's another thing Andy is good at giving to the viewers. So, Dave, thank you for a perfect video. Great scenario, super hot OTK spanking action, great cast, great direction, and Art, great editing.
Reply

TimeForASpanking | 5th October 2018 23:39
I really like Sam's reactions to the spanking and they did seem very genuine, though the spanking itself seemed to be a little on the lighter side for SLS. Perhaps because Sam seemed to redden quickly. It would be nice to see some new domestic locations. Kitchen table, garage, back yard, Would be super hot to see a Dad/Son video where the shoot feels like it is a public place. Like a restaurant bathroom, or the side of the road. Some place that a real discipline spankin could happen.
Reply