RELEASED: 10th March 2019
Andy Lee, Conor Lee & Sam
Interview
STREAM
VIDEO
Available streams for iPad, iPhone, Android, Chrome, Safari, IE or Firefox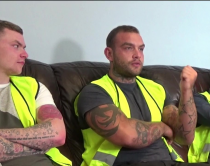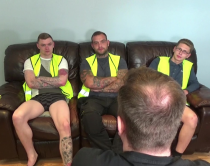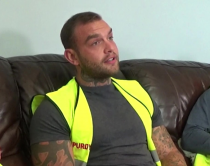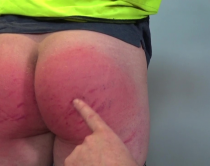 Rasputin | 18th March 2019 18:30
This was a fun interview.

Dave, please keep in mind that Andy is not too old to get a spanking.

I just thought of something. All of Andy's brothers are tired of being spanked by him, and they think that he is spanking them too hard and too often, and he is getting too big for his brothers. The younger brothers all gang up on their big brother. They remove Andy's trousers, pin him down over a brother's lap, and that brother gives big brother Andy a long, hard OTK spanking on the seat of his tight, skimpy briefs - first with a bare hand and then with that wooden bath brush. Andy squirms, kicks, grimaces, grunts, curses, yelps in pain, and threatens his brothers, but they laugh and pay him no attention.

Each of the little brothers, one after the other, gets to give big brother Andy an OTK spanking on his briefs. After each little brother has had his turn, Andy is still pinned down over the lap of one of his brothers. That brother then pulls Andy's briefs down in back, and spanks him even harder than before, with both a bare hand and with the bath brush. All of the little brothers, one after the other, get to take their big brother over their laps and spank his bare ass. Andy squirms, kicks, grimaces, grunts, curses, yelps, and eventually breaks down in tears during this ordeal. Andy's tears are due to both pain and humiliation.

At the end of the spanking marathon, all of the younger brothers hug their groaning, whimpering big brother and tell him that they hated to do that to him, but they had to punish him for his own good. Then they place Andy on his belly on the sofa and gently rub coirtisone cream on his beet-red, throbbing, ravaged buttocks. Andy groans, whimpers and sobs while the cortisone is administered.

After the cortisone application has been completed, the younger brothers tell Andy to think about how his behavior resulted in being spanked like a little boy. The brothers then leave the room. Andy is still lying belly-down on the sofa, with his briefs still pulled down in back, groaning and whimpering and sobbing in pain and humiliation.

After a minute or so of the camera focusing on Andy's tear-stained face and his beet-red, throbbing buttocks, Andy pulls his briefs back up and stands up. With a grim look on his face, he mutters to himself "I've thought about it all right. I'm gonna spank every one of your asses till they are blood-red, you can't sit down for a month, and you are crying like five-year-olds! Just you wait, my brothers, just you wait!"
Reply

leeds71 | 16th March 2019 06:05
Sam has a cute smile and super sexy botton .... more Sam, please.
Reply

Teacherman123 | 15th March 2019 08:46
Yes, a fun interview with three very likeable lads. But can I just point out to Andrew that he is NOT too old to get his bottom smacked! I suspect that he still deserves a good spanking quite regularly!
Reply

Orla | 11th March 2019 09:12
My favourite interview by far ,couldn't help but laugh the whole way through ,Andy is and always will be a SLS Legend . Conor's and Sam are great and can't wait to see more of them and to think there might be another Lee brother joining is crazy ,bring him in fast . Thanks again Dave xx
Reply