RELEASED: 5th May 2014
Andy Lee & Ryan - Interview
Andy is back and this time he has brought another friend (victim)!
I'm delighted to introduce Ryan. Initially a friend of Patrick, but then later became friends with Andy.
Ryan has never been spanked, never appeared on film or even been around Andy naked before.
Until Now!
STREAM
VIDEO
Available streams for iPad, iPhone, Android, Chrome, Safari, IE or Firefox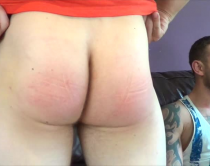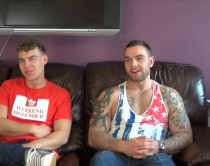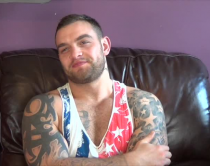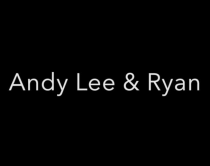 r1108
|
Voted Video 9/10
| 5th May 13:42
I can't help but wonder which model has brought the most "recruits" into your lair? Andy works quick..only a month from first meet to roping Ryan in and then only 48 hours to the first shoot? Ryan seems like he would fit in well but yes, he looks a little skittish about things :)...bring him along gently. As for Andy, another one for the rigs and congratulations to him; he looks well and happy.

lorilee
|
Voted Video 9/10
| 5th May 14:16
Wow Andy is looking good, I am so happy he is doing so well at work at home. Good to hear you have your son that is awesome, Welcome to SLS Ryan hope to see you for more movies, looking foreword to the videos. Andy I think you need another tat, what do you think. Take car Thanks for the interview Dave.

Aimee1234
|
Voted Video 10/10
| 5th May 16:24
Oh my goodness I genuinely cheered when Andy revealed he was now single. Haha. Happy lady lol. Congratulations on the job as well, another cheer for you confirming you aren't going anywhere Andy :-) looking forward to seeing the new videos. This interview has made my day. Thank you Dave.

Aimee1234
|
Voted Video 10/10
| 5th May 16:26
Also get him to say hello to Aimee in the next video and you will make my year haha

lorilee
|
Voted Video 9/10
| 5th May 19:38
Dave can think of the one thing you did not do in this interview ? It has to do with Andy.

nanarr
|
Voted Video 8/10
| 6th May 01:53
Thanks for the interview Mr X. It's always a pleasant surprise to see an interview early in the week and then have a new video on Friday. Welcome, Ryan; looking forward to your videos.

Andy, congrats (or condolences) on being single again. It's wonderful you have your son; I bet he's a cutie, same as you.

Mr X, glad you're helping the guys find a career path, rather than occasional odd jobs. Andy, please be careful on the rigs. Very pleased you're going to keep on making videos.

Dave - Straight Lads Spanked
|
Not voted video yet
| 6th May 02:28
Would that be an extra spank from Welshboy LoriLee? :)

uchikimatsu
|
Not voted video yet
| 6th May 07:49
Wow, I hope Mr. X did not terrorize Ryan and we see him back again. I really liked the way his open, sincere, and relaxed attitude translated onto film and am looking forward to seeing his spanking!
I think all fans should campaign for extra spanks to Andy at the end of his movies, when does he not deserve them?

lorilee
|
Voted Video 9/10
| 6th May 08:15
You got it this face it he was asking for one the way he was flexing his bottom !!! :)

Domfan
|
Not voted video yet
| 7th May 16:42
More Andy. Can't get enough of him. Gorgeous dace, nice big arms, nice smile, and love when he's spanked and his bug dick flops about.

matt
|
Not voted video yet
| 8th May 19:44
Ryan is a FANTASTIC addition to the Straight Lads Spanked stable. He's really cute and has a great, fit, smooth body. He's a bit boyish but totally masculine and with a man's body. Perfect for a humiliating OTK spanking from Mr. X or, hopefully, in the future, Andy. Can't wait to watch his first spanking. Thanks, Mr. X. and thanks, Andy for being such a sexy model and for bringing a great new model along with you. Can't wait to see him over Mr. X's knee.