RELEASED: 19th May 2012
Will Bailey ever learn to control his temper? During a recent football game he missed an easy penalty and took out his frustration by punching fellow team mate Brett! Coach Barton has already warned Bailey about his behaviour. In fact last time Bailey was punished by Coach Barton for his behaviour he was told that if it happened again he would be spanked in front of his team mates............
Bailey never believed Coach Barton and that was a big mistake!
Tough, arrogant Bailey finds himself facing the local spanker Mr X for punishment. He thinks he can deal with whatever Mr X is going to dish out.........
He never dreamed that the real punishment was getting spanked in front of his team mate Brett! Bailey can hardly take in the sheer humiliation of it all! Finally this naughty young man is brought down to size. You can see what a struggle it is for Bailey to drape himself over Mr X's knee whilst grinning Brett is enjoying the show! even worse is that Mr X is spanking hard and Bailey is struggling to take it! Then having to strip off his football shorts and top standing in only his tight white pants, vulnerable as Brett carries on watching. This athletic lad is wriggling and protesting but Mr x carries on spanking! Finally Bailey is forced to strip naked. It's really too much. He loses all sense of control and cries out and wriggles of Mr X's lap as the spanks turn his pale white bottom bright red!
and then Mr X has finished spanking............
but the punishment is not over!
Bailey is told that Brett will be finishing things off!!!!!
Bailey simply wants the earth to swallow him up as broken and beaten this naked hunk has no choice but to go over his team mates knee and suffer the sheer indignity of getting spanked by a contemporary! All Bailey can think of is what will happen when the rest of the team here about this and even worse if his girlfriend finds out!
The Ultimate Humiliation!
I feel this is a great clip but it should have been better... Sadly there was a technical nightmare on the day of filming, with one camera not working and another being of reduced quality. I have made moves to make the footage as good as it can be and even done some re shoots however it is still slightly flawed. So for this reason I am making this clip available for just.
. I feel confident that in spite of some setbacks this is a video well worth viewing!
STREAM
VIDEO
Available streams for iPad, iPhone, Android, Chrome, Safari, IE or Firefox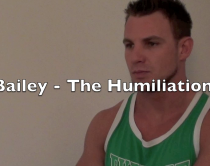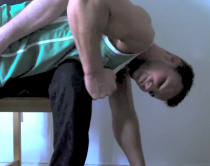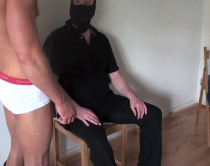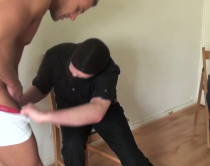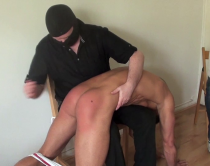 roswithax | 7th July 2017 22:52
Reply

cami
|
Voted Video 9/10
| 1st July 2013 04:21 (421 weeks ago)
DAMN BAILEY IS SO SEXY LOL .. I just love to see him in these movies.

cami
|
Voted Video 9/10
| 1st July 2013 04:22 (421 weeks ago)
He is also 1 good actor too.

partyboi
|
Not voted video yet
| 11th April 2014 01:11 (381 weeks ago)
Very sexy lad

Dave - Straight Lads Spanked
|
Not voted video yet
| 13th April 2014 16:18 (380 weeks ago)
Very sexy indeed!

Aimee1234
|
Voted Video 10/10
| 25th May 2014 11:53 (374 weeks ago)
This is one of my all time favourite movies. I LOVE the idea of someone coming to watch a spanking for the humiliation factor and then the added bonus of the spectator being allowed to finish the spanking off. Ticks every box for me. Brilliant. Didn't even bother me that the quality was slightly lower than others. I would love to see more movies like this being released.

Dave - Straight Lads Spanked
|
Not voted video yet
| 25th May 2014 11:55 (374 weeks ago)
Watch this space!!

Ooleary
|
Voted Video 10/10
| 30th August 2014 13:49 (360 weeks ago)
Voting was for Bailey's bum WOW WOW WOW just like Aimee love it for all the same reasons

welshboy
|
Voted Video 9/10
| 7th September 2014 16:21 (359 weeks ago)
What can you say about Baily than say WOW. He has a bottom that you want to spank all day long and to top it all off, great underwear in this film too.