RELEASED: 29th August 2012
Warning!
This hot new video features gratuitous, lingering full frontal shots of hot new model Ben that some viewers may find delightful!
Ben is a lazy young man that is still stuck living at home with his Mum and Dad. With no job and no prospects he is relying on his parents to keep him!
Ben has a new girlfriend who lives quite far away..
Ben decided to borrow Dad's car to make the journey...
Ben has been forbidden to drive his Dad's car as he has no insurance...
Ben is blissfully unaware that his crime has been discovered. He has had a lovely day with his girlfriend and now it's time for bed. Ben gets undressed, grabs a towel and heads for a nice relaxing soak in the bathtub! Ben is having nice thoughts about time spent with his girlfriend as he lies back in the bubbles...
After slowly drying himself off, Ben heads back to the bedroom where he puts on his pyjamas and gets into bed...
He is just about to fall asleep when his furious father barges into the bedroom! Ben tries to deny that he took the car but he never reckoned on his suspicious Dad taking a note of the mileage!
Ben is in BIG trouble, he is sent to his fathers room to fetch his slipper.
The handsome but lazy young man is then dragged over his fathers knee and has his bottom soundly spanked and slippered!
"You are going to remember this Ben!"
A well deserved spanking leaves Ben with a very sore bottom and a smarting ego!
STREAM
VIDEO
Available streams for iPad, iPhone, Android, Chrome, Safari, IE or Firefox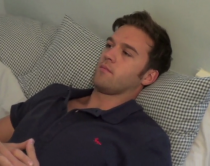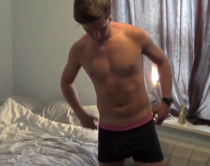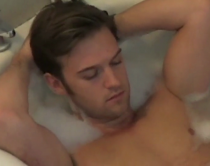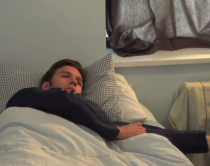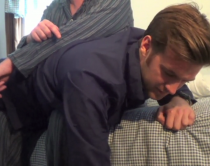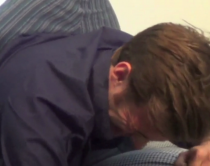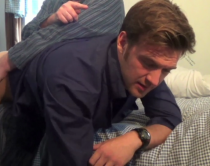 Domfan | 22nd November 2014 11:18
Love the voyeuristic ones. Love me some Ben. Love his hairy legs wet in the bath. The bath made his cock swell up and he has nice balls. Love the pyjamas as they make his ass look lovely
Reply

taltos28
|
Voted Video 9/10
| 10th January 2013 19:15 (453 weeks ago)
More voyeuristic than spanking, but what a model to see. Still, more spanking would have been nice.

coerver
|
Voted Video 10/10
| 15th January 2013 20:15 (453 weeks ago)
Ben's slippering is uneventful and unimportant to his story. His dick is the star of this show not his butt. Some people are fixated on long and thick like they want to have sex with a psycho gangster. Ben could star in Goldilocks and the Three Bears. His dick is just right and I'll bet it produces tasty porridge. It looks like something God and evolution and mother or father nature all worked on together. Smooth. Nice definition. Nice curves. His dick just looks friendly. Ben, your a scene stealer. Your butt is supposed to be the lead character in the play but your beautifully sized penis stole the play. Congrats Ben! Your dick is a five star, five diamond creation. Not something huge to marvel at. But something bite sized to enjoy and play with.

cami
|
Voted Video 8/10
| 7th March 2013 19:24 (445 weeks ago)
Shoot i would of torn this butt up. being rude, act & lying like he don't care. i'll make sure he could not set down for a day or two. lol.. BAD BEN BAD...

cami
|
Voted Video 8/10
| 7th March 2013 19:25 (445 weeks ago)
But ben is cute :)


Mr X
|
Not voted video yet
| 12th March 2013 22:20 (445 weeks ago)
he really does have a bad attitude Cami! But then again, he has a sensitive butt! Trust me, even that slippering really hurt Ben

cami
|
Voted Video 8/10
| 13th March 2013 07:08 (445 weeks ago)
Well stop hurting Ben... :P lmao .. Hope ben will not do that again..

Mr X
|
Not voted video yet
| 13th March 2013 09:50 (445 weeks ago)
Ben needs to lear to behave and he will stop getting spanked! :)

cami
|
Voted Video 8/10
| 26th March 2013 02:26 (443 weeks ago)
This is very true lol. But i don't think he knows how to behave 1 really hard spanking i think ben will get the hint. Well maybe he will . :P